1970 Ford Mustang Mach 1
Addenda and Errata
Please note that a ride-along and drive-by video has been added to the video gallery.
Please note that contrary to the video introduction, this 1970 Ford Mustang Mach 1 features a five-speed Tremec TKO-600 transmission.
Please note that four additional images have been added to the photo gallery.
Please note that an additional "Known Imperfection" regarding the air conditioning has been added above.
Please note that an additional image of the fuel tank has been added to the photo gallery.
Video Gallery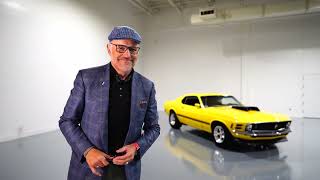 1970 Ford Mustang Mach 1 Walk-Around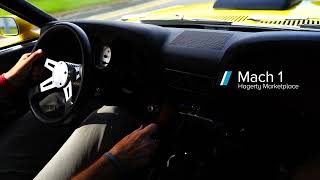 1970 Ford Mustang Mach 1 Ride-Along and Drive-By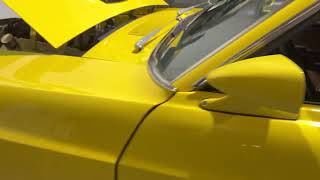 1970 Ford Mustang Mach 1 Cold Start/Walk-Around
Description
OFFERED WITHOUT RESERVE
The original Ford Mustang Mach 1 (offered between 1969 and 1973) stands as an iconic representation of American automotive performance during a golden era. With a bold and aggressive design, the Mach 1 exuded power and speed. Its prominent front grille, distinctive side stripes, and a functional shaker hood scoop not only added to its visual appeal but also enhanced its aerodynamics and engine performance. These attributes, along with a range of potent V8 engines, made the 1970 Mustang Mach 1 a sought-after choice for car enthusiasts and a dominant force on both the street and the track. Over the years, its legacy has only grown, solidifying its place in the pantheon of classic American automobiles and as the perfect foundation for a resto-mod built around the ethos that, "There is no replacement for displacement."
Highlights
Offered from the V&S Collection

An original "63C" code Mustang Mach 1 two-door Sportsroof

Currently fitted with a 557 cu-in big block "Street Fighter" engine with "Track Dominator" upgrade dynoed at reported 622 horsepower and 646 lb-ft of torque

Built in 2000 by Los Angeles-based Coast High Performance

"Blue Thunder" Aluminum cylinder heads with Stage III porting

Forged flat top pistons

Eagle H-Beam connecting rods, ARP rod bolts

Custom high modular stroker crank (4.5 inch)

Custom 11.1 compression ratio said to be able to run on pump gas

Hydraulic roller cam / lifter upgrade

Fuelled by eight individual 48 IDE Weber carburetors

Tremec TKO-600 five-speed transmission

Featured in the September 2002 edition of Popular Hot Rodding

Best of Show Winner at New England Speedway Tasca Ford Show

15 inch American Racing Torq Thrust billet wheels, 7 inch front, 10 inch rear

Fresh BFGoodrich Radial TA tires installed August 2023

Finished in PPG Dandelion Yellow over a black interior

Custom fabricated hood with Fessler billet hood hinges

August 2023 service in preparation for the sale ($6,600) includes a fuel pump replacement, Weber carburetor removal, cleaning, and rebuild, fresh fuel, ignition overhaul including a new MSD Ford Racing distributor and plugs, tune, a new battery, oil change and filter, brake fluid flush, AC system diagnosis, and four new BF Goodrich Radial T/A tires with a final road test and carburetor tune.
Features
Originally fitted with a 351 cu-in, 300 horsepower "M" code, 4-venturi carburetor (4V) engine

3.55 final drive ratio

Island Empire aluminum driveshaft

Currie 35 spline performance axle shafts

Hurst line lock

Kook's custom headers, X-pipe, stainless steel mufflers, and dual 3 inch tailpipes

Front coilover custom A-arms

Rod & Custom Motorsports front 4x2 frame

Four-wheel disc brakes

Rack and pinion steering

Coilover suspension

Pro-Car rally front bucket seats

Classic Instruments gauges

Leather-wrapped billet steering wheel and IDIDIT tilt column

Alpine stereo system with iPod connection, six speakers, subwoofer, and amplifier

Vintage Air and heat system
Known Imperfections
Various paint chips, scratches

Exhaust soot stains on the rear valance and rear bumper

The air conditioning blows cool, not cold. due to older AC lines
Included
A digital copy of its Marti Report

Three history file binders from the beginning of the build

Build photos

Paperwork from August 2023 detailing over $6,600 in parts and servicing in preparation for sale

Yellow custom car cover
Ownership History
Produced at Ford's Metuchen plant in Edison, New Jersey in October 1969, this Mach 1 was originally constructed with a 351 cu-in, 300 horsepower "M" code engine and a three-speed transmission. In 1994 it was acquired by Bill Mensinger of Derry, New Hampshire, and by the early 2000s it was restored by Mensinger as a resto-mod style build in Dandelion Yellow. Featured in period magazines, paperwork indicated that it traded hands within collector car circles before being acquired by the consignor in 2015 to become a valued part of their collection and an excellent example of classic American resto-mod performance.
Additional Notes
A Broad Arrow Group Car Specialist is working as an agent on behalf of the owner of this vehicle. Contact: Ramsey Potts Phone: 912.508.4096 email: rpotts@hagerty.com
Bids
Be the first to place a bid!
Insurance
Save 21% per yearon your insurance premium
Apply now
Learn more