1957 Porsche 356 A Widebody Speedster Replica by Fiberfab
Engine
1.8-Liter Flat-Four
Addenda and Errata
*Please note: additional photos of the undercarriage have been added to the photo gallery.
*Please note: a photo of the small nick in the driver's door panel has been added to the photo gallery.
Video Gallery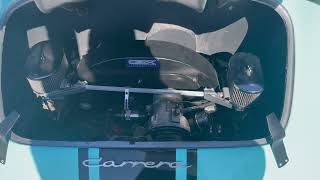 1957 Porsche 356 A Widebody Speedster Replica by Fiberfab Start Up Video
Description
Founded in 1931 by Ferdinand Porsche, the eponymous Porsche brand has evolved into a symbol of automotive excellence. Renowned for its nimble sports cars, Porsche has consistently pushed the boundaries of innovation and performance. With iconic models like the 356, the brand has left an indelible mark with unique and fun to drive vehicles. A standout moment in this legacy is the 1954 introduction of the Porsche 356 Speedster, a lightweight sports car designed for the American market that quickly became synonymous with driving pleasure.
With Speedster values climbing throughout the 1980s and 1990s, FiberFab International gained prominence for crafting affordable fiberglass Speedster replicas based on air-cooled Volkswagen Beetles. These replicas captured the essence of the original design and provided enthusiasts with an accessible driving experience reminiscent of the iconic Porsche Speedster.
Highlights
Based on and titled as a 1965 Volkswagen

Porsche 356 A Speedster Widebody Replica by Fiberfab

CheetahWrap "Mint" colored wrap with a ceramic coat over a black upholstered and carpeted interior with bucket seats

Recent reupholstery of the dash and doors

Air-cooled 1,835cc flat-four engine with dual 40mm carburetors built by GEX International rated at approximately 100 horsepower

Recent engine reseal with a new starter

Polished 16 inch American Racing aluminum wheels

Nardi steering wheel

Four-wheel disc brakes

Offered with 11,132 miles at the time of listing, thought to be the total since completion
Features
Recent install of a MBT-RX JL Audio receiver and JL Audio C2 speakers

Roll bar

Lap belts

VDO gauges

B&M shift handle

Dual cup holders

Passenger compartment Speedster storage box

Black vinyl boot cover

Porsche badging

Porsche and Stuttgart grille badges

Headlight grilles

Leather hood and decklid straps

Front and rear bumper "nerf bars"

12 volt electrical system
Known Imperfections
Small nick in the driver's door panel

Fiberglass body nicks at the base of the door frame

The boot cover has been dyed black however some of the previous red is showing through

The windshield wipers worked when purchased but are physically not on the windshield at the moment. The consignor is unsure if they are still operable post-wrap.
Included
Three retro-styled dashboard gauges

Four-speed shift knob
Ownership History
Based on and titled as a 1965 Volkswagen, this 1957 Porsche 356 A Replica with body by Fiberfab was purchased by the consignor on 19 August 2022. Since their purchase, the dash and doors have received fresh upholstery, the stereo unit has been replaced with a unit from JL Audio, and the starter has been replaced along with an engine reseal. In February 2023 the car was sanded and wrapped in Mint colored CheetahWrap along with a ceramic coating.
Bids
Be the first to place a bid!
Insurance
Save 21% per yearon your insurance premium
Apply now
Learn more