1973 Volkswagen Super Beetle Convertible
Engine
1.6-Liter Flat-Four
Addenda and Errata
Please note that images of the trunk floor and interior foot wells have been added to the Image Gallery.
Please note that walk-around, idle, and revving videos have been added to the Video Gallery.
Video Gallery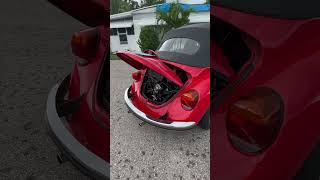 1973 Volkswagen Super Beetle Convertible Walk-Around and Idle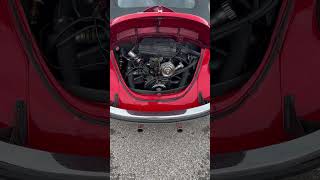 1973 Volkswagen Super Beetle Convertible Revving
Description
OFFERED WITHOUT RESERVE
An iconic automobile that holds a special place in automotive history, the Volkswagen Super Beetle, especially in its Convertible form, is a highly enjoyable collectible car today. Produced by Volkswagen from 1971 to 1979, the Super Beetle Convertible represents a noteworthy era in automotive design. Volkswagen introduced updated features like McPherson strut front suspension and a curved windshield, enhancing both comfort and safety, yet remaining unmistakably true to the original design. Its compact size and nimble handling make it a joyful drive.
Opening the cabin to both the sun and the stars, the Convertible's vinyl roof is simple to maintain, and the fully upholstered and insulated interior enhances the overall riding experience. Today, the Super Beetle Convertible commands a strong following among collectors, thanks to its historical relevance, unique design, and undeniable fun factor, making it a cherished addition to any vintage car enthusiast's collection.
Highlights
Finished in Kasan Red with a matching Black vinyl interior and folding convertible soft top

Powered by a 1.6-liter flat-four mated to a four-speed manual transmission

Reported to a strong running example

Upgraded Dual brand AM/FM/CD radio

The current owner notes that the battery was replaced in July

Please note that while the odometer displays just under 12,000 miles at the time of listing, the true mileage is unknown
Features
MacPherson front struts

Running boards

Grant GT wood-rimmed steering wheel

Dual circuit brakes

Independent suspension

Heater

Vent windows

Front and rear stabilizer bars

Adjustable driver's seat

Lockable glove box

Chrome hubcaps

Door-mounted map pockets

Adjustable front seat
Known Imperfections
Minor cosmetic imperfections on the convertible soft top

The factory-installed trunk lever is inoperable, with a custom one installed

Minor pitting on the front bumper
Included
A small toolbox with tools

Workshop manual

Jack

Spare tire

Car cover
Ownership History
The current owner of this 1973 Volkswagen Super Beetle Convertible relayed that they purchased the car approximately two years ago from their neighbor. The previous owner is said to have purchased the car from California. 
Additional Notes
Sales Tax Notice to Arkansas, Mississippi, and West Virginia Bidders:  Because this car is located in Florida, Hagerty Marketplace may be required to collect and remit Florida sales tax on your purchase, even if you plan to register it outside of Florida.  Unlike most other states, the states of Arkansas, Mississippi, and West Virginia may not provide a full credit against sales taxes paid to Florida.  For additional information, please consult this publication and your own tax advisor regarding sales taxes applicable to cars located in Florida that are sold to residents of another state.
Optional vehicle service contract available for $1,450. Learn more about the program here. *Sales tax may be applicable.
Additional documents
Bids
Be the first to place a bid!
Insurance
Save 21% per yearon your insurance premium
Apply now
Learn more