1986 Pontiac Fiero GT
Chassis/VIN
1G2PG9795GP281348
Addenda and Errata
Please note that the owner has been in contact with CARFAX and has fixed the mileage inconsistency, with the CARFAX Vehicle History Report being updated and available for review in the Additional Documents section.
Video Gallery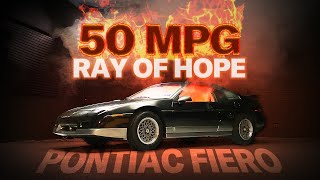 Jason Cammisa's Revelations Ep. 27
Description
Emerging from the doldrums of the malaise era, Pontiac bestowed the world with a mid-engined glistening ray of hope. Initially conceived as an economic coupe, the Fiero delivered much more. With the right options, it achieved a remarkable 50 mpg on the highway, or it could be as quick as a Ferrari 308 when sprinting to 60 mph. The Fiero would go on to be the first and only mid-engine production car from GM until the launch of the C8 generation of Corvette in 2020. Pontiac's marketing slogan - "We Build Excitement" - still rings true, and it is easy to see why when presented with a stellar example such as this, with sporting styling and a mid-engined V6 mated to a manual transmission. This is the car that placed Pontiac back in the spotlight of being the fun and sporting brand once again.
Highlights
Finished in Black with silver accents over a grey cloth interior

Powered by a 2.8-liter V6 upgraded with Hypertech Street Runner tune, Accel 15-lb fuel injectors, and an MSD coil, cap, and wires

Desirably equipped with a five-speed manual transmission

Upgraded Ravetti 18-inch wheels with the originals included with the purchase of the vehicle

Under current ownership, the following parts were replaced or installed with receipts documenting the process include a new air conditioning compressor, lines, hoses, shocks, struts, steering damper, and cruise control components

A 7-inch Garmin GPS unit with a backup camera and a Delco radio with AM/FM/CD and hands-free Bluetooth capabilities have also been installed in place of the original radio

Featured in episode 27 of Jason Cammisa's Revelations on YouTube with Jason driving the car on a canyon road at the end of the video
Features
Air conditioning

Rear spoiler

Fog lights

Four-wheel power disc brakes

Pop-up headlights

Cruise control

Power windows

Tilt steering wheel

Electric rear window defroster

Power door locks

Intermittent wipers

Carpeted cargo area
Known Imperfections
This Fiero is presented as a well-kept example and is said to be free from all but the smallest of imperfections
Included
Display board

Owner's manual

Service manual

Brochures

Books

Original wheels

Original radio
Ownership History
The current owner of this stunning 1986 Pontiac Fiero GT purchased the car in Texas in August 2021, with just under 40,000 miles reported to CARFAX at the time. Prior entries to CARFAX show the car was registered in Oklahoma and Texas.
Optional vehicle service contract available for $875. Learn more about the program here. *Sales tax may be applicable.
Bids
Be the first to place a bid!
Insurance
Save 21% per yearon your insurance premium
Apply now
Learn more