1976 Cadillac Eldorado Convertible
Addenda and Errata
Three videos have been added to the Video Gallery.
Video Gallery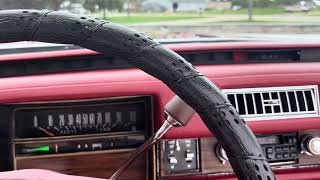 1976 Cadillac Eldorado Convertible Cold Start Video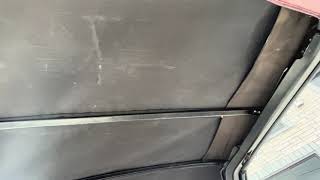 1976 Cadillac Eldorado Convertible Power Top Lowering Video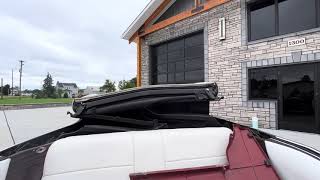 1976 Cadillac Eldorado Convertible Power Top Raising Video
Description
OFFERED WITHOUT RESERVE
During the 1970s, Cadillac, like many domestic car makers, was going through a period of change. Although one in every eight Cadillac owners had opted for a convertible during the mid-1960s, the demand for convertibles was dwindling. Even after the fuel crisis, Cadillac's reputation for luxury continued with numerous cars powered by the mighty 500 cu-in V8 engine. In 1977, a completely new Cadillac was launched with smaller body dimensions and engine size, aimed at increasing fuel efficiency. This meant that 1976 was the last year for full-sized luxury cars with the 500 cu-in engine. As a result of decreased demand and concerns about government regulations surrounding convertibles, Cadillac was the only US manufacturer to offer a convertible in 1976, dropping the convertible model for 1977. Although convertibles slowly started to be produced again during the 1980s, none of them can compare to the legendary full-sized luxury convertible that is still commonly known as the "last convertible ever."
Highlights
Powered by the 500 cu-in V8 with optional fuel injection paired with a Turbo-Hydramatic automatic transmission

Finished in Firethorn Metallic (36), a perfect compliment to the White Sierra grain leather interior with matching red dashboard and carpeting

Power-operated white soft-top for added luxurious ease of operation

15-inch wheels with black painted wheel covers 

The radio has been upgraded with a Kenwood head unit featuring AM/FM and cassette capabilities

Believed to have lived nearly its entire life in the Las Vegas, Nevada area and exhibiting a sanitary undercarriage 

Reported to be a nice driver example that runs well

Please note that while the five-digit odometer displays just over 26,000 miles, the true mileage is unknown
Features
Power steering 

Lamp monitors 

Power door locks

Cornering lights

Soft Ray glass

Power windows

Cruise control

Hydra-boost power brakes

Six-way power seat-adjuster

Power antenna

50/50 dual comfort front seats with individual armrests

Tilt, telescoping steering wheel

Twilight sentinel 

Guide-Matic automatic dimming headlight control

Delay wipers

Automatic climate control
Known Imperfections
The hood has stone chips and cracks

One wheel cover is missing

The rear side windows are out of adjustment

The convertible top needs adjustment to operate freely 

The power antenna is inoperable
Included
Owner's manual

Maintenance schedule book

Carpet dash cover
Ownership History
This 1976 Eldorado Convertible is believed to have lived its entire life in the Las Vegas, Nevada area, with the current owner retaining it for the past 20 years. It remained in their possession until earlier this summer when it was shipped to Michigan in preparation for sale. 
Additional Notes
A Broad Arrow Group Car Specialist is working as an agent on behalf of the owner for this vehicle.
Contact: Craig Zimmerman   Phone: 586.707.5811  email: craig.zimmerman@broadarrowgroup.com
Optional vehicle service contract available for $1,450. Learn more about the program here. *Sales tax may be applicable.
Additional documents
Bids
Be the first to place a bid!
Insurance
Save 21% per yearon your insurance premium
Apply now
Learn more