1961 Morgan Plus Four Roadster
Engine
2.0-liter inline-four cylinder
Addenda and Errata
Please note that a ride-along video has been added to the video gallery.
Please note that three photos have been added to the photo gallery depicting the frame number, bonnet hinge number, and engine number.
Please note that an additional image has been added to the photo gallery.
Please note that 18 exterior photos showing the tonneau cover have been added to the photo gallery.
Please note that this Morgan has 103 miles on the odometer, not 10 as previously stated.
Please note that a Morgan Chassis Record Certificate has been added to the Documents section indicating that this Plus Four Roadster is likely a 1960 model year and confirms its original build specification.
Please note that the side curtains previously listed in the included section belong to the Superformance MKIII and are not included in the sale with the Morgan.
Video Gallery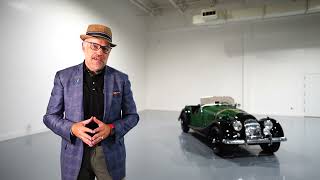 1961 Morgan Plus Four Roadster Walk-Around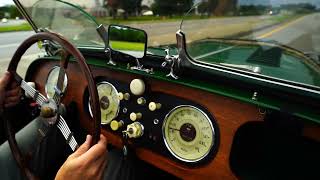 1961 Morgan Plus Four Roadster Ride-Along
Description
OFFERED WITHOUT RESERVE
The 1961 Morgan Plus Four Roadster stands as a captivating emblem of vintage automotive craftsmanship. With its timeless design, it captures the essence of a bygone era while offering a driving experience that is both spirited and nostalgic. The hand-built nature of the car is evident, showcasing the artisanal expertise of Morgan's craftsmen. Its sleek and compact silhouette is accentuated by sweeping fenders, a distinctive radiator grille, and elegant chrome accents that evoke a sense of elegance and sophistication. Under the bonnet, the Plus Four Roadster houses a robust engine that delivers a balance of power and responsiveness. The minimalist yet refined interior features classic leather upholstery, simple gauges, and a wooden steering wheel, inviting the driver and passenger to connect with the essence of driving. The 1961 Morgan Plus Four Roadster is not merely an automobile; it's a rolling testament to the rich heritage of British motoring, inviting those fortunate enthusiasts to relish in the joy of driving a true vintage masterpiece.
Highlights
Offered from the V&S Collection

Factory left-hand drive example, originally sold through Fergus Motors of New York

Restored in 1992 utilizing a factory-remanufactured chassis and ash wood frame

Finished in a two-tone green and black livery

Black leather interior

Formerly part of the Orin Smith Collection

Fitted with a Triumph TR3 inline four-cylinder engine

Four-speed Moss manual transmission

Aluminum bodywork

Dual Brooklands windscreens

Super Sport-style air induction scoop

Gloss black wire wheels

Gear reduction starter

August 2023 service in preparation for the sale ($4,000) includes a brake system bleed with new rear wheel cylinders, fresh Vredestein Sprint Classic tires and tubes, a new battery, a fuel system drain, new correct spark plugs, distributor adjustment, new correct ignition coil, valve adjustment, ignition timing adjustment, carburetor balance and mixture adjustment, oil change with filter, and a road test and tune.
Features
Coil-sprung, sliding-pillar front suspension

Semi-elliptical rear leaf spring suspension

Solid rear axle

Hydraulic Girling front disc and rear drum brakes

Super Sport-style seats

Battery cut-off kill-switch conveniently located just behind the passenger seat

Engine compartment-mounted fire extinguisher

Leather bonnet strap

12 volt electrical system

Gauges: fuel, water temp, oil pressure, speedometer, and tachometer
Known Imperfections
Paint chips and paint swirl marks
Included
Original starter

Paperwork from August 2023 detailing over $4,000 in parts and servicing in preparation for sale
Ownership History
Originally delivered through Fergus Motors in New York as a left-hand-drive example, research indicates that it was restored in the USA with a "remanufactured" chassis and ash wood frame from the factory in 1992. Later acquired by Stephanie Bennett-Smith from Thomas Rossiter, the car formed parts of the Orin Smith collection sold in 2017 where it was acquired by the consignor, entering the V&S Collection.
Additional Notes
A Broad Arrow Group Car Specialist is working as an agent on behalf of the owner of this vehicle. Contact: Ramsey Potts Phone: 912.508.4096 email: rpotts@hagerty.com
Bids
Be the first to place a bid!
Insurance
Save 21% per yearon your insurance premium
Apply now
Learn more