Single-Family-Owned 1959 Chevrolet Corvette
Addenda and Errata
Please note that 17 additional pictures have been added to the Photo Gallery.
Please note a walk around and driving video has been added to the Video Gallery.
Video Gallery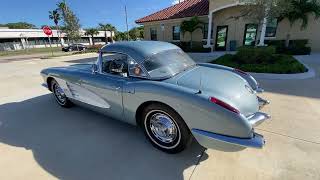 1959 Chevrolet Corvette Walk Around and Driving Video
Description
Inspired by the Oldsmobile Golden Rocket design study, the "solid axle" generation of Chevrolet's Corvette was redesigned for 1956 with quad headlamps and dramatic side coves. The 1959 Corvette was an evolution of this initial restyle, shorn of its immediate predecessor's faux hood louvers and chromed vertical bars on the rear deck. The 1959 Corvette was further upgraded by the addition of trailing radius rods intended to suppress axle hop under acceleration. In fact, period Chevrolet advertising in The New Yorker called the 1959 Corvette a "precision instrument at work — a superb vehicle created solely to serve the art of driving."
In fact, it's no different today. After nearly 65 years, rare is the Corvette that is retained within the same family, unavailable on the public market until now. A single-family example, this 1959 Chevrolet Corvette is one such car, passed from father to daughter the type of automotive story commonly heard but rarely seen. 
Highlights
A single-family-owned example

Optional four-speed close-ratio, Synchro-Mesh manual transmission

Finished in Frost Blue with Snowcrest coves

Upholstered in Blue and White with a Blue color-matched "quick-change" hardtop

Currently features a 327 cu-in engine

Toned down exterior styling for 1959 with the faux louvers disappearing from the hood and the removal of the  trunk "spears"

Vintage North Shore Corvettes of Massachusetts and TWA window decals

Please note that while the odometer currently displays 1,249 miles at the time of cataloging, the true mileage is unknown
Features
Box-girder, X-member reinforced frame

Glass-fiber-reinforced plastic body - sculptured side panels

Independent coil spring front suspension with stabilizer bar

Outrigger-mounted semi-elliptic rear springs

Direct double-acting shock absorbers

Modified with power brakes

Mechanical parking brake

16.4 gallon fuel tank

Vented chrome wheel covers with simulated knock-off hubs

Cowl ventilator

"Chrome-bound" windshield

Dual exhaust ports in rear bumpers

Crank-operated windows

Vinyl-covered instrument panel crown and doors

"Competition-type" steering wheel

Dual electric windshield wipers
Known Imperfections
A "driver" quality example with the following known imperfections:
Possible engine mount modifications made for a previously fitted larger engine

Minor scuff on the right front fender

Inoperative driver's side tail light

Chip on lower left side windshield

Inoperative Wonder Bar radio

Disconnected tachometer

Small tear in the driver's seat

Some pitting on the chrome bumpers

Worn soft top

Crack in hard top rear window
Included
Original "quick-change" removable matching fiberglass hardtop

Jack handle

Spare trunk-mounted tire
Ownership History
As relayed by the consignor, the consignor's father purchased this 1959 Corvette as a new car and since that time it has remained in the family, passed from father to daughter.
Hagerty Marketplace has confirmed a clean title status, the owner maintains the title in hand and will send it to the Hagerty Marketplace team to be reassigned to the new owner after the auction is complete.
Additional Notes
A Broad Arrow Group Consignment Specialist is working as an agent on behalf of the owner of this vehicle
Contact: Hunter Harris Phone: 772.925.9304 email: hunter.harris@broadarrowgroup.com
Optional vehicle service contract available for $750. Learn more about the program here. *Sales tax may be applicable.
Bids
Be the first to place a bid!
Insurance
Save 21% per yearon your insurance premium
Apply now
Learn more