23-Years-Owned 1968 Chevrolet Camaro Z/28
Addenda and Errata
Please note the mileage shown has been updated with photos showing the current odometer reading.
Video Gallery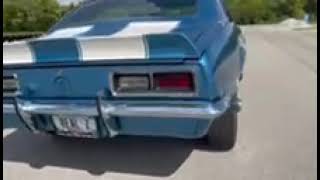 1968 Chevrolet Camaro Z/28 Walk-Around
Description
The Camaro Z/28 had a triumphant stint in the Trans-Am racing series, securing victory in 10 out of 13 races. Its success led to a surge in demand, eventually making it available for everyday road use. The Z/28 option boasted a high-performance 302 cu-in (4.9-liter) small-block V8 engine, originally intended for the 5.0-liter (305 cu-in) racing class. The notion of offering "virtually race-ready" Camaros for purchase from any Chevrolet dealer was the brainchild of Vince Piggins. This 1968 Chevrolet Camaro has been meticulously restored to its former glory and is now poised to be cherished by its new owner. With its rich history and impressive performance, the Camaro Z/28 remains a highly coveted muscle car among enthusiasts and collectors alike.
Highlights
Under the care of the current owner for the past 23 years

Finished in LeMans Blue Poly with two white racing stripes 

Powered by a 290 horsepower 302 cu-in V8 rebuilt to original specification that required 100 octane leaded fuel 

Equipped with a four-speed manual Muncie M-21 transmission, serial number 3925660

At 500 miles, the engine was replaced under warranty with engine serial number CE 922632, which is still in the car today

Ten-year rotisserie restoration to factory correct specification or replaced with correct date-coded parts, with all the sheet metal used being new old stock parts 

Jerry MacNeish of Camaro Hi-Performance, Inc. in Eldersburg, Maryland, restored the following parts: 

Distributor 1111467. 8E23

Alternator 1100814. 8F10 37A

Starter 8367. 8F28

Holley carburetor 4053 8A3 800 cfm # 3923289

Master cylinder #5A60346/DI

Brake booster #9204/185

Complete smog system 

Steering box #5679142/157

Exhaust manifolds #3872730 and 3832683

Included is a replica battery for show use, along with a modern battery for driving

Fitted with a set of five 15-inch original DF wheels, all shod with Goodyear E-70 Wide Trad GT tires and finished with the correct trim rings and center caps
Features
Code BU 12 bolt Positraction rear axle with a 3:73:1 gear ratio

Dual sun visors

Power brakes

AM radio

T3 headlights

Functional clock

Manual windows 

Locking glove box

Dual front bucket seats

Center console with wood grain applique

Three-spoke steering wheel

Front and rear spoilers
Known Imperfections
This Camaro is presented as a well-kept example and is said to be free from all but the smallest of imperfections
Included
Original sales contract from M & O Chevrolet Company of Fayetteville, North Carolina

Original Indiana title

Owner's manual

Original Protect-O-Plate

NCRS shipping data report

A letter and speeding tickets from the original owner

Set of aftermarket headers installed by the original owner

Car cover
Ownership History
This 1968 Chevrolet Camaro was purchased by the previous owner from M & O Chevrolet Company of Fayetteville, North Carolina, on 25 March 1969, and retained the car until it was purchased by the current owner 23 years ago.
Optional vehicle service contract available for $1,400. Learn more about the program here. *Sales tax may be applicable.
Bids
Be the first to place a bid!
Insurance
Save 21% per yearon your insurance premium
Apply now
Learn more