1970 Dodge Dart Swinger Hardtop Coupe
Engine
225 cu-in Inline-Six
Addenda and Errata
Please note that images and video of the undercarriage have been added to the Photo and Video Galleries.
Video Gallery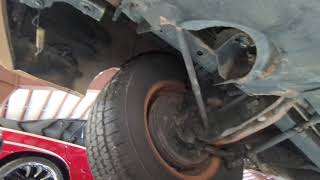 1970 Dodge Dart Swinger Hardtop Coupe Undercarriage
Description
OFFERED WITHOUT RESERVE
Introduced during an era of muscle car dominance, the Dodge Dart Swinger Coupe combined sleek design with potent performance. Although originally offered as a full-size car, by 1970 the Dart had become a stylish compact offering. The Dart Swinger, a variant of the popular Dart model, featured a sporty two-door hardtop body style and showcased the bold styling elements of the time. Featuring the iconic Mopar motor known as the Chrysler 225 "Slant-Six," this popular inline-six became one of Chrisler's most successful motors, in production until 2000.
This 1970 Dart Swinger is finished in a Dark Tan exterior with Tan velour full bench seats in the front complete with the dual band black fender and trunk stripe that was a mainstay on many Mopar products at the time. The Swinger Hardtop Coupe blends the appeal of the early 70s with an uncommon model that offers the possibility of years of enjoyable classic motoring.
This car is part of the George Foreman Collection, which comprises over 50 cars from the 1930s through today, with a focus on American classics and late-model sports cars.
Highlights
Offered from The George Foreman Collection

Factory air conditioning

New Valucraft 24F-VL battery installed in November 2023

The fender tag decodes as follows:

E24  - 225 cu-in single barrel carburetor "Slant-Six" 145 horsepower engine

D31 - "A904" three-speed automatic transmission

FT6 - Exterior color Dark Tan

D2T5 - Trim - Luxury, Vinyl Bench Seat, Tan

106 - Build Date: January 06

149447 - Order number

FT6 - Top Color

H51 - Air conditioning with heater

N95 - Emissions control

Y05 - Build to USA specs

END - End of sales codes

Please note that while the odometer currently displays 69,378 miles at the time of cataloging, the true mileage is unknown
Features 
Hand crank operated windows 

Horizontal speedometer 

Hi-Comp Audiovox head unit and radio

Horizontal Speedometer 

Solid rear axle 

Front and rear drum brakes
Known Imperfections
Please note that the vehicles in The George Foreman Collection have been in long-term static storage and will benefit from additional mechanical attention prior to being driven. Bidders are encouraged to review the Additional Documents section of each lot for any recent mechanical service rendered to help return certain vehicles to running condition. Additionally, bidders should carefully review the photos of each lot in the collection, which may highlight the oxidation of metal components certain vehicles sustained as the result of a garage fire caused by a golf cart battery in March 2019. Although none of the vehicles sustained fire damage from the fire itself, the negative cosmetic effects of the corrosive soot vary greatly from vehicle to vehicle and can be observed in the photo galleries of each lot. All lots are sold as is, where is, and bidders are responsible for any desired diligence before placing a bid.

While this vehicle runs it is likely in need of a new water pump

Front grille, headlight surrounds, and taillights are heavily warped

Paint blistering on the passenger side front fender, passenger door, and roof

Oxidation of interior trim and switchgear

Oxidation of exterior window trim, door handles, and fuel cap

Scratch on rocker forward of the right rear wheel

Minor scratch on passenger quarter panel
Included
Two keys

Two wheel trim rings (removed)

Dodge Dart owner's manual
Ownership History
Ownership documents included in the sale indicate that George Foreman has been in possession of this Dodge Dart Swinger Hardtop Coupe since the early 1980s.
Additional Notes
A Broad Arrow Group Consignment Specialist is working as an agent on behalf of the owner of this vehicle.
Contact: Ramsey Potts Phone: 912.508.4096 email: rpotts@hagerty.com
Bids
Be the first to place a bid!
Insurance
Save 21% per yearon your insurance premium
Apply now
Learn more