6,800-Mile 1991 Callaway Twin Turbo Corvette Convertible
Chassis/VIN
1G1YY3388M5117020
Engine
5.7-liter Twin Turbo V8
Addenda and Errata
Please note that undercarriage images have been added to the Photo Gallery.
Please note that a brake fluid flush, a fresh battery, and a new clutch slave cylinder have been installed.
Please note a picture of the Regular Production Option (RPO) sticker has been added to the Photo Gallery.
Video Gallery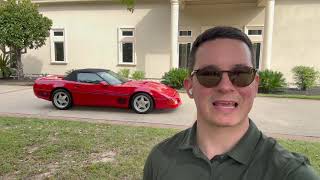 1991 Callaway Twin Turbo Corvette Convertible Exterior Walk Around Video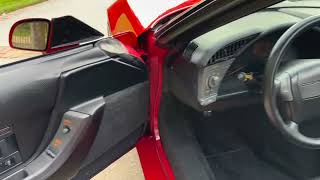 1991 Callaway Twin Turbo Corvette Convertible Interior Walk Around Video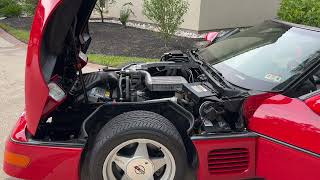 1991 Callaway Twin Turbo Corvette Convertible Engine Walk Around Video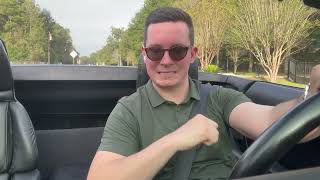 1991 Callaway Twin Turbo Corvette Convertible Driving Video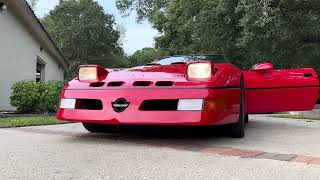 1991 Callaway Twin Turbo Corvette Convertible Headlight Operation Video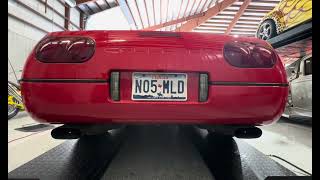 1991 Callaway Twin Turbo Corvette Convertible Start Up Video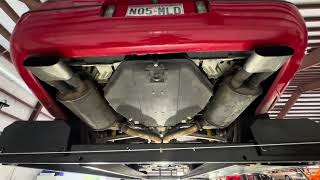 1991 Callaway Twin Turbo Corvette Convertible Undercarriage Video
Description
OFFERED WITHOUT RESERVE
Callaway Cars, a well-known name in the world of automotive performance, was founded by Reeves Callaway in 1977. He established his reputation by modifying existing vehicles, enhancing their performance, and creating unique, high-performance automobiles. 
One of Callaway's most celebrated projects was the Callaway Twin Turbo Corvette (RPO option B2K), introduced in 1987. This fourth project for the company marked a significant milestone. It involved the installation of a twin-turbocharger system onto the Chevrolet Corvette's "L89" V8 engine, initially boosting horsepower from the stock 245 to a remarkable 382, while also increasing torque and overall performance. By 1991 the ZR-1 Corvette had arrived, and Callaway would raise the output of the B2K option to 403 horsepower with 575 lb-ft of torque.
The Callaway Twin Turbo Corvette quickly gained recognition for its impressive power, sleek body modifications, and improved handling.  The Twin Turbo Corvette was a statement of excellence and innovation in the world of sports cars, solidifying Callaway's reputation as a premier custom builder, setting the stage for further groundbreaking ventures, and cementing Callaway Cars as a respected name in the realm of high-performance automobiles.
This car is part of the George Foreman Collection, which comprises over 50 cars from the 1930s through today, with a focus on American classics and late-model sports cars. View the full collection here.
9 knockouts from the George Foreman collection
Highlights
Offered from The George Foreman Collection

A single-owner example retained by George Foreman since new

A rare Corvette variant, Callaway Engineering limitation number 057, just one of approximately 71 produced in 1991

Callaway modifications added $33,000 to the Corvette base price for a total of $89,859 in 1991

Only driven 6,832 miles since delivery

Optioned from Chevrolet with:

Corvette Preferred Equipment (Group 1) that includes: electronic air conditioning, Delco-BOSE music system, six-way power driver's seat

Selective ride and handling

Black leather adjustable sport bucket seats

Six-way passenger power seat

Engine oil cooler

RPO "B2K" Twin Turbo Package:

5.7-liter "L98" Twin Turbo V8 with 403 horsepower and 575 lb-ft of torque

Twin-charge air coolers

Six-speed manual transmission

Mahle forged pistons

Z5G "Special Equipment" option that includes:

Free flow mufflers

Long air dam

Power steering cooler

J-55 Front brakes

Dymag 17 x 9.5 inch wheels

Callaway-branded boost gauge

A brake fluid flush, fresh battery, and a new clutch master cylinder have been installed November 2023

Clean CARFAX Vehicle History Report
Features
High-volume oil pump

Engine oil cooler

Up-rated valve springs

Steel roller camshaft and hydraulic roller lifters

Dry sump oil pump for turbocharger oil scavenge

Polished air inlet castings

Additional engine heat shielding

Automatic climate control

Power windows

Power-adjustable heated mirrors

Cruise control

Black convertible soft top
Known Imperfections
Please note that the vehicles in The George Foreman Collection have been in long-term static storage and will benefit from additional mechanical attention prior to being driven. Bidders are encouraged to review the Additional Documents section of each lot for any recent mechanical service rendered to help return certain vehicles to running condition. Additionally, bidders should carefully review the photos of each lot in the collection, which may highlight the oxidation of metal components certain vehicles sustained as the result of a garage fire caused by a golf cart battery in March 2019. Although none of the vehicles sustained fire damage from the fire itself, the negative cosmetic effects of the corrosive soot vary greatly from vehicle to vehicle and can be observed in the photo galleries of each lot. All lots are sold as is, where is, and bidders are responsible for any desired diligence before placing a bid.

Paint chips on the passenger side cowl edge of the hood

Broken center console phone receiver

Hazard lights stalk on the steering column is broken but remains operational

Paint chips on the passenger corner of the hood near the windshield

Minor paint chip near the antenna

Minor scratch on the right rear wheel

Non-functional driver's seat motor (backward and forward directions), up/down and recline works well.

Tail lights illuminate however brake lights don't engage
Included
1991 Chevrolet Corvette Owner's Manual

1991 Callaway Window Sticker

1991 Callaway Twin Turbo Corvette Owner's Manual and Warranty Information books

NEC In-car cellular mobile telephone (broken)

Touch-up paint bottle
Ownership History
The clean CARFAX Vehicle History Report for this 1991 Callaway Twin Turbo Corvette Convertible indicates that it is a single-owner example, entering The George Foreman Collection in February 1992. The delay in delivery was likely due to Callaway's performance modifications made in Old Lyme, Connecticut, and the 131 testing and validation miles put on the car before delivery to the selling dealer, Ground Effects of Houston, Texas. Today, this rare Corvette variant (one of just 71 produced in 1991) features a mere 6,832 miles on the odometer, an incredible relic of RADwood era tuning and design.
Additional Notes
A Broad Arrow Group Car Specialist is working as an agent on behalf of the owner for this vehicle.
Contact: Alexander Keck Phone: 402.617.9770 email: akeck@hagerty.com
Bids
Be the first to place a bid!
Insurance
Save 21% per yearon your insurance premium
Apply now
Learn more