1932 Ford Model 18 Deluxe Coupe
Chassis/VIN
VF158ZZ40798018
Engine
Small-Block Chevrolet V8
Addenda and Errata
Please note that the identifying stamp for this 1932 Ford is based on the engine number.
Please note that additional photos and an undercarriage video have been added to the listing.
Video Gallery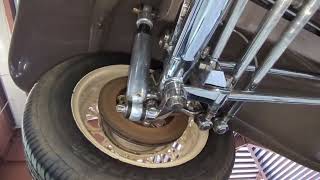 1932 Ford Model 18 Deluxe Coupe Undercarriage Video
Description
OFFERED WITHOUT RESERVE
After building a substantial lead in the automotive industry with the Model T and Model A built by his namesake Ford Motor Company, Henry Ford was critically aware of his competition beginning to catch up. With General Motors and Chrysler now offering six-cylinder engines in their Chevrolet and Plymouth models, the Model A was still using a trusty four-cylinder and as a result, in the summer of 1930, Henry Ford enlisted a team comprised of his most talented experimental engineers to begin designing a small V8 that could be produced easily and inexpensively for the masses. First shown to the public in March of 1932, the new design dubbed the Model 18 offered a variety of attractive open and closed bodies and was well received by the general public. Eventually gaining immense popularity by helping build the hot-rodding community, 1932 Ford Model 18s, or "Deuce Coupes" have enjoyed perhaps the most of this attention as they have been ingrained in American pop-culture as one of the original hot rods.
This car is part of the George Foreman Collection, which comprises over 50 cars from the 1930s through today, with a focus on American classics and late-model sports cars.
9 knockouts from the George Foreman collection
Highlights
Offered from the George Foreman Collection

Iconic "Deuce Coupe" hot rod tastefully upgraded

Powered by an upgraded small-block V8 Chevrolet engine

Finished in an attractive light brown exterior 

It features an updated interior upholstered with tan leather 

Please note that while this vehicle currently shows 819 miles at the time of cataloging, the true mileage is unknown 
Features
Automatic transmission 

Painted wire wheels with chrome hub caps

MSD ignition 

Meziere aluminum radiator

Aluminum valve covers 

Dual-exit exhaust

Three-spoke "banjo" steering wheel 

Aftermarket shifter

AutoMeter gauges

Dual side-view mirrors 

Dual headlamps
Known Imperfections 
Please note that the vehicles in The George Foreman Collection have been in long-term static storage and will benefit from additional mechanical attention prior to being driven. Bidders are encouraged to review the Additional Documents section of each lot for any recent mechanical service rendered to help return certain vehicles to running condition. Additionally, bidders should carefully review the photos of each lot in the collection, which may highlight the oxidation of metal components certain vehicles sustained as the result of a garage fire caused by a golf cart battery in March 2019. Although none of the vehicles sustained fire damage from the fire itself, the negative cosmetic effects of the corrosive soot vary greatly from vehicle to vehicle and can be observed in the photo galleries of each lot. All lots are sold as is, where is, and bidders are responsible for any desired diligence before placing a bid.

Oxidized gauge cluster surround

Electrical wiring issues
Ownership History 
As a member of the George Foreman Collection, this example has served as an example of one of the most iconic Ford hot rod models ever produced. 
Additional Notes
Please note: Title in transit
A Broad Arrow Group Car Specialist is working as an agent on behalf of the owner for this vehicle.
Contact: Alexander Keck Phone: 402.617.9770 email: akeck@hagerty.com
Bids
Be the first to place a bid!
Insurance
Save 21% per yearon your insurance premium
Apply now
Learn more