1963 Chevrolet Corvette Sting Ray "Split-Window" Fuelie Coupe
Addenda and Errata
Please note that undercarriage images and video have been added to the Photo and Video Galleries.
Video Gallery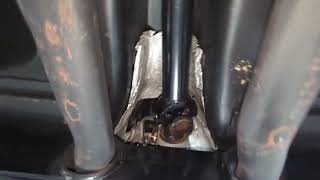 1963 Chevrolet Corvette Sting Ray "Split-Window" Fuelie Coupe Undercarriage
Description
OFFERED WITHOUT RESERVE
Tales of the creation of the 1963 Corvette are both legion and legend. Seductive aerodynamic design by Bill Mitchell and Larry Shinoda, incorporating innovative rotating headlights, was mounted upon a thoroughly redesigned chassis, featuring Corvette's inaugural four-wheel independent suspension, developed by the talented Zora Arkus Duntov, and powerful 327 cu-in V8 engines in multiple states of performance tune with the most exciting of these being the "L84" option 360 horsepower engine with Rochester Ramjet mechanical fuel injection. The result was a Corvette that really was truly new, and which was engineered from top to bottom to become the world-beating sports car that Arkus Duntov, later renowned as the "Father of the Corvette," had always known it could be.
This was the first production Corvette sold as a coupe, an idea that had been explored since the model's earliest days but had never been fully realized; now it was, and to many eyes, the coupe was every bit as rakish as the roadster counterpart. In a stylistic victory, Mitchell successfully argued for the spine splitting the rear window. A design flourish of considerable beauty, the "split window" would last only one year but made the original Sting Ray coupe both unique and unforgettable for future generations.
This car is part of the George Foreman Collection, which comprises over 50 cars from the 1930s through today, with a focus on American classics and late-model sports cars.
9 knockouts from the George Foreman collection
Highlights
Offered from The George Foreman Collection

Powered by a 327 cu-in, 360 horsepower V8 engine with Rochester Ramjet mechanical fuel injection

Iconic one-year-only "Split-Window" Coupe design

"M20" four-speed manual transmission

Finished in optional "Magic-Mirror" Sebring Silver over a Red vinyl interior

Chassis Serial Number (30837S107223) decodes as:

3 - 1963

08 - Corvette

37 - Coupe

S - St. Louis Assembly

107223 - Production number with an approximate build date of 21 January 1963

Trim Tag decodes as:

Body time build code: E3 (3 January 1963) 

Style: 63 837 - 1963 Chevrolet Corvette Coupe

Trim: 490L - Red vinyl upholstery

Body: 3950 - Sequential body number 3950

Paint: 941A - Sebring Silver paint

Rochester Fuel Injection Information:

Serial Number - 2064

Part Number - 7017375

Currently displaying 3,775 miles at the time of cataloging, the true mileage of this Corvette is unknown
Features
Power-operated, retractable headlights

New, torsionally stiffer frame than the outgoing C1 model

New four-wheel independent suspension

Hydraulic self-adjusting brakes

Full instrumentation includes: speedometer, tachometer, trip odometer, ammeter, oil pressure, fuel and temperature gauges

A center console houses: an electric clock, ashtray, and heater controls

Crank operated windows

Blended air heater

Cowl inlet ventilation system

Electric windshield wipers

Push-button windshield washer

Parking brake alarm

Two concealed compartments under the rear luggage area
Known Imperfections
Please note that this lot is offered in non-running condition after being stored without operation in a climate-controlled facility for at least 10 years. As a result, it will benefit from additional mechanical attention before being driven to address any imperfections associated with long-term storage or individual preferences. Bidders are encouraged to review the Additional Documents section of each lot for any recent mechanical service rendered to help return certain vehicles to running condition. Additionally, bidders should carefully review the photos of each lot in the collection, which may highlight the oxidation of metal components certain vehicles sustained as the result of a garage fire caused by a golf cart battery in March 2019. Although none of the vehicles sustained fire damage from the fire itself, the negative cosmetic effects of the corrosive soot vary greatly from vehicle to vehicle and can be observed in the photo

Fuel injection system fuel delivery issues

Extensive paint bubbling on the front hood

Paint chips on the driver's rear quarter panel

Paint crazing near driver's side headlight

Pitting and corrosion on exterior and interior metallic surfaces

Paint chip on passenger's side door

Oxidation on all 4 wheels

Aged tires, right front dry rot leak
Ownership History
According to the chassis number this 1963 Corvette Coupe was produced in January 1963. According to the Foreman family this car was once owned by David Lee Roth, frontman for Van Halen. Clearly a fan of the Chevrolet Corvette, this one year only "Split-Window" with Rochester fuel injection has formed an integral part of The George Foreman Collection since its acquisition.
Additional Notes
Please note: Title in transit
A Broad Arrow Group Car Specialist is working as an agent on behalf of the owner for this vehicle.
Contact: Cason Vogel Phone: 904.504.7848 email: cvogel@hagerty.com
Bids
Be the first to place a bid!
Insurance
Save 21% per yearon your insurance premium
Apply now
Learn more