1958 Chevrolet Corvette 283/230 Four-Speed
Addenda and Errata
Please note that an undercarriage video has been added to the Video Gallery.
Please note that 22 images of the undercarriage have been added to the Photo Gallery.
Video Gallery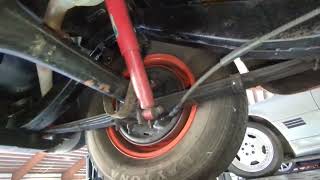 1958 Chevrolet Corvette 283/230 Four-Speed Undercarriage
Description
OFFERED WITHOUT RESERVE
The 1958 model year was one of unbridled opulence within Detroit, as, for most all makes and models, the decade's extravagance reached its chrome-slathered zenith. This was especially true at General Motors, which saw the production of such grandly trimmed machines as the Buick Limited and the original Chevrolet Impala. Chevrolet's sports car, the Corvette, was not exempt and was dressier than ever this season. It adopted the newly in-vogue quad headlights and featured a larger grille, also following an industry-wide trend. Most distinctive were the designs of the hood and rear deck, which featured stamped-in faux cooling louvers and a pair of decorative chrome spears or "tusks," respectively. 
Distinctively American in its design but nonetheless remaining a true, proud sports car, it was a beautiful automobile, and while the louvers and "tusks" would be one-year-only features, this same basic design was employed through the final season of "C1" production in 1962.
This car is part of the George Foreman Collection, which comprises over 50 cars from the 1930s through today, with a focus on American classics and late-model sports cars.
Highlights
Offered from The George Foreman Collection

Finished in Signet Red with Snowcrest White over a red vinyl upholstered interior

Chassis Serial Number (J58S104223) decodes as:

J - Corvette

58 - 1958 Model Year

S - St. Louis Plant

104223 - Sequential Serial Number

Features the 283 cu-in 230 horsepower V8 engine with four-barrel Carter carburetor

Optional close-ratio Synchro-Mesh four-speed manual transmission

Equipped with both a white vinyl soft top and body-colored fiberglass hard top

Full three-stage paint correction, oil change, and battery replacement conducted by Dr. D'Tail in April 2019

New clutch kit installed in November 2023

This 1958 Chevrolet Corvette is offered with the five-digit odometer currently showing just over 73,212 miles at the time of listing; however, the true mileage is unknown
Features
Engine block casting number: 8756519

Intake Manifold casting number: 3746829

Passenger side exhaust manifold casting number: 3750556

Box-girder, X-member reinforced frame

Glass-fiber-reinforced plastic body - sculptured side panels

Independent coil spring front suspension with stabilizer bar

Outrigger-mounted semi-elliptic rear springs

Direct double-acting shock absorbers

Hydraulic 11 inch self-energizing brakes

Mechanical parking brake

16.4 gallon fuel tank

Chrome wheel covers with simulated knock-off hubs

Cowl ventilator

"Chrome-bound" windshield

Dual exhaust ports in rear bumpers

Crank-operated windows

Vinyl-covered instrument panel crown and doors

"Competition-type" steering wheel

Dual electric windshield wipers
Known Imperfections
Please note that the vehicles in The George Foreman Collection have been in long-term static storage and will benefit from additional mechanical attention prior to being driven. Bidders are encouraged to review the Additional Documents section of each lot for any recent mechanical service rendered to help return certain vehicles to running condition. Additionally, bidders should carefully review the photos of each lot in the collection, which may highlight the oxidation of metal components certain vehicles sustained as the result of a garage fire caused by a golf cart battery in March 2019. Although none of the vehicles sustained fire damage from the fire itself, the negative cosmetic effects of the corrosive soot vary greatly from vehicle to vehicle and can be observed in the photo galleries of each lot. All lots are sold as is, where is, and bidders are responsible for any desired diligence before placing a bid.

A blemish on driver's exterior rearview mirror 

Paint chip near fuel door

Broken door handle ball

Oxidation on windshield frame

Cracking on rubber windshield seal

Vinyl headliner on hard top is loose in some areas
Included
Body-colored fiberglass "quick-change" hardtop with stand

Trunk-mounted spare tire

Jack

Replacement driver's interior door handle 

Additional fuel cap
Additional Notes
A Broad Arrow Group Car Specialist is working as an agent on behalf of the owner for this vehicle.
Contact: Cason Vogel Phone: 904.504.7848 email: cvogel@hagerty.com
Bids
Be the first to place a bid!
Insurance
Save 21% per yearon your insurance premium
Apply now
Learn more