31-Years-Owned 1978 Volkswagen Super Beetle Convertible
Engine
1.6-liter Flat-Four
Addenda and Errata
Please note additional photos and a video of the undercarriage have been added to the listing.
Video Gallery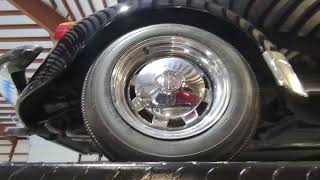 1978 Volkswagen Super Beetle Convertible Undercarriage Video
Description
OFFERED WITHOUT RESERVE
The Volkswagen Beetle has been a beloved mode of transportation for many years. Its simplicity, reliability, and affordability make it a favorite among car enthusiasts. However, it's the convertible models that take the driving experience to a whole new level, allowing passengers to enjoy the warmth of the sun or the beauty of the night sky. The interior design is practical and thoughtful, accommodating up to four passengers and embodying the carefree spirit that the Beetle is known for. The Convertible's vinyl roof is easy to clean and provides a fully upholstered and insulated interior, making it suitable for all kinds of weather. The rear window is made of glass, which enables the standard electric defrosting feature for added convenience. The Volkswagen Beetle is truly an automotive icon, continuing to charm and captivate the hearts of many and putting a smile on the faces of anyone who passes by.
This car is part of the George Foreman Collection, which comprises over 50 cars from the 1930s through today, with a focus on American classics and late-model sports cars..
Highlights
Offered from The George Foreman Collection

Retained by George Foreman for the past 31 years

Displaying just 555 miles at the time of listing, which are believed to be original

The body, leatherette interior, and folding convertible soft top are all finished in a triple Black color scheme

Powered by a fuel-injected 1.6-liter flat-four mated to a four-speed manual transmission

Chrome-plated 15 inch wheels with VW-branded chrome hubcaps
Features
Electric rear window defogger

Padded convertible top

Glove compartment lock

Front reclining bucket seats

Front inertia-type seat belts

Dual outside side view mirrors

Vanity mirror

Day/night review mirror

Rack and pinion steering

Heater and defroster

Two-stage fresh air blower

Front stabilizer
Known Imperfections
Please note that this lot is offered in non-running condition after being stored without operation in a climate-controlled facility for at least 10 years. As a result, it will benefit from additional mechanical attention before being driven to address any imperfections associated with long-term storage or individual preferences. Bidders are encouraged to review the Additional Documents section of each lot for any recent mechanical service rendered to help return certain vehicles to running condition. Additionally, bidders should carefully review the photos of each lot in the collection, which may highlight the oxidation of metal components certain vehicles sustained as the result of a garage fire caused by a golf cart battery in March 2019. Although none of the vehicles sustained fire damage from the fire itself, the negative cosmetic effects of the corrosive soot vary greatly from vehicle to vehicle and can be observed in the photo galleries of each lot. All lots are sold as is, where is, and bidders are responsible for any desired diligence before placing a bid.

Requires a fuel pump and relay

Front seatback padding degradation

Oxidation of engine compartment bare metal parts

Oxidation of chrome window trim

Rock chip on the hood
Included
Owner's manual

Warranty and maintenance book

Window sticker

Convertible top boot

Spare wheel and tire
Ownership History
This 1978 Volkswagen Beetle Convertible entered The George Foreman Collection when it was acquired in September 1992. This Beetle is the most cherished car of the entire collection, with George saying this would be the very last car he would sell. The love for the car goes back to when he was working for the Job Corp., where he always had to walk to and from.  Accompanying documentation shows that the car was sold through Iverson-Enochs Volkswagen of Grants Pass, Oregon, via its distributor, Riviera Motors Inc. of Hillsboro, Oregon, after being trucked from its port of entry in Vancouver, Washington. 
Additional Notes
A Broad Arrow Group Car Specialist is working as an agent on behalf of the owner of this vehicle.
Contact: Ramsey Potts Phone: 912.508.4096 email: rpotts@hagerty.com
Additional documents
Bids
Be the first to place a bid!
Insurance
Save 21% per yearon your insurance premium
Apply now
Learn more