1976 Cadillac Eldorado Convertible
Addenda and Errata
Please note addition media of the undercarriage has been added to the photo and video galleries.
Video Gallery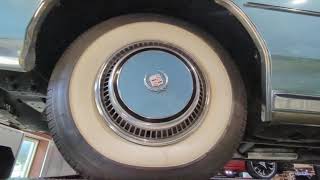 1976 Cadillac Eldorado Convertible Undercarriage Video
Description
OFFERED WITHOUT RESERVE
During the 1970s, Cadillac, along with other American car manufacturers, went through a period of transition. At the time, many people who owned a Cadillac opted to buy a convertible during the mid-1960s, but the demand for convertibles was dwindling. Cadillac's reputation for luxury remained even after the fuel crisis, as evidenced by the numerous cars that were powered by the mighty 500 cu-in V8 engine. However, in 1977, Cadillac launched a completely new model with smaller body dimensions and engine size, in an attempt to increase fuel efficiency. This meant that 1976 was the last year for full-sized luxury cars with the 500 cu-in V8 engine. Due to decreased demand and concerns about government regulations surrounding convertibles, Cadillac was the only American manufacturer to offer a convertible in 1976, dropping the convertible model for 1977. Although convertibles slowly started to be produced again during the 1980s, none of them can compare to the legendary full-sized luxury convertible that is still commonly known as the "last convertible ever."
This car is part of the George Foreman Collection, which comprises over 50 cars from the 1930s through today, with a focus on American classics and late-model sports cars.
Highlights
Offered from The George Foreman Collection

Finished in Innsbruck Blue Poly with a complimentary Dark Blue power folding convertible top 

The interior is finished in Antique Light Blue Sierra grain leather interior with a matching dashboard and carpeting

Powered by the 500 cu-in V8 paired with a turbo-hydra-matic automatic transmission

15-inch wheels shod Coker Classic wide white wall tires and color-matched wheel covers with the Cadillac crest

Full three-stage paint correction, detail, distributor adjustment, and battery replacement conducted by Dr. D'Tail in August 2019

A new fuel pump and fuel hose were installed in November 2023

Please note that while the five-digit odometer displays just over 2,000 miles at the time of listing, the true mileage is unknown
Features
Power steering 

Lamp monitors 

Power door locks

Cornering lights

Soft Ray glass

Power windows

Cruise control

Hydra-boost power brakes

Power antenna

50/50 dual comfort front seats with individual armrests

Power trunk latch

Tilt, telescoping steering wheel

Twilight sentinel 

Guide-Matic automatic dimming headlight control

Delay wipers

Automatic climate control
Known Imperfections
Please note that the vehicles in The George Foreman Collection have been in long-term static storage and will benefit from additional mechanical attention prior to being driven. Bidders are encouraged to review the Additional Documents section of each lot for any recent mechanical service rendered to help return certain vehicles to running condition. Additionally, bidders should carefully review the photos of each lot in the collection, which may highlight the oxidation of metal components certain vehicles sustained as the result of a garage fire caused by a golf cart battery in March 2019. Although none of the vehicles sustained fire damage from the fire itself, the negative cosmetic effects of the corrosive soot vary greatly from vehicle to vehicle and can be observed in the photo galleries of each lot. All lots are sold as is, where is, and bidders are responsible for any desired diligence before placing a bid.

Oxidized door handles, tail lights, and gear selector

Oxidized exterior brightwork including bumpers and windshield frame

Brake fluid reservoir refilled. Brakes will need to be addressed in the near future
Included
Owner's manual

Velour dash cover

Convertible top boot

Full sized spare

Jack

Lug wrench
Ownership History
According to paperwork included in the small history file, this 1976 Cadillac Eldorado Convertible has been part of The George Foreman Collection since at least 2013. 
Additional Notes
Please note: Title in transit
A Broad Arrow Group Consignment Specialist is working as an agent on behalf of the owner of this vehicle.
Contact: Cason Vogel Phone: 904.504.7848 email: cvogel@hagerty.com
Bids
Be the first to place a bid!
Insurance
Save 21% per yearon your insurance premium
Apply now
Learn more