1969 Chevrolet Corvette Convertible
Video Gallery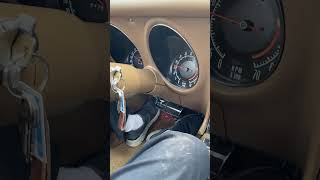 1969 Chevrolet Corvette Convertible Drive Video
Description
Introduced for the 1968 model year, the third generation C3 Corvette featured a shapely new exterior heavily inspired by the Mako Shark II concept designed by Larry Shinoda. This new generation also delivered a completely redesigned interior that would both help the C3 Corvette set new sales records for General Motors. Available in either Coupe or Convertible models, the curvaceous exterior design is highlighted by the signature pop-up headlights that were concealed via a vacuum-operated system. Utilizing many of the already well-proven chassis components from the previous generation, the C3 offered independent suspension along with a revised engine line-up for 1969 which increased standard displacement from 327 to 350 cu-in. For 1969 Chevrolet would also bring back the name Stingray which now appeared on the front fender as a single word as opposed to Sting Ray used for the 1963-1967 C2 generation. Marking the second time a Corvette would carry this name, it was retired until 2014 when it would remerge in 2014 for the release of the C7 Corvette. Truly an American icon, the C3 is favored by many as one of the most accessible and dependable offerings of America's most famous sports car.
Highlights
Powered by a larger 350 cu-in V8 introduced in 1969 producing 300 horsepower

Restored under previous ownership to Can-Am White with a White soft-top

Rebuilt transmission under correct ownership in 2015 in addition to a Saddle vinyl interior kit with new seats and dashboard

Offered with 33,636 miles at the time of cataloging, approximately 6,500 of which were added under current ownership over the last 11 years
Features
Independent suspension

Four-wheel disc brakes

Turbo Hydramatic three-speed (M40) automatic transmission

Power steering

Power Brakes

15-inch wheels with chrome wheel rings

Equipped with factory A/C unit

Pop-up headlights

Chrome luggage rack

Seat Belts added under current ownership

Dual exhausts with chrome tips

An instrument cluster described by Chevrolet as "If it has anything to do with the engine, there's a gauge for it" which includes a Tachometer, ammeter, oil pressure, sweep second rally clock, fuel gauge, mileage and trip odometer
Flaws
The air conditioning unit does not function

Owner notes small spider web crack on hood

The owner notes the vehicle does shift into first gear with a small thud
Includes
Reproduction owners manual

Assembly instructions manual
Ownership History
This vehicle was acquired by the current owner in 2012 in Texas. It was under previous ownership that the vehicle was refinished in Can-Am White over Saddle from the original Cortez Silver over Bright Blue interior that it was believed to be originally delivered. Under correct ownership, this vehicle has enjoyed climate-controlled storage and only periodic use.
Additional Notes
A Broad Arrow Group Consignment Specialist is working as an agent on behalf of the owner for this vehicle.
Contact: Jeff Inglis Phone: 503.318.0620 email: jeff.inglis@broadarrowgroup.com
Bids
Be the first to place a bid!
Insurance
Save 21% per yearon your insurance premium
Apply now
Learn more