1965 Chevrolet Chevelle Malibu
Addenda and Errata
*Additional photos of the car have been added to the gallery
*Additional photos of the carburetor have been added to the gallery
Video Gallery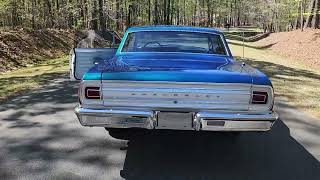 1965 Chevrolet Chevelle Malibu Walk-Around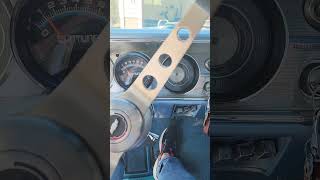 1965 Chevrolet Chevelle Malibu Start-Up and Revving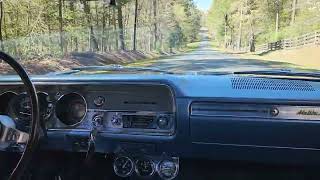 1965 Chevrolet Chevelle Malibu SS Ride-Along
Description
Taking its name from the coastal California city, the Malibu was created and marketed as the top-of-the-line offering of the midsize Chevelle. The Chevelle Malibu embodied classic West Coast style and when paired with an optional V8, the Malibu Super Sport (SS) became an instant classic among the American public. This 1965 Malibu takes the West Coast nameplate and improves on it with a nautically themed Neptune Blue and White metallic paint job. The livery is separated by a custom black and red stripe package that cleanly separates the lower white section for an attractive two-tone. The 383 cu-in stroker V8 is mated to a four-speed manual transmission topped with a Hurst shifter making for a dynamic and satisfying driving experience. The extensive restoration of this Malibu features many upgrades to complete the muscle car look, lowered sport suspension paired with the 17-inch US Mags modernize its appearance and increase tire selection. The 1965 Chevelle Malibu was one of the most successful muscle cars of its time, and this example, with a careful selection of aftermarket parts, is designed to enhance the driving experience while catering to those who enjoy its classic muscle car appearance.
Highlights 
383 cu-in stroker V8

Equipped with a four-speed manual transmission complete with Hurst shifter

17-inch US Mags Mandalay 2 Piece Forged wheels

Finished in a Two-Tone Metallic Neptune Blue and White over original Blue vinyl interior

Summit Racing four-barrel carburetor

Aluminum intake

Long tube headers

Added sway bar

Service work reported by the consignor includes replacing the shocks, coil springs, front and rear sway bar bushings, starter, battery, spark plugs, fuel pump, repairing the wiring harness, and an oil and filter change

This Chevelle Malibu is offered with the five-digit odometer currently displaying just under 47,500 miles at the time of listing, however, the true mileage is unknown
Features 
Bench seats

Super V FLO-PRO mufflers

GM 8.5 inch 10 bolt rear axle

Power steering 

Front disc brakes, power-assisted rear drum brakes

Dual Audio XD1225 CD receiver

Auxiliary three-gauge cluster 

Fully carpeted

Dual-spoke Chevy sports steering wheel on a tilt column
Known Imperfections
Trunk seal is peeling and does not go around completely

Damaged kick panel on the driver's side

Windshield wiper wiring needs to be reattached  
Ownership History
The consignor acquired this Chevelle Malibu in 2022.
Bids
Be the first to place a bid!
Insurance
Save 21% per yearon your insurance premium
Apply now
Learn more