1971 International Loadstar 1700 Travelcrew 4x4 Fire Truck
Addenda and Errata
Please note that pictures of the front hub locks have been added to the gallery.
Video Gallery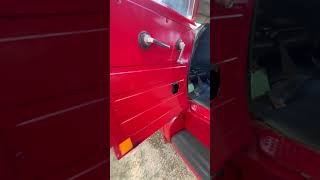 1971 International Loadstar 1700 Walk Around, Undercarriage, Interior and Engine Compartment Video
Description
1971 International Loadstar 1700 Water Evacuation Test Video
International has a long history of building rugged and dependable trucks. In the early 1960s, they would develop an all-new range of medium-duty trucks ideally suited to the needs of farmers, construction companies, or anyone needing a sturdy truck to get the job done. The optional four-wheel drive system would turn this truck into a proper go-anywhere vehicle, perfect for when the going gets tough, ideally suited for fire crews needing to go out in the bush to control wildfires. Today these trucks are still workhorses ready to put in a hard day's work wherever it may be. 
Highlights 
Original Forest Service vehicle converted to a fire truck with functional lights and sirens with just under 58,000 indicated miles

345 cu-in International Harvester V8 mated to a five-speed manual transmission and four-wheel drive

Rarely seen factory-installed Coleman four-wheel drive with FA-78 front and RA-29 rear axles with a single reduction ratio of 7.17:1

The TC-155 transfer case has a two-speed hi and lo range with a PTO 

The Travelette crew cab is roomy enough to seat six passengers

NoSpin locking differential for increased traction 

Fully functional fire-fighting water pump by Klein Equipment supported by an on-board supply of 500 gallons of water
Features 
Air brakes

Maximum GVRW of 26,000 lb 

Dual 50 gal saddle-mounted fuel tanks

Federal Director PA system

Engine hour meter

20" diameter four-spoke steering wheel

Heavy-duty steel channel front bumper
Known Flaws 
Minor hydraulic fluid leak

Weeping seals on both axles

Minor wear to the paintwork throughout the vehicle from years of active fire fighting service

Spots of rust on the floor pan

The oil pressure gauge is not functioning

The temperature gauge works intermittently

Turn signals and right brake light are inoperable

Front wig-wag siren rotates intermittently

The driver's interior door latch is inoperable; the exterior is functional
Included
Hoses

Fire extinguishers

Information & Operation Manual PDF
Ownership History
This Loadstar has been a part of the seller's collection for the past ten months. 
Additional Notes 
A Broad Arrow Group Car Specialist is working as an agent on behalf of the owner for this vehicle.
Contact: Jeff Inglis  Phone: 503.318.0620 email: jeff.inglis@broadarrowgroup.com
Bids
Be the first to place a bid!
Insurance
Save 26% per yearon your insurance premium
Apply now
Learn more