Addenda and Errata
Please note that since listing, the Pantera returned to CK Customs, Ennis, Texas in May 2023 for $3,610.23 in further sorting which included repairing the headlight wiring, reverse light switch, heater control valve, left and right air ducts, and parking brake cables. A complete list of the work performed is available for review under Additional Documents.
Video Gallery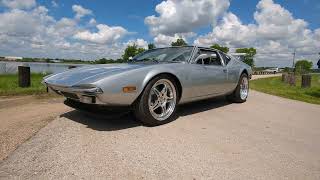 1974 De Tomaso Pantera Walk Around and Driving Video
Description
With Ford seeking to acquire an exotic car company in the late 1960s, they would land at the doorstep of retired racing car driver turned automotive manufacturer Alejandro De Tomaso. Having already created a charming four-cylinder Vallelunga and radical V8 Mangusta Coupe, Ford would reach a deal to import 10,000 of their new Pantera design to be sold at Lincoln-Mercury dealerships around the country. Designed by Tom Tjaarda at Ghia, the Pantera would feature crisp lines and a long snout sitting atop a pressed-steel unit chassis, powered by an off-the-shelf Cleveland V8 producing over 300-horsepower. Debuting at the New York Auto Show in 1970, a top speed of over 150 miles per hour was rumored along with many amenities such as air conditioning, which American buyers demanded. Despite the Pantera being produced in Europe until 1991, in 1974 having imported fewer than 6,000 Panera's, Ford would end their arrangement with De Tomaso. 
This car is part of the Retro Motors Collection, which comprises over 30 cars largely from the 1950s through today, with a focus on American muscle and high-powered European sports cars. View the full collection here.
Highlights
Final model year of the Pantera in the American market

Powered by an electronically fuel-injected 427 cu-in Ford V8 mated to a ZF five-speed manual transmission

Performance modifications include a twin-tank NOS system, Victor Jr. heads and intake manifold, ceramic coated headers, hydraulic roller rockers, forged crankshaft, 10.5:1 compression, and a performance exhaust system

Finished in silver with a custom black leather interior

Freshly serviced by CK Customs, Ennis, Texas, at a cost of $24,933.97 in April 2023, which included replacing the thermostat and resealing thermostat housing, repairing the coolant system and radiator, rewiring the engine and A/C fans, recharging the A/C system, cleaning battery connections, fabricating an engine cross member, replacing front and rear shocks, rear drive axle U-Joint, driver's rear knuckle, front sway bar bushings, front ball joints, and front wheel bearings, addressing oil pan, rear main, valve cover, and transmission leaks, installing an MSD Atomic EFI fuel injection system, MSD Distributor, and Centerforce clutch, and a four-wheel alignment among other repairs

Displaying 52,519 miles on the odometer at the time of listing
Features
HRE Performance 18-inch two-piece wheels 

Delta wing

Air conditioning

Leather-wrapped three-spoke steering wheel

Gated shifter

Kenwood AM/FM/CD/Bluetooth stereo

Crow Enterprizes four-point harnesses

Center console-mounted oil, water, fuel, and volts gauges 

LED interior and engine bay lighting 

Chrome-dressed engine bay, cooling system, and drivetrain components

Wilwood four-wheel disc brakes 

Dual exhaust outlets 
Known Imperfections
Spider cracks in the paint around tail lights

Paint chip on the passenger side of the spoiler
Included
Five keys

Correct set of Campagnolo wheels

Binder of build photos and invoices 

Binder of Pantera technical information

Original owner's manual 
Ownership History
The consignor purchased the Pantera circa 2015. 
Additional Notes
A Broad Arrow Group Car Specialist is working as an agent on behalf of the owner for this vehicle.
Contact: Hunter Harris Phone: 772.925.9304 E-mail: hunter.harris@broadarrowgroup.com
Bids
Be the first to place a bid!
Insurance
Save 26% per yearon your insurance premium
Apply now
Learn more