Video Gallery
1969 Chevrolet El Camino Cold Start Video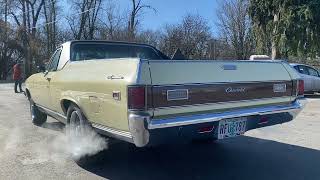 1969 Chevrolet El Camino Idle and Walk Around Video
Description
While Ford was the first to revive the once-common 'roadster utility' body style of the 1920s and 1930s with the Ford Ranchero, General Motors would take note and follow suit two years later. Their interpretation – the El Camino – was first advertised as "a commercial vehicle that's a prize combination of business ability and beauty." The second-generation El Camino would quickly follow in 1964 with bigger engines and higher trim levels, but it wasn't until the third generation (1968-1972), based on the longer-wheelbase Chevelle sedan, that would solidify the pickup as a muscle-era American legend. With the popularity of V8 engines continuing to rise, by 1969 ninety-four percent of El Caminos were ordered with either a small-block or big-block V8. Paired with a lengthy options list including textured vinyl upholstery, Comfortilt steering wheel, and power steering has made well-equipped examples like this the holy grail muscle hauler.
Highlights
Powered by a period correct 350 cu-in V8 believed to have been factory equipped but not verified to be numbers matching

Restored approximately ten years ago to an original color of Butternut Yellow

Purchased by the current owner in 2018 who has driven the vehicle sparingly ever since

Featuring black vinyl bench seating with seating for three

Equipped with powering steering and power brakes

During a test drive with a Broad Arrow Group Consignment Specialist, this vehicle demonstrated strong running and driving capabilities
Features
Three-speed automatic transmission

14-inch Cooper Cobra radial front tires with Grand Prix Performance GT rear tires

Black Vinyl Roof Cover

Dual exhaust

Spray-in bed liner added during the restoration

Aftermarket Pro Tach tachometer

A new battery was added in July 2022

Additional gauges mounted under the dashboard measuring oil pressure, voltage, and coolant temperature

Independent front suspension with coil springs

3.31 rear axle ratio
Known flaws
Gas tank gauge does function and is stuck at 1/4 tank (seller always keeps the tank full)

Mismatched tires, front tires were replaced after a flat less than 1000 miles ago (09/22)

Paint flaw outside of passenger headlight bezel

Small dent above the driver-side front wheel arch

Paint flaw on the nose of the car

Surface rust spot is noted above the trim on passenger rear quarter panel

Small paint imperfection driver-side door jam

Very minor peeling on the top layer of vinyl on the wood tailgate panel
Included
Spare tire with a vehicle jack
Ownership History
Purchased by the current owner in 2018, this vehicle was restored to a factory original specification under previous ownership. The previous owner reports this vehicle ran and drove great throughout their periodic usage over the last 5 years.
Additional Notes
A Broad Arrow Group Consignment Specialist is working as an agent on behalf of the owner for this vehicle.
Contact: Jeff Inglis Phone: 503.318.0620 email: jeff.inglis@broadarrowgroup.com
Bids
Be the first to place a bid!
Insurance
Save 26% per yearon your insurance premium
Apply now
Learn more