Spied: 2021 Ford Bronco and F-150
For decades, the Jeep Wrangler has been unchallenged in the distinctive market segment of a capable off-road utility vehicle with a removable roof. Sure, there were other capable 4x4s, other soft-top 4x4s, but none quite captured the hearts and wallets of Americans quite like the Jeep. Now, much like in 1966, the Wrangler is about to get its most direct opponent yet—Ford's reborn Bronco. We spied a camouflaged test mule in the Rockies, alongside a similarly disguised F-150.
From what we've been able to suss out so far, Ford isn't playing playing around, either. The SUV's focus appears to be exceptional off-road abilities, with a low-range crawl gear, Land Cruiser-like cutting brakes, and a whole slew of software-based features. Unlike the Wrangler, however, this hefty horse is rumored to forgo a front stick axle for a more livable independent front suspension, probably similar to the one seen on the Ranger Raptor, which is available in other markets outside of North America.
All of those features are in addition to those offered on a Wrangler Rubicon, such as locking differentials and sway-bar disconnects. It should be noted that the F-150 Raptor and the Super Duty pickups with the Tremor Off-Road Package do not have locking front differentials. Instead, the front pumpkins on those trucks have limited-slip differentials.
Spotted in mountainous Breckenridge, Colorado, this mule and its equally wrapped totally mysterious pickup truck companion were probably undergoing high altitude testing. With an elevation of 9600 feet above sea level, Breckenridge is a good place for engineers to, perhaps, pause for a cigarette and some beautiful views after several loops on I-70. Both the Vail Pass and The Eisenhower Tunnel are a short drive away and present a significant climb to over 11,000 feet.
The Bronco's its biggest secret is still its top, or rather several different tops. In all the spy photographs of this rig, the roof is the one section that has always been thickly padded, and these mules are no different. Looking at Wrangler and its three roof choices (soft top, hard top, and the Sky One-Touch Power top), all of them have a level compromise.
The Bronco's retro-designed front end has an opening in the camouflage around the front bumper area. This is likely for the sensors and radars dedicated to the adaptive cruise control and emergency braking features. While the windshield appears to be extremely flat, we can't confirm yet if it will fold down like on the Jeep Wrangler. The hood seems to be devoid of any tie-down points.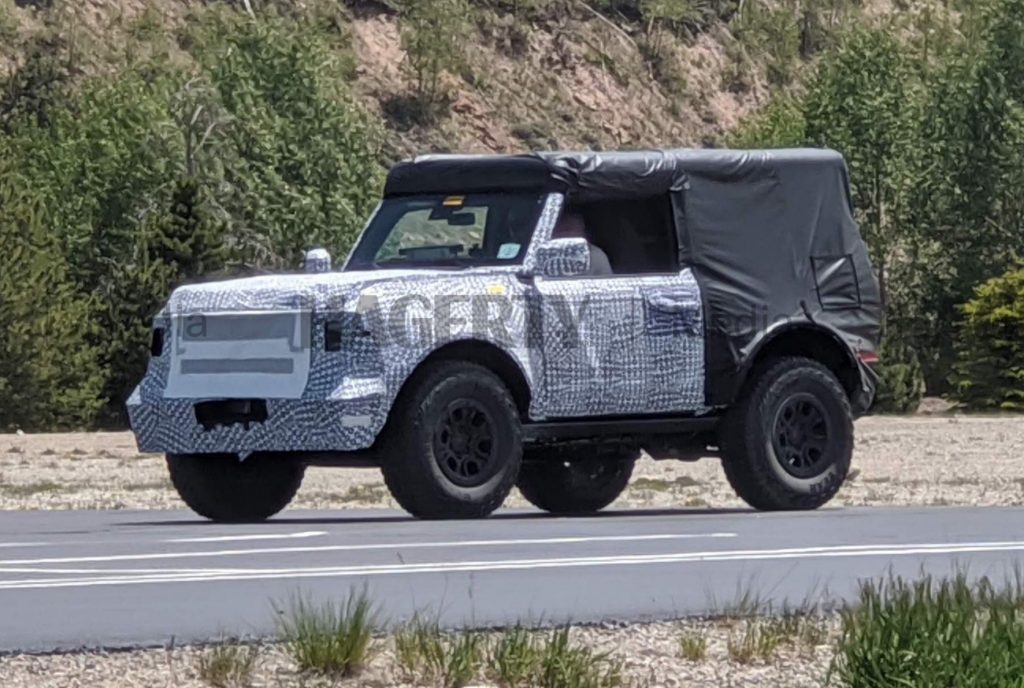 The rear of this buck is very similar to its rival from Toledo. The bumper has a cut-out for the spare tire and license plate mount of the left side. The reverse camera seems to protrude from the middle of the spare and the hitch receiver is neatly tucked under the bumper for maximum departure angle.
The design of removable doors in modern vehicle can present significant challenges for side-impact protection. Yet, despite always having removable doors, Jeep never quite solved the issue of side mirrors, which are attached to the Wrangler's doors. Squint at these images and it becomes clear that the mirrors are attached to the base of the A-pillar, remaining independent of the doors.
Tires, both their size and type, are extremely important for any off-roader. Trail junkies will argue over narrow pizza-slicer tires versus wide tires, but this rig makes no secrets of its preference. Its Goodyear Wrangler tires appear to be of the 315/70, variety, mounted on what can be considered (by car standards) small, 17-inch wheels. Wheel options will surely be bead-lock capable. With this much rubber width and sidewall, this rig will likely have no issue rolling over whatever is in its path.
Assuming the aforementioned spec, this tire size translates into a 35-inch overall diameter, the same size tire as is on the Ford F-150 Raptor, but that truck uses BFGoodrich's KO2 all-terrain rubber. The interesting bit is that this Goodyear Wrangler is one of the very few tires in that size that is available in D load rating, as opposed to the common load E. While a lower load rating does reduce the maximum payload, it also makes for a lighter tire. Interestingly, the thread pattern and sidewall protection of the Goodyears on this mystery rig do not match any tire that is currently offered by Goodyear. From the looks of it, the Bronco's rubber will be a significant upsize from the Ranger Raptor, which has 285/70-17 tires. By comparison, the Jeep Wrangler Rubicon wears 33-inch tires, similar to that of the Ranger Raptor, both with load C rating. The Wrangler does have enough fender clearance to fit 35-inch tires without the need for a lift kit. Jeep offers a choice of all- and mud-terrain tires on the Rubicon.
The Ford Bronco will debut this July, while the F-150 is set to be revealed on June 25.