2020 Ford Super Duty has a serious engine and an aptly-named Tremor package
It's inevitable: spend enough time around race cars, and you'll eventually become familiar with 3/4-ton and 1-ton trucks. How else can you get your race rig to the track? Most of the dilapidated beasts I've steered over the past few decades have been a necessary evil at best, but the new 2020 Fords—refreshed this year after major changes in 2017—blur the line between duty and desirability.
Ford has much to offer in its 2020 lineup, including a new 10-speed "Tourqeshift" transmission, an updated third-generation 6.7-liter Power stroke Diesel V-8 that wins the torque-figure wars with 1050 pound-feet, plus a completely new 7.3-liter gasoline V-8. At first glance, though, it's easiest to get excited about Ford's newest addition to the Super Duty family, the Tremor package, aimed squarely at those eager for off road shenanigans. Grabbing some of that Power Wagon customer base might be part of the mission as well…
This is a large truck, but the ergonomics allow for adequate reach to the center console's HVAC and infotainment controls. Great options like USB-A and C ports are available, including wireless charging for compatible mobile devices. These were the new features I was happy to see on Ford's "working man's" series of trucks.
The new 7.3 gas engine offered surprising gusto in every scenario I had the chance to throw the truck into. With 430 horsepower and 475 lb-ft of torque, the new engine combines with the 10-speed to tackle most towing needs with shockingly little strain. It's also a fairly affordable option, at just over $2K. Putting it to the test while pulling 9700 pounds climbing a 4000-foot peak, the powertrain made the experience remarkably effortless with the tow/haul mode in full effect. That being said, the first thing I noticed with the new Ford offering was the quietness of the cabin at 80 mph. The faintest presence of buffet from the large side mirrors, and that's it. A far cry from my youth, driving my father's Jeep Wrangler, desperately turning the radio volume knob ever further to the right to compensate for the torrential wind noise as I crept towards maximum velocity.
Along with the new power plant and transmission comes a host of technology features that are available for the XLT range and above, including Pro Trailer Backup assist. This feature is particularly helpful with the laborious task of backing any trailer into any spot that you're attempting to enter without looking like that chump who just cashed in his holiday bonus on a fishing boat and wound up hogging the ramp for hours trying to launch his new toy.
The truck uses up to four cameras (one optional kit to mount to the rear of the trailer) to provide a wide as possible view of the rear of the truck and trailer's surroundings. Trailer Reverse Guidance is a system that shows the trailer angle and direction, which provide steering suggestions for getting your precious cargo (insert teenage fantasy of car hauler toting a mint RS200 rally car) into the exact spot you need. The bizarre part is that you use a knob on the center console to steer your vehicle in this mode. Yes, a knob, much like one used to adjust the aircon temp. This threw me for a loop—steering a 6000-pound truck with a small knob like some sort of absurd video game challenge. But with finesse and patience, I could slot a large camper unit into the smallest of parking spots with confidence.
The new Tremor is the brightest star added to the 2020 super duty fleet. This off-road package is available on the XLT and above models with either the new 7.3-liter gas V-8 or the 6.7-liter Power Stroke diesel V-8 as options. I have little offroad back-country rock-crawling experience to tack onto my resumé, so I was a little hesitant when Ford had me take the reins of the Tremor-equipped Super Duty through a prepared course that featured a rock pit, steep inclines, muddy bogs, and off-camber undulating trails that would make any "truck wuss" like myself sweat.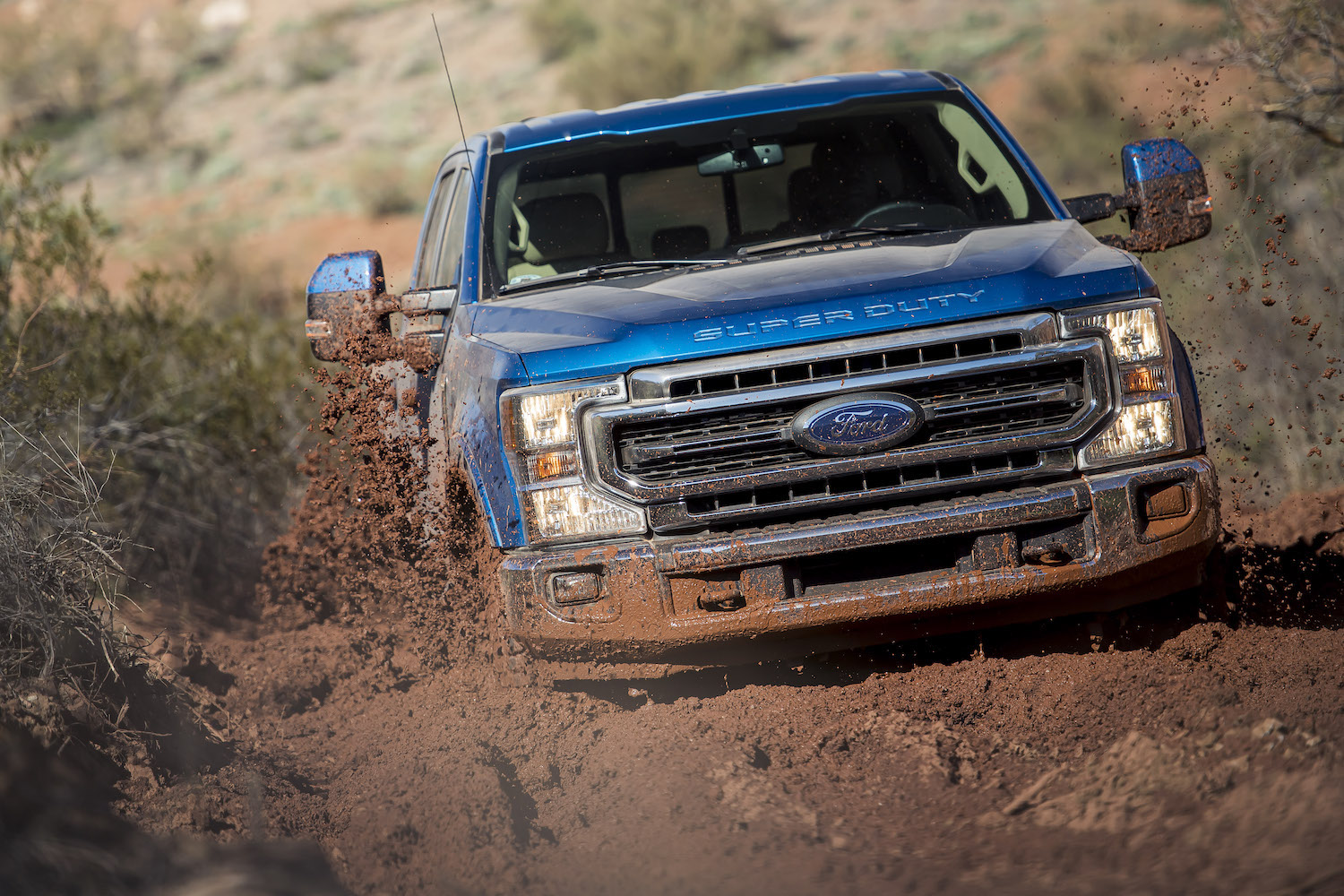 Upon approaching the rock pit, infested with large rocks and dare I say, boulders, I put the Tremor into rock-crawl, an all new addition to "Trail Control" mode. This function operates like a cruise control for off-road use by maintaining a set speed (3 mph, for example) while going up and incline or descending down a steep grade. With the 31-degree approach angle and 10.8-inch factory lift, I had plenty of clearance to tackle the challenge at hand.
I'm not the tallest guy you'll ever find in a Super Duty—more like Formula Vee size, really—so I was particularly grateful for another one of the truck's camera-related features. The image from a small camera mounted on the grill can be displayed on the infotainment screen sporting a series of modes that act as a virtual "spotter." Each front corner can be split into separate portions on the screen, allowing for a more assured judgment of impending obstacles. This tied with the front, rear, left and right camera views stitched into one 360 top down perspective add to the situational awareness needed for such adventuring.
A locking rear diff paired with the new Dana limited-slip front axle makes use of electronic shift-on-the-fly engagement. In specific modes, a sensor can detect if a tire has lost traction and will apply its brakes to force power to the wheel with the most grip. Impressive for the moments I had the Tremor doing its best impression of a weirdly named yoga pose that I can never possibly imagine completing myself.
Rolling on 35-inch Goodyear Wrangler Duratrac Maximum-traction tires made the mud bog hardly noticeable, the Tremor blasting through with almost no hesitation. Even more impressive is how the vehicle wades through the deep water trough. Tremor is equipped with extended axle, transmission and transfercase vent tubes allowing for a fording capability of 33 inches out of the box.
Holding all this up are larger 1.7-inch piston twin-tube dampers. They have a larger oil volume than the standard set offered on the non-Tremor equipped Super Duty trucks. These shocks are tuned for a softer dampening at very low speeds, improving control over severe impacts on obstacles. Along with the re-tuned stabilizer, I noticed that this had reduced the tossing of my svelte frame around the cabin.
I never thought I would be that excited over driving a Super Duty. With fixed running boards, large tires, factory lift, and all the other off-road(y) bits, while at the same time not compromising the core work truck capabilities of the base Super Duty, this Tremor is the closest to "Raptor-izing" Ford's iconic heavy duty workhorse. I have to admit that Ford captured my attention. Will this capability be used? Will the owners want to risk denting these very expensive vehicles off-road? Some of them will. The rest of us can just enjoy the visual and mechanical excitement. And the $4000 approximate price of the Tremor package has to qualify as one of the best bargains in the business. It might make that long pull to the racetrack less of a chore.