Air raid: 5 factory-supercharged performance machines
Both superchargers and turbochargers force-feed air into an engine but in different ways. The supercharger grabs power directly from the engine crankshaft and delivers instant boost. The turbocharger uses an exhaust side turbine that takes a bit longer to spin up the compressor. While turbochargers currently boost everything from sleepy crossovers to working pickup trucks, the supercharger has largely remained exclusive to dedicated high-performance machines, even if a few horsepower are sacrificed for immediate on-throttle response.
Here are five supercharged performance machines straight from the factory.
Brooklands Battleship and the Bentley Boys
One of the most famous factory production supercharged cars almost wasn't. W.O. Bentley himself held steadfast that displacement was the only path to victory, stating, "to supercharge a Bentley engine was to pervert its design and corrupt its performance." Bentley Boy Sir Henry "Tim" Birkin thought otherwise and created the Bentley Blower No. 1, aka the "Brooklands Battleship," when he fitted a Roots supercharger to the crankshaft at the front of a 4.5-liter Bentley.
Subsequent factory production resulted in 55 1927–31 supercharged 4.5-liter Bentleys, five of which were designated for racing, with a pair of carburetors on a massive blower leading the way. A steel cage around the carburetors prevented rocks or liberated race parts from performing a trackside carbureotomy. Bentley recently announced the return of the Blower Bentley. A limited run of 12 continuation cars will be built using a combination of modern 3-D scanning technology and traditional craftsmanship for exacting accuracy.
Meteoric performance: Duesenberg SJ
Meanwhile, back home in Indiana, Duesenberg added a centrifugal supercharger to its already potent Straight-8 engine and increased output from 260 hp to at least 320 hp. A masterpiece of internal combustion engineering, the Duesenberg Straight-8 featured a forged crankshaft, aluminum pistons, chain-driven dual overhead camshafts, dual valve springs, and four valves per cylinder. The supercharger created 5–8 psi of boost, and Augie Duesenberg extracted 400 hp out of the engine with an air horn intake of his own design. It was, as folks said back in the '30s, a real doozy.
Ab Jenkins famously drove his supercharged Duesenberg-powered "Mormon Meteor" on the Bonneville Salt Flats for 24 hours, hitting 160 mph and averaging 135 mph.
Of the 480-car Model J production run from 1928–37, only 36 supercharged Duesenbergs, designated SJ, were built. A pair of sporty short-wheelbase specials were created for Clark Gable and Gary Cooper, and they carry an unofficial SSJ moniker. The Duesenberg company weathered the Great Depression and the death of Fred Duesenberg in 1932, but it was sold into history along with Cord and Auburn after owner E.L. Cord dissolved his corporation.
Supercharged personal luxury: F-code Ford Thunderbird
In response to fuel-injected small-block Chevrolets and Chrysler Hemis sweeping up racetracks, Ford created a limited run of around 200 supercharged Thunderbirds in 1957 to satisfy NASCAR rules requirements. F-code Thunderbirds were factory equipped with a v-belt driven Paxton-McCulloch VR57 centrifugal supercharger that boosted the 312-cubic-inch V-8 from a base 212 hp to 300 hp in street trim and 340-plus hp on the track. The Y-block V-8 packed a special camshaft, dual point distributor, and single four-barrel carburetor in a pressure housing.
The supercharged personal luxury progenitor ran 0–60 in about six seconds, the quarter-mile in the 14-second range, and hit a 135-mph top speed. Backed by a Ford-O-Matic transmission, the F-code option cost about $620 in 1957, which translates to $5644 today. The factory supercharged V-8 also made it into a few Skyliners.
Fast forward a few years, and a similar centrifugal supercharged setup was factory installed into some 1966–67 Shelby GT350 Mustangs. The Paxton single centrifugal supercharger system became a popular aftermarket upgrade and lives on today in a wide variety of Vortech applications.
Raising the bar: Toyota MR2
With a twin-cam four-cylinder engine mounted amidships, 2500-pound curb weight, and ideal weight distribution, the first-generation Toyota MR2 had it all except for abundant power. Even with a horsepower advantage over its four-cylinder Fiat X1/9 and Pontiac Fiero mid-engine competitors, drivers clamored for more.
Toyota equipped the 1.6-liter 16-valve engine with a clutch-activated Roots supercharger and air-to-air intercooler for 1988. Boost powered up the engine from 112 hp to 145 hp and scrubbed a second off 0–60 mph and quarter-mile elapsed times. An electromagnetic clutch and bypass system instantly engaged for performance and disengaged for leisurely fuel economy. Special flush-mount alloy wheels, standard T-top, body color-keyed mirrors, and Supercharged badging set the MR2 apart on the outside.
Enterprising supercharged MR2 owners have been known to harvest the larger blower from Toyota Previas—the only factory supercharged mid-engine minivan with available all-wheel drive, twin-sunroof, and onboard refrigerator.
Son of a Fireball
Anyone who walked around a self-service junkyard in the early '90s remembers, or might even be haunted by, acres of expired GM brand-engineered front-wheel drivers. Turbocharged and Quad 4-powered standouts lit a path out from the otherwise unremarkable '80s, and the '90s brought the supercharged 3800SC V-6 to the front-wheel drive fleet. The boosted 3.8-liter was the descendent of the Buick Fireball V-6 that also begat the rear-wheel drive turbocharged Buick Regal and sinister GNX.
With an Eaton Roots-type supercharger, the Series 1 L67 V-6 made 205–225 hp and propelled everything from the front-wheel drive reincarnations of the Buick Park Avenue and Riviera to the Oldsmobile 88 and Pontiac Bonneville SSEi. Series II versions were good for 240 hp, and the 260-hp Series III L32 powered through 2005 in the Chevrolet Monte Carlo and Impala SS.
The blown 3800 V-6 currently enjoys a dedicated following of boost-happy believers and speed equipment manufacturers who regularly extract a lot more horsepower. Bring overdrive pulleys as an offering for help with that 3800SC Fiero engine swap.
Mustcat and Helltang Madness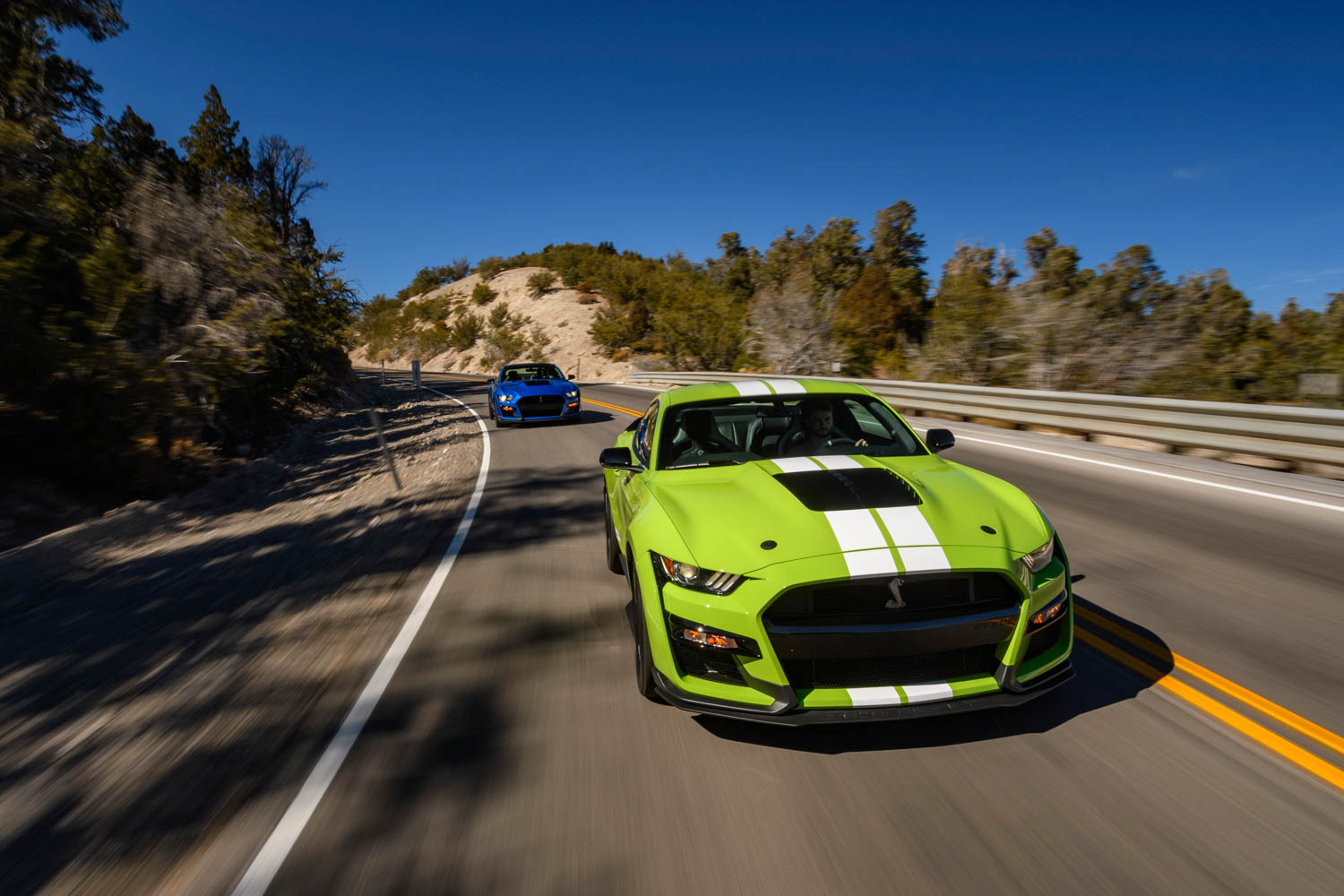 So here we are. Today's 500-hp production cars induce napping among car show attendees, and superchargers churn out previously unthinkable levels of showroom stock performance without melting pistons or kicking the rods through the block. Duesenbergs, fire-breathing Bentleys, or a sleek Pontiac Grand Prix not supercharged enough? Head down to your neighborhood Dodge dealer and strap into a gas-huffing supercharged 700-plus-hp Hellcat or Jeep Grand Cherokee Trackhawk. No? Sign up for a 760-hp Ford Shelby GT500, 755-hp Corvette ZR1, or 797-hp Challenger SRT Hellcat Redeye.
And since we're sure that we neglected to mention your factory supercharged favorite, get up on the tire about Ford SVT Lightnings, Mazda Millenia, Chrysler SRT Crossfires, and more in the comments section.