10 great muscle trucks and SUVs that still can't be caged
A few months ago I wrote about my favorite muscle trucks and SUVs. The story didn't discriminate in regards to brand, power plant, age, or country of origin, but instead focused on what I considered to be some of the baddest muscle rigs in existence. However, once it was published I read through the comments and realized that, by golly, I'd not only left a few out, but the suggestions were not only on point, but warranted their own blurb.
So in part two of "10 great muscle trucks and SUVs that can't be caged," we've factored in your suggestions and added a few more.
1998 Jeep Grand Cherokee Limited 5.9L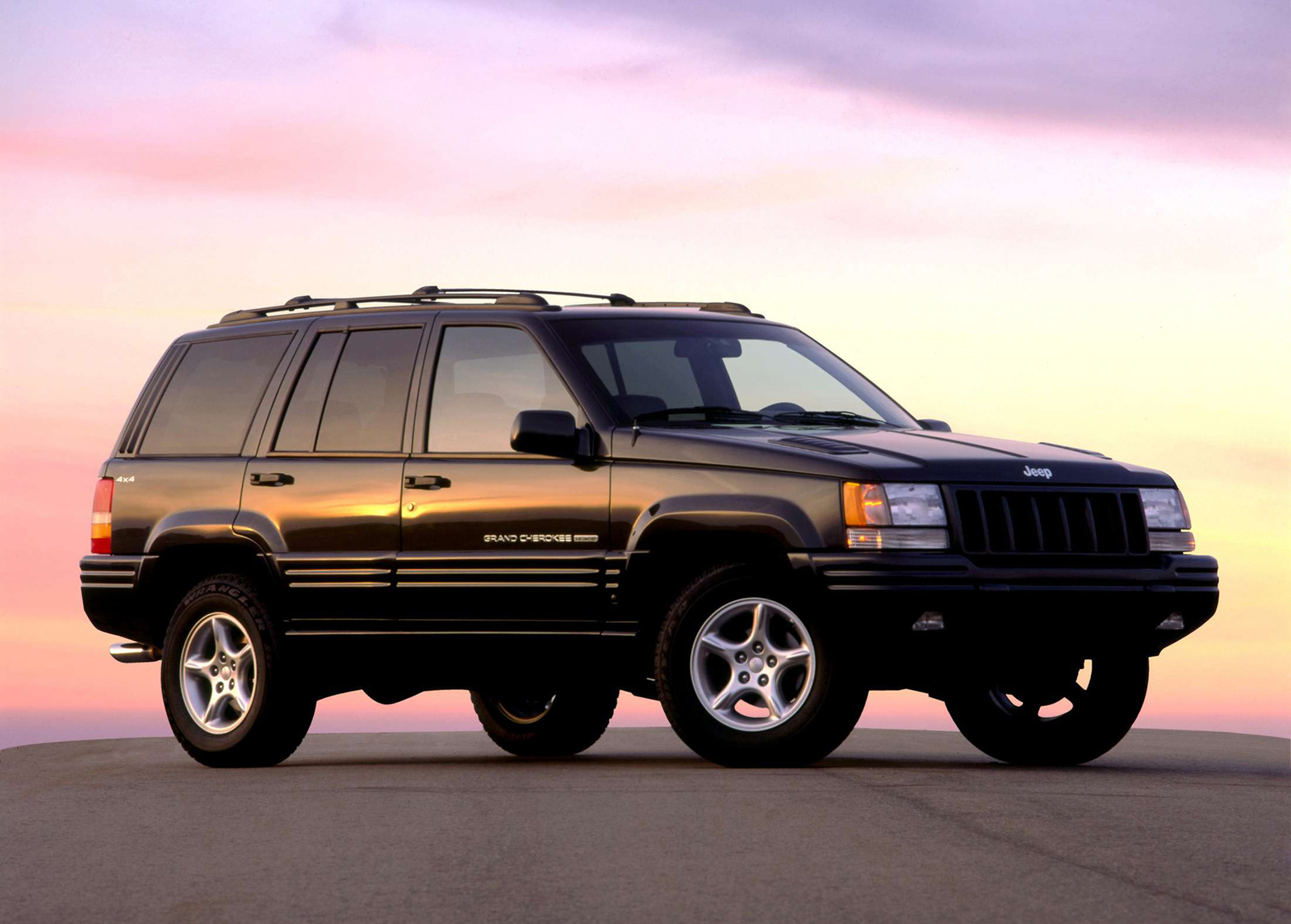 Back in 1998, Jeep's ZJ platform was coming to an end, and as opposed to letting it go quietly into the night, Jeep instead sent it off with a bang. A one-year only model, the '98 JGC Limited was fitted with the same 5.9-liter V-8 that came in the Ram 1500 pickup of the era. It cranked out 245 horsepower and 345 lb-ft of torque, had hood vents, special 16-inch rims, and required premium fuel. Then there was the exhaust that was supposedly sourced from Mopar Performance, along with the addition of a more robust four-speed automatic transmission to cope with the extra torque.
The 5.9L JGC Limited was also the first Jeep that was targeted towards those looking for a performance-oriented street SUV with four-wheel drive, as opposed to a full-fledged off-roader. Was it still capable when the payment ended? Sure, but with street tires and a reduced ride height, it was better suited to pavement than bombing around in the mud. Performance for the day was also very impressive: 0–60 mph in around 7 seconds with a top speed just shy of 130 mph. So what did that all mean? It meant that back in 1998 the 5.9L JGC Limited was the fastest SUV you could buy, and it would go on to set the stage for performance-oriented Jeeps for the next 20 years.
2007 Mercedes-Benz R63 AMG
There are those of you out there who will give me crap for putting this on the list, but frankly, I don't care. Perhaps the 2007 Mercedes-Benz R63 AMG is what happens when engineers drink Schnapps while on prescription medication? Mercedes-Benz hates the term "minivan" and instead would have you refer to the now-defunct R-Class as a "Performance Oriented Family Hauler," but with fewer than 200 R63s in existence, I suppose you can call it whatever you'd like.
Under that massive hood sat a naturally-aspirated 6.2-liter 32V hand built V-8 that produced 503 hp and 465 lb-ft of torque, with power put down through a seven-speed automatic transmission. Thanks to its advanced all-wheel drive system, from a dead stop the R63 would hit 60 mph in just 4.6 seconds. It would then trip the quarter-mile in about the same time as a 1970 Hemi 'Cuda, and then scream up to an electronically limited top speed of 155 mph.
The kicker was that the R63 was not only fast, but it also handled way better than it should have thanks to an air suspension system and massive 20 x 8.5-inch rims that wore 265/45-series tires at all four corners. I personally can't see any reason for the R63 to exist, other than maybe it was a proof-of-concept of some sort. If, however, you guys have further insight into this AMG oddity, please post it in the comment section, because I'm seriously curious about this thing.
2006 Porsche Cayenne Turbo S
Back in 2002, when Porsche announced it would be releasing an SUV, the motoring world was somewhat perplexed. After all, this was Porsche, the same company that created the Le Mans-destroying 917, the four-wheel-drive 959, and, of course, the iconic 356. It's no wonder that when Porsche decided to go full SUV, many P-Car purists saw red.
However, in 2006, three years after the first Cayenne hit showrooms, Porsche released the Cayenne Turbo S, a 5600-pound behemoth that boasted a twin-turbocharged DOHC aluminum V-8 that cranked out 520 hp and a whopping 530 lb-ft of torque. It shot to 60 mph in less than 5 seconds and was drag limited to a top speed of 166 mph (righteously quick). Aside from being fast, the Turbo S was also usable as a truck. Not only did it boast a 7700-pound towing capacity, but it also had a low-range 4×4 gear for those who wanted to go off-road (where it was quite capable). Say what you will, but Porsche didn't just hit a home run with the Cayenne, it knocked it clean out of the park. And they could soon even be collectible.
1970 Chevrolet El Camino 454 SS
It has so many nicknames. The Mullet, El Cabongo, The Elco, Party Bucket, Cowboy Cadillac… Make no mistake: the Chevrolet El Camino IS a piece of Americana. It combined the usability of a pickup truck with the performance and drivability of a muscle car. Yet somewhere along the way the El Camino was penned as something only Joe Dirt lookalikes would gravitate to, when in reality nothing could be further from the truth. And while multiple versions of the Elco have come and gone, it was the 1970–72 454 big-block-equipped rollers that really cemented them into the history books.
With a front-end redesign for the 1970 model year, the El Camino also received the option of having Chevrolet's SS Performance Pack fitted (similar to that of the Chevelle). That meant an upgrade from the old 396 big-block to the 7.4-liter 454. Not to be outdone by itself though, Chevrolet offered not one, but two versions of the 454. Option code Z15/LS5 meant 360 hp, but those in the know checked off the Z15/LS6 box, which meant 450 hp and a monstrous 500 lb-ft of torque. Mate that mill to the Muncie M22 four-speed gearbox that was offered, and back in 1970, you were driving around in the fastest pickup truck on the planet—one that would run the quarter-mile in 13 seconds at over 100 mph.
1978 Dodge Warlock
If the 1978 Dodge L'il Red Express Truck is Spiderman, then the Dodge Warlock is most certainly Venom. Built from 1977–79, the Warlock was part of the "Adult Toy Line" from Dodge. Unlike the L'il Red Express that came in only one form, however (all red, chrome stacks, 360 small-block), the Warlock could be had in any number of configurations. One could get a 4×2 or 4×4 in a variety of colors and engines that ranged from a 225-cubic-inch slant-six all the way up to the big daddy 7.2-liter 440.
The thing about the Warlock though was this: IT WAS MENACING, especially when it came decked out in black paint with gold rims and pin striping. As for power, well, there's no doubt that the L'il Red Express was a bit quicker, but the Warlock was no slouch. In fact, equipping the Warlock with a 440 meant 220 hp and 300–320 lb-ft of torque, which was more than enough to light a fire under those back tires. Another interesting tidbit is that engine choices aside, the Warlock was also available with air conditioning and cruise control, making it one of the first "luxury" pickup trucks available.
2018 Ram 3500 6.7L Cummins
What you're seeing here is a workhorse. It's not overly fast, nor does it handle that great. However when thinking about the subject of muscle trucks, I felt that it earned itself a spot due to the sheer amount of torque it produces. This is a 2018 Ram 3500 equipped with a 6.7-liter inline-six Cummins Turbo Diesel engine. And while the 385 horsepower isn't super impressive, the fact that it makes 930 lb-ft of torque is. That's enough torque to basically pull a house from its foundation and then drag it to the next state.
It's also got a max tow rating of 31,210-pounds and a 6700-pound payload capacity. Then there's the added fun of knowing a six-speed manual transmission is available, along with a luxurious cabin that rivals some living rooms. So while some may feel this is an oddball for this list (and it is), the sheer fact that it can haul so much damn stuff makes it qualify.
2008–09 Saab 9-7x Aero
I've been in this game a long time and consider myself to be more knowledgeable than most when it comes to vehicles. However, just when you think your game is dialed in, someone comes along and proves you wrong. That's what happened when commenter named Mark dropped the bomb that Saab had actually dumped the same 6.0-liter LS2 V-8 from the 2006–09 Trailblazer SS under the bonnet of its 9-7x Aero.
I suppose it wasn't rocket science that this happened, as the Trailblazer SS and Saab 9-7 share the same platform. It's just that when I think of a Swedish SUV, the last thing that comes to mind is a pushrod V-8 with 390 hp and 395 lb-ft of torque. No matter, since I think this may be one of the best SUV sleepers of all time (now that I know it exists).
Sixty mph comes up in less than 6 seconds, thanks to the all-wheel drive system. And because it shares its underpinnings with the Chevrolet Trailblazer, it can also tow up to 6600 pounds. It also came with a performance-tuned suspension, beefy 12.8-inch disc brakes up front, and a Torsen center differential that split torque evenly between the front and rear wheels. Plus, with only 442 produced in 2008 and another 109 in 2009 (according to Mark), an LS2-powered Saab 9-7x Aero is one of the rarest performance SUVs ever produced.
1992–93 GMC Typhoon
Fast and hilariously fun, the GMC Typhoon picked up where the Syclone pickup truck left off. Based on the GMC Jimmy (1982–94), the Typhoon utilized the same mechanical underpinnings as the Syclone, with the big difference being that as an SUV it housed five occupants instead of two. Plus, back in the early '90s there was simply nothing else on the road with the sleeper factor (or speed) of the Typhoon, which made the lofty entry price of nearly $30K seem like a bargain.
Sharing the same 4.3-liter turbocharged V-6 and all-wheel-drive system as the Syclone, meant that the Typhoon would sprint to 60 mph in 5.3-seconds and run the quarter mile in just over 14 seconds. Total power output came in at 280 hp and 360 lb-ft of torque, with a curb weight of around 3800 pounds. I've got to hand it to General Motors, because back in the late 1980s and early '90s, GM was the king when it came to building the coolest sleepers on the planet.
2018 Jeep Grand Cherokee SRT TrackHawk
As I'm sure you're well aware, we're living in the golden age of horsepower. We have so-called economy cars pushing 300 hp while still getting 30 mpg, pickup trucks with close to 1000 lb-ft of torque, and SUVs like this 2018 Jeep Grand Cherokee TrackHawk that'll hit 60 mph from a dead stop in less than 3.5 seconds. As a car enthusiast, it's a wonderful time to be alive.
You can't have this list without including the 2018 Jeep TrackHawk. It's a full-size SUV with 707 hp and 645 lb-ft of torque that weighs 5300 pounds and that will do 180 mph. It also has massive 15.75-inch rotors that are covered by Brembo six-piston calipers to bring it to a stop, and it'll still tow 7200 pounds. These are straight-up supercar numbers, not family-hauler numbers. Combine that with the fact that it's also luxurious with every modern amenity you could ask for and what you have is perhaps the best super-SUV bargain currently on sale.
2019 Lamborghini Urus
It seemed only fitting that since our previous list concluded with a Lamborghini SUV, that this one should as well. It's been 26 years since the last LM002 Rambo Lambo rolled off the assembly line. And while there had been rumblings about a successor for more than two decades, it wouldn't be shown to the world until this year. The 2019 Lamborghini Urus is more hyper-crossover than SUV, and like performance-giant Porsche (which now loves SUVs and crossovers), the URUS comes to us as a must-have item for the current world.
In the looks department, it's not as polarizing as the LM002, but instead it follows the company's current stealth-bomber design trend. Under the sculpted hood lives a twin-turbocharged 4.0-liter V-8 that produces 641 hp and 627 lb-ft of torque through an advanced all-wheel drive system. The eight-speed transmission (with manual shift paddles) was sourced by ZF and helps the Urus to achieve numbers worth of the Lamborghini badge. We're talking about 0–60 mph in 3.4 seconds, the quarter in 11.8, and a top speed of 190 mph.
My one caveat with this is simple. When I was a kid, a Lamborghini was a mythical beast. We had posters of them on our walls, and if you saw one in person, you'd talk about it for weeks. The Urus, however, takes the company in an entirely new direction that dare I say is pedestrian. So while I do appreciate the Urus for its technology, speed, and comfort, the one I'd like in my garage hit the streets more than 30 years ago.