Thanks to a shop rag, this 1962 Ford Country Sedan was reborn - Hagerty Media
If Tom Cross hadn't found me a can of rubbing compound and a shop rag 18 months ago, I wouldn't be writing this now.
But he did. And it triggered an unexpected journey.
It was February 2018, and I had been foraging through a few dozen old cars behind Cross' shop in Midland, Texas. Why was I in Midland? Because I've always wanted to visit the birthplace of Jim Hall's Chaparral Cars, producer of some of the most innovative cars in racing history. Plus I thought there might be some rust-free old cars to be found.
Midland is a gritty little town measuring 7-miles-by-7-miles, complete with pot-holed roads and lots of dust. Yet my friend John Mecom, a successful oil man from Houston, claims, "It's a place where a person can make a billion dollars, lose it, and stand a good chance to make it back again."
This was the town where I decided to drive my Woody wagon around. Maybe I'd strike gold of my own.
Driving down one bumpy, dirty road after another, I came across a yard of old cars, mostly Fords, behind a steel building in an industrial area. The business that occupied the building is Holiday Pools, which is run by Cross and his wife, Diane. The cars were leftover parts cars and future projects that would likely never see the light of day.
"Sure, go back there and take a look," Cross said. (Most guys with old cars are not so accommodating.) So I walked the couple of acres, not sure if I should be nervous about rattlesnakes—I'm an East Coaster, mind you.
Cross had an interesting collection of vintage tin, most that he dragged in 20 or 30 years ago, mostly full-size Fords from the 1960s. I made a beeline toward a two-door 1960 Ford Ranch Wagon, a very rare beast but in rough condition. There was a 1962 Ford Galaxie here and a 1963 Fairlane there. I was attracted to a dusty red 1962 Ford Country Sedan, a baseline wagon.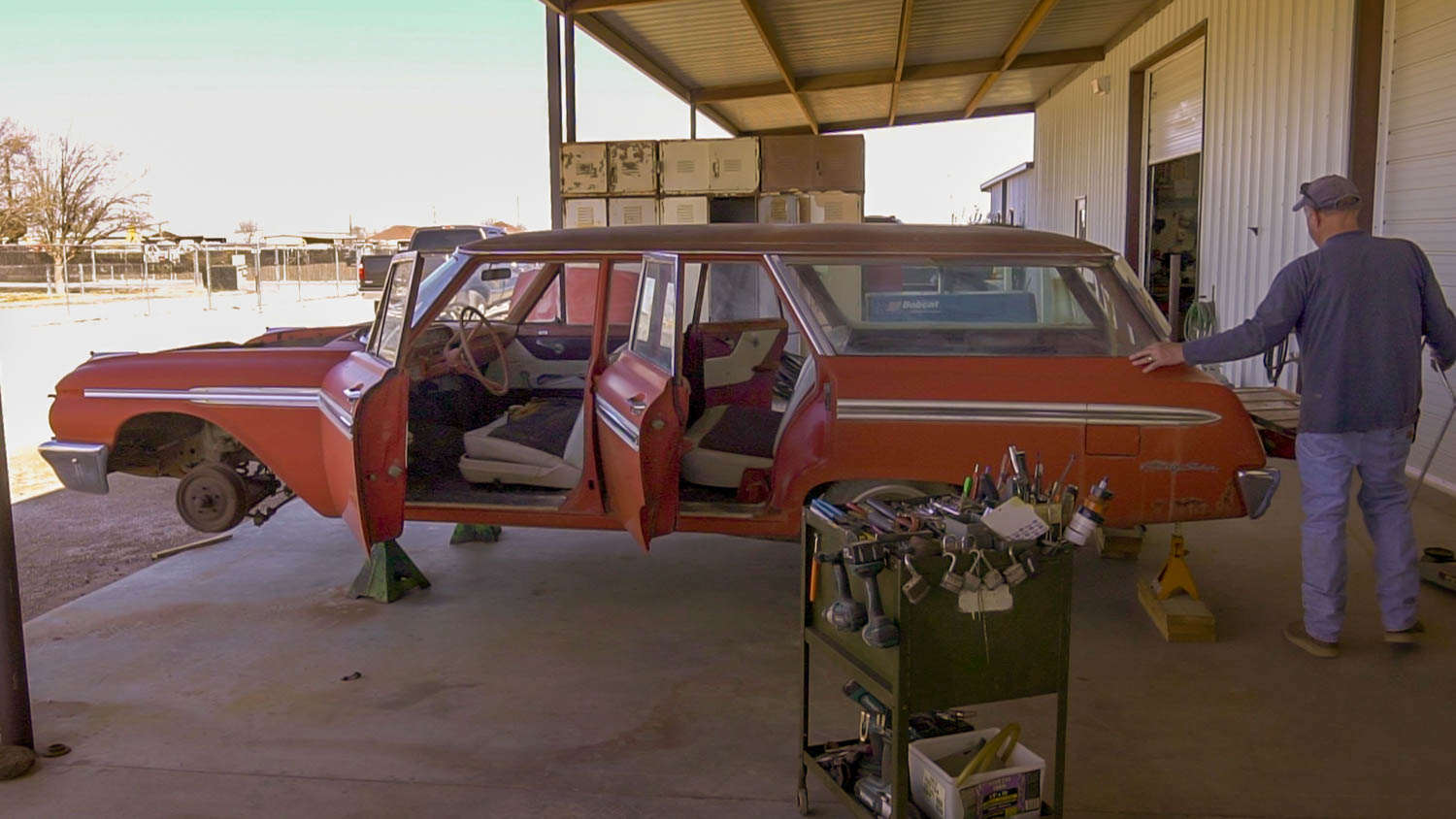 After an hour or so, I asked Cross for a rag and some compound. I had seen a TV commercial as a kid for Simonize or J-Wax Kit, or some product like that. The person in the ad walked up to a dingy car in a junkyard and rubbed out the fender to a brilliant luster, bringing dead paint back to life.
I've always wanted to do that. So this was my chance. With the rag and compound, I rubbed out a small section of the fender and brought the 57-year-old paint to a brilliant luster.
"Tom, you wouldn't happen to have a buffer in your shop, would you," I asked. He said that he did, but not enough extension cord to reach out to the yard. But that wasn't a problem. He fired up his forklift and began to reorganize his yard, making room to relocate the red wagon next to his building. Now with buffer in hand, I began to burn away decades of sun-bleached, oxidized red paint. The result? A fender that "Shined like a million dollars, Tommy boy," as my Uncle Bob used to say when I waxed his Mustang as a kid.
I had a flight to catch, but our Midland adventures became one of the most popular Barn Find Hunter episodes. I couldn't get that car out of my head.
"That wagon doesn't want to die," I told Cross when I called a few days later.
I spoke with my colleagues at Hagerty, and we decided to purchase the car from Cross for a very reasonable price. "If you buy the car, I'll give you all the parts you'll need to fix it, plus my friends and I will work on it," he said. Such a deal!
We decided that we'd refurbish the car and donate it to McPherson College in McPherson, Kansas, the only college to offer a four-year degree in Automotive Restoration. I sit on the advisory board for the program and know their old Chevy Luv parts chaser was running on only three cylinders.
We set a time table of 14 months to get the car from junkyard to driver condition and deliver it to McPherson for the annual student car show in May. It only needed… everything. There was no engine, no transmission, no front crossmember. Other than that, it was complete. However, it was filled with decades of desert red dust as fine as talc, and it was in every crack and crevice. Cross used a yard blower to get rid of as much dust as possible, producing a toxic red cloud in the process.
Had I bitten off more than I could chew, having fallen in love with a shiny paint job but refusing to see a multitude of mechanical issues?
In the ensuing months, Cross and his Midland friends got after the car. A thorough cleaning was followed by a thorough cleaning. Then is was cleaned again. The original floorpan was rusty, so Cross cut a solid floor pan out of a 1964 Ford wagon and had it welded into the '62. And he replaced the missing cross member.
I arranged for a small crew of students from McPherson College to work on the car during the winter semester break 2019. Hagerty's Brad Phillips also rolled up his sleeves, installing new wiring harnesses under the dash and in the engine compartment. Students Dalton Whitfield and Austin Heibert jumped under the car and installed new tie-rod ends, ball joints, and shocks in the front. They also installed a front disc brake kit that was donated by the local street rod club, West Texas Cruisers. In the rear, new axle bearings and seals were fitted, in addition to all new brake components.
To finish the job that I had started a year earlier, I manned the buffer and a bottle of liquid compound and polished the rest of the car. I admit I'm not a professional car detailer, but the wagon's original paint came back with a brilliance not seen on that car since it was new. I did burn through the paint here and there, but it just added to the car's wonderful patina.
This was beginning to take shape.
The original plan was to paint the roof its original white, but when the students sanded off the surface rust, they came to a conclusion: the top should be clear coated, not painted. Cross, Phillips, and I looked at each other and concluded, what the heck, it's not a restoration—it's a car to be used by college students, not old farts like us. Let's clear coat it!
Dalton said standard clear coat would be too shiny over the thin rusty surface that remained on the roof, so using an old customizer's trick from the 1950s, he mixed in a few tablespoons of cornstarch. And he began to spray.
The result was beautiful. The roof had an almost leather-like finish, with just the right amount of shine. Perfect for our Midland hot rod.
The engine rebuild was not going quite as well. A friend of Cross' owns a machine shop and offered to rebuild one of the 390-cubic-inch engines that Cross had lying around his shop. But after it was cleaned and checked, they discovered it had a cracked block, as did the second 390… and the third. Finally, the fourth engine was crack-free. A full rebuild commenced, and the dyno numbers showed the engine produced a hefty 375 horsepower. Cross volunteered a Ford-O-Matic transmission that had already been rebuilt.
It had been an amazing four days of hard work, arriving at Cross' shop before sunrise and leaving for the hotel well after dark. But we got an amazing amount of work accomplished.
The time had come for all of us to return to our regular lives. The remainder of the work would be finished by Cross, his son Jacob, and a handful of volunteers.
When we returned four weeks later, the car was finished. Cross went overboard, rebuilding the dashboard and installing a new wiring harness. All the gauges and switches worked! He also had a dual exhaust system installed, which ran through a pair of glass-pack mufflers. It sounded sweet.
I took the wagon for a ride around town and could not believe it was the same hulk that had resided in Cross' storage yard. He admitted that just before we came knocking in 2018, he was getting ready to crush all his derelict cars and sell the property. Timing is everything.
After an amazing beef brisket dinner with a room full of volunteers, and a few dozen of Diane's amazing cookies, we hit the road. Destination? McPherson, Kansas, about 1000 miles away.
It would be an interesting test drive…