Barn Find Hunter: Ford Bronco guru shows Barn Find Hunter a slice of Alaska - Hagerty Media
To live in a place as wild and wide open as Alaska, you need something to bring you closer together with those in your community. That's true on a practical level—a car is essential to get around—but I found that there is a real love for classics in Alaska that leads to conversations with total strangers like you're old friends. And if there's one thing people in Alaska really love, it's Broncos.
While at a burger stand in Delta Junction, Alaska, a few weeks prior to our visit, Barn Find Hunter host Tom Cotter struck up a conversation with vintage first-generation Bronco owner Adam McNabb. The two gearheads bonded over McNabb's blue 1972 Ford Bronco, and Tom said he'd follow up to come check out some of McNabb's various Broncos and assorted off-road delights.
Upon returning with the full Barn Find Hunter production staff, we set off in Tom's borrowed 1966 Shelby GT350, heading out of urban Fairbanks and into the densely wooded countryside. The burly drawl of the vintage Mustang echoes through the trees and over the river as we cruise across miles of empty road, the occasional RV or lifted truck passing the other direction and flashing their lights to signal their appreciation for our good taste in American muscle. It's the car, the beautiful landscape, and the joy of driving.
Turning off the main road, we are trace a few long dirt paths, finally arriving at a gravel trail that leads to McNabb's house. A pair of barking dogs greet us with wagging tails. Waiting there in front of the garage is McNabb, a strong-looking guy whose build suggests he could have been a fearsome football player at some point. He extends a meaty hand and greets Tom and me, offering to show us around his property and tell us about his passion for Broncos.
We start off with the blue '72 Bronco that first caught Tom's eye. It's a first-generation, original-paint truck. "I picked it up from the second owner about 160 miles from here," he says. "He bought it from a school district that used it to transport kids across a small creek crossing during high water. That's pretty much all it was used for."
The truck now shows 110,000 miles, and is powered by a 302-cubic-inch V-8. It's almost totally stock, aside from a new Holley carburetor in place of the original Motorcraft. "It had sat for about 15 years. I threw a battery in it and filled up the float bowl with gas, and it started just like that. I've been driving it ever since," McNabb tells us.
Right now it's a trusty daily cruiser for summer, because during the winter the Bronco can't keep the cold out. "Alaskans like Broncos because they get around different terrain easily," he says. "They make good plows, and the tight turning radius is great. For my son, Nathaniel, his first vehicle will be a Bronco."
Next up is a 1966 Ford Bronco, the oldest complete example in McNabb's fleet. The reason this truck doesn't look barn-find worthy is that he put his mechanic and restoration skills to work, transforming it from just a frame in the woods behind someone's house into a family road tripper. After adding new Dana 44 axles, among other upgrades, McNabb towed the truck behind his family's motorhome and used it as an adventure-mobile throughout off-road destinations in the Southwest, including Moab. "Lots of great memories in this rig," he says.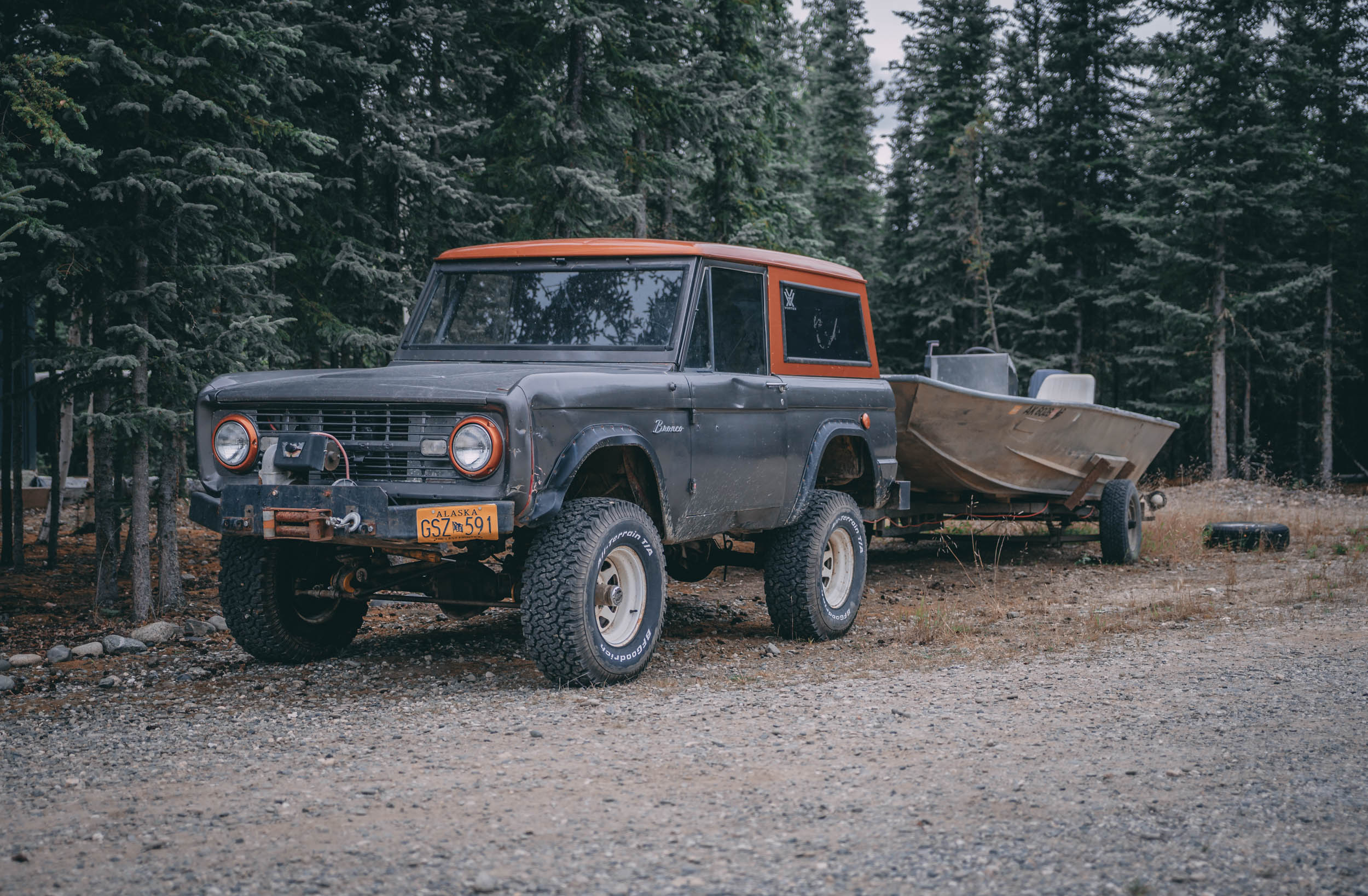 He then takes us to another 1972 Ford Bronco, this one suffering from some rear end damage but bearing just 72,000 miles on a 302 V-8 with a three-speed transmission. There's a bit of rust, but nothing terrible. The truck has an electric heater in the cabin, which some Alaskans use to keep the interior warm when vehicles are plugged in at night to an engine block and oil pan heater. But McNabb doesn't recommend it. " I think they burned a lot of vehicles to the ground." This truck, McNabb says, will be a good candidate for his son to restore when he's older.
We head to another property just a mile away, and Tom gets behind the wheel of the blue '72 and gives McNabb a chance to drive the Shelby GT350. It's the perfect example of how cars bring people together and offer the chance to get in someone else's shoes. "I think we're making his day," says Tom. "And he's making my day—I've never driven a first-gen Bronco."
At the second property, we see that McNabb also has a thing for Toyota FJs. "I've got an addiction for pretty much anything four-wheel drive," he admits. There are a bunch of FJs lined up, and he explains that while the Broncos make for excellent daily drivers, the Toyotas are tough as nails and the better choice for a high-power engine swap and a lot of hard, abusive off-roading. One example has awful rot, because people sometimes used spray-on foam to keep cars warmer and better insulated, which traps in the moisture and leads to stage four metal cancer.
A '68 Bronco shell rests nearby, originally equipped with a six-cylinder engine and a three-speed. McNabb was driving it for a while but decided to pull off the body for a better one, but Tom can't believe that after some of the metal was sand-blasted seven years ago, there's only a bit of surface rust visible—a testament to the dry Alaskan air that keeps old cars alive out here.
McNabb saves the best for last. Out in the field is a lovely 1972 Ford Bronco Sport. It has no motor, and it'll make for a great restoration candidate. Part of the reason the cars are so popular in the area is that the Air Force base nearby at one point bought a whole bunch of them, so there are survivors floating around that if nothing else make for good parts donors. And as these 4x4s become ever more popular and desirable, it's going to only get harder to find clean examples at good prices. You might want to get away from the lower 48 and take a trip to the Last Frontier before it's picked clean.