We find treasure in Alaska with barn-find '47 Mercury truck, rare '57 Chevy, and Boss 302 - Hagerty Media
When searching for forgotten old cars, there are a few things you can do to maximize your chances of success. Barn Find Hunter extraordinaire Tom Cotter always suggests arriving to a potential find in a classic car, which helps break the ice and establish that you're one of the vintage-loving tribe. Tom couldn't manage to get his Ford woody wagon up to Alaska from his home in North Carolina, so he borrowed a friend's green Shelby GT350 for his car-searching needs in America's 49th state. I was along for the ride, and there's no doubt that the pony car worked like a charm wherever we went.
Tom visited a local car show, made some friends, and got some leads on where old cars were hidden in the Fairbanks area. One of those new contacts was Willie Vinton, curator of the Fountainhead Auto Museum, who has his own kooky personal collection of dusty metal hiding in an old wooden airplane hangar. Like beloved auto journalist Peter Egan said, airplane hangars are great places to look for old cars, because there's always space under the wings for storage.
In Willie's case, the hangar he shows us is so full of cars that he doesn't even have room for a plane. Willie is a cheerful guy who looks to be in his mid-50s, with a baseball cap and a bristly white mustache. He's excited to lift the curtain on the hangar door so he can show us his collection, and in the light of day, Tom declares it quite an eclectic collection. Staring at us is a vintage pickup with generous patina, a yellow AMC Gremlin covered in dust, an early Model A Ford, and the remains of an old midget race car.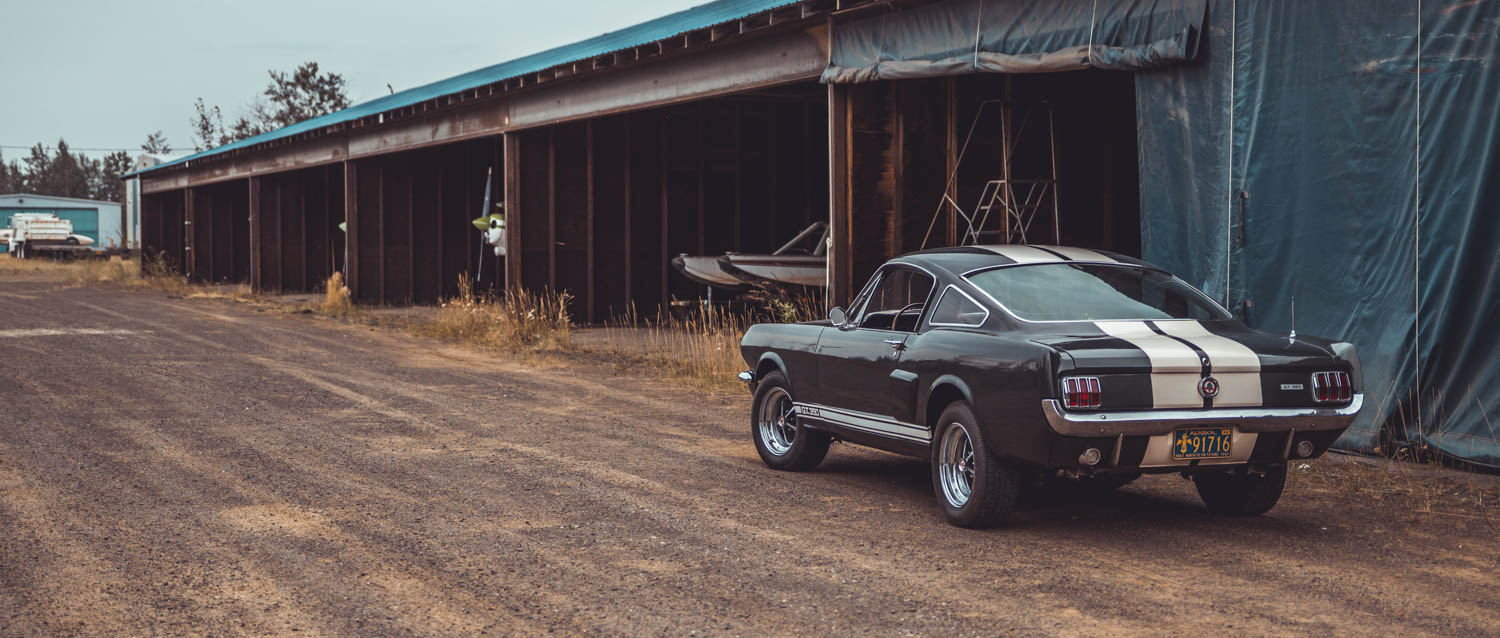 Tom is immediately drawn to the 1947 Mercury one-ton pickup—a Canadian market truck that was just like the Ford equivalent but with a little bit fancier trim and detailing. The pickup is a real survivor, and despite some body rust in the bed area, you can tell Willie is proud of it. He found it nearby in Fairbanks. "I chased this truck for 25 years before I got it," he says. "It had an awful rough life." Apparently the truck sat dormant for years, and the owner's wife wouldn't sell until she passed away and her daughter sold it to Willie.
The Mercury's flathead V-8 fires right up when Tom turns the key. Willie wants to keep it mostly original, but when he rebuilt the engine he added aluminum heads and a six-volt alternator. He tells Tom to take it for a spin around the airfield. Tom does not need to be asked twice, giddily shifting the four-speed manual into gear and puttering around the empty roads with obvious enjoyment. "This is just my kind of vehicle," Tom tells me. "Willie's done a great job of maintaining its authenticity. It's mechanically sound but far from restored. Nature has a way of making both people and cars softer and more worn with age, and I think this Mercury is honest to that fact."
Once back in the garage, Tom and Willie turn their attention to a Ford Model A, built in December 1927. Willie says it was originally bought new in Dawson City, Canada, just across the border, as a mail carrier with no back seat. It's an early AR model from the last year of the Model T, evidenced by the left-side handbrake. The engine isn't the original, but the rest is. Willie wants to give it a full restoration. "I love when they haven't been molested," he tells us.
That's definitely true of the dusty yellow 1975 AMC Gremlin in the corner, which was Willie's dad's car from Montana. It has 62,000 miles and has been in Alaska for 20 years now. It's an automatic with a bench seat and a six-cylinder. In front of it is an old midget race car, which Willie claims is the last known example in Alaska, retired from competing on dirt tracks. It has a stamped aluminum frame, runs a 60-hp flathead engine with no transmission, and uses a Model A rear end along with a lot of other Model A parts.
We say thanks and part from Willie, only to exit the airfield, drive around the edge of it around to the other side, and pull up to an airport rental car lot with a nondescript warehouse next to it. Another contact of Tom's, Peter Lundqvist, is there to greet us, stepping down from his mud-caked Toyota Land Cruiser with a rifle slung over his shoulder. He drops the gun in the trunk and shakes our hands, motioning for us to follow him inside his warehouse full of automotive delights.
In the corner of the building, next to a sweet-looking Jaguar XJ12, is a faded '57 Chevy. Tom immediately notices, however, that this is no ordinary '57 Chevy. It's a rare government-issue Sedan Delivery, which looks like a wagon except that it has a different rear end with a glass window and a single-piece hatch. It's like a panel wagon in that it has no back seat, but it has windows. How did it end up in Alaska? Peter tells us it was his brother's vehicle, which he bought for $500 in 1975 in Tacoma, Washington, while attending law school. His brother often drove it back and forth from Tacoma to Fairbanks.The story makes Peter a bit emotional, his voice faltering a little as he tells us that it wasn't long after that his brother was killed by a drunk driver.
Peter can't sell it—the Chevy means too much. He tells us the wagon has been sitting idle for 12 years. It's dirty and covered in primer, and the tires are all flat. There's a sticker inside that indicates it was a Department of Agriculture service vehicle, and judging by the one-piece bumper, it likely operated in California. Like you'd expect of a government work vehicle, it's the most basic spec you can imagine—base 235-cubic-inch straight six with a single carburetor, three on the tree, spartan steering wheel, no armrests, no clock, no radio, and no additional trim whatsoever. The odometer shows 99,636 miles, and the glovebox reveals two blasts from the past—a logbook documenting oil changes and inspections, alongside a government-issue book recommending service-station procedure.
The Chevy fires up fine and can even drive, but the long-term plan is to restore it to stock condition. Peter has all the parts, although he admits the Chevy's time on unpaved roads means the body has suffered from a lot of dirt and silt, so it will probably need some attention.
Another family heirloom sits on the other side of the warehouse, this one a lot older. Peter walks Tom over to a rare 1914 Model T Town Car, passed down to him from his father. These were the elite-level Model Ts of the time—coachbuilt, extremely expensive, and largely intended for chauffeuring. As you might expect, the interior was very luxurious and there was a glass partition between passenger and driver. It was bought new in the Lower 48 and barged up to Fairbanks to join a taxi company, but Peter said that it got into a collision not long after and was junked for scrap. His father bought it in 1954, and it's been in the family ever since. Peter shows us all the parts for it and says his goal is to restore it, but he needs to find both the time to do some work himself and the money to pay someone else for the tougher restoration jobs.
Lastly, Peter leads Tom over to a pony car hiding under a car cover, walking straight past his shiny red C4 Corvette ZR-1. Tom lifts the cover and reveals an original-paint, blue 1970 Ford Mustang Boss 302 with a shaker hood. The car belongs to Tom's friend David, the same guy who loaned us his GT350 for our time traveling through Alaska. David found it in Anchorage several years ago, and it shows just 22,000 miles. Inside Tom notices the Hurst four-speed shifter and 8-track player. It's in good condition overall, and according to our valuation data probably worth about $66,000–$70,000.
It's hard to believe, but there's more to come from Tom's travels in Alaska. We met even more car geeks, investigated more backyards, garages, and junkyards, and peeked under more dirt-caked covers. Alaska is truly a vast land full of undiscovered potential. Stay tuned—and happy hunting.