Best of the rest: 15 movie Mopars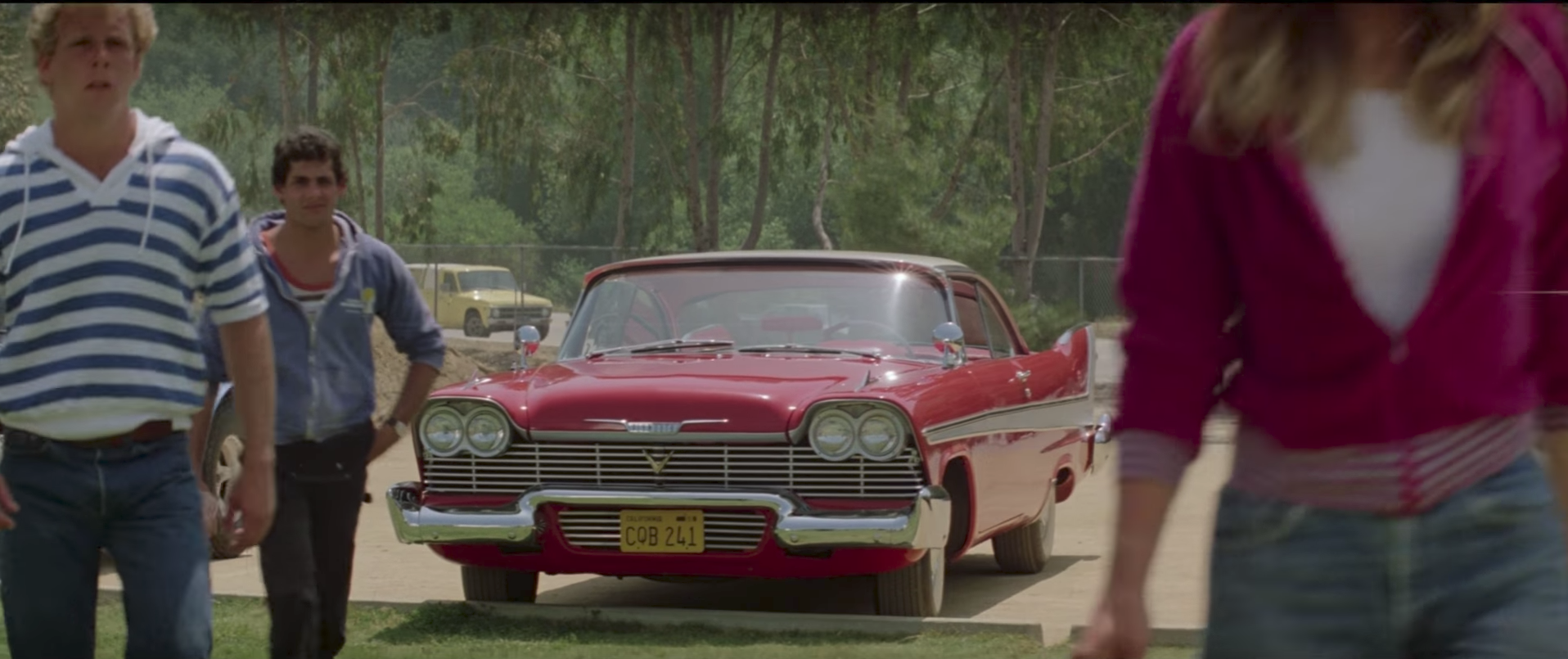 Over the past 60 years, Mopars have been so popular with Hollywood movie makers that we decided to split up our favorites into two separate lists. Recently we published the 10 best movie Dodge Chargers, which included classic car-guy films like Bullitt, Dirty Mary Crazy Larry, and The Fast and the Furious.
Now we honor the rest. These are the "other" movie Mopars, the best of the rest, from Barracudas and Road Runners to GTXs and a Fury named Christine. On the list are movie Mopars from the 1950s to recent blockbusters and modern Mopar muscle, including Demons and SRT Challengers.
Surely, we left out a few favorites. But we expanded this list to 15 films so we could feature the finest machines from Chrysler, Dodge, Plymouth, and DeSoto to hit the big screen. (Sorry, no Jeeps, AMCs, Fiats, or Alfa Romeos.)
15. Joe Dirt (2001)
There are actually two great Mopars in this comedy starring comedian and car collector David Spade. The first is a tattered 1969 Dodge Charger Daytona, which has been credited with starting the muscle car equivalent of the rat-rod craze, and the second is a 1967 Plymouth GTX convertible said to be Hemi powered. I know I said no Chargers were on this list, but the Daytona is something altogether different. Both Joe Dirt Mopars had column-shifted automatics, and both cars were clones. The real things are rare; Dodge only built a little more than 500 Daytonas in 1969, and Plymouth put together only a handful of Hemi-powered 1967 GTX convertibles.
14. Tommy Boy (1995)
Six years before Joe Dirt, David Spade drove another 1967 Plymouth GTX convertible clone in this comedy, which also starred Chris Farley. Instead of orange, this time the Mopar was blue and Spade's character says he "dropped in a 440 Magnum with a six-pack." Both cars wear Cragar SS wheels, and like the GTX in Joe Dirt, this one had a column-shifted automatic and lacks the Quick Fill Gas Cap which was standard on the GTX.
13. The Blues Brothers (1980)
Driven by Jake and Elwood Blues throughout this film, the legendary Bluesmobile is an ex-police car—a 1974 Dodge Monaco that ultimately gives its life for a "mission from God." Why a 1974 Monaco? According to the movie's co-writer and co-star Dan Aykroyd, it was "the hottest police car in America at the time." However, according to Elwood, the car was chosen because "it's got a cop motor, a 440-cubic-inch plant. It's got cop tires, cop suspension, cop shocks. It's a model made before catalytic converters, so it'll run good on regular gas." It's been said that 13 identical cars were used for filming.
12. Touch of Evil (1958)
Touch of Evil, written and directed by Orsen Welles, who also co-starred in the noir classic, is famous for its 3 1/2-minute unedited opening shot filmed in downtown Venice, California. Starring in that iconic sequence, which is considered to be one of the greatest long takes in cinema history, is a 1956 Chrysler New Yorker convertible that pulls up alongside Charlton Heston and Janet Leigh just before it meets its doom. Later in the film, Heston drives a 1956 DeSoto Fireflite convertible.
11. Moonshine County Express (1977)
Automotively speaking, this moonshine classic-car chase flick, which was released in theatres just one a week after Smokey and the Bandit, stars three notable American muscle cars, including two Mopars. The first is a four-speed 1970 Dodge Challenger street machine/dirt track racer with custom paint, a raised suspension, and slot mags. The other is a stone stock 1970 Plymouth Road Runner, which flies off a cliff while chasing the Challenger. Earlier in the movie, the Plymouth chases a real 1969 Boss 302 Mustang that ends up at the bottom of a pond.
10. Recoil (2011)
Few people have heard of this action film starring Stone Cold Steve Austin and Danny Trejo, which went straight to DVD. Track it down and watch it for the Mopar. Austin's character, a cop who turns vigilante, drives a beautiful and stone-stock 1968 Plymouth GTX with four-speed. The car is correct from its 440 hood badging to its pistol grip shifter and 14-inch Magnum 500 wheels.
9. Tiger Warsaw (1988)
Perhaps even more obscure than Recoil is this Patrick Swayze film about a blue-collar guy in Pittsburgh looking to rebuild his life. The movie is painful to watch, but for a portion of the film Swayze drives a black 1968 Plymouth Road Runner hardtop done up (tired street machine-style) with speed stickers on the windows, snorkel scoop, and jacked up suspension. Sadly, some dolt cut an aftermarket pop-up sunroof into the Mopar's top.
8. Bad Georgia Road (1977)
Another moonshiner in a Mopar. This time it's a 1970 Plymouth Road Runner being chased often by a 1970 Dodge Charger. Released about a month after Smokey and the Bandit and Moonshine County Express, Bad Georgia Road is not exactly worthy of Oscar consideration, but the car action, while basic, is worth watching on YouTube. It also worth noting that films like these ultimately led to the creation of the Dukes of Hazzard television series in 1979.
7. Highwaymen (2004)
In this action thriller, Rennie Cray (Jim Caviezel) drives cross country in his four-speed 1968 Plymouth Barracuda fastback searching for his wife's killer. The tatty orange Mopar is done day-two style with a flat-black hood, hood scoop from a Super Stock Hemi Barracuda, hockey stick stripes from a 1970 Hemi 'Cuda, and American Racing Torque Thrust style mags. It also has a pistol grip shifter (which wasn't invented until 1970), roll cage, and 426 Hemi badges.
6. 2Fast2Furious (2003)
In the second installment of the Fast and Furious franchise, the production doubled down on the muscle cars. The film's 1969 Yenko Camaro made our 9 Best Movie Camaros list and here we honor the movie's 1970 Dodge Challenger R/T. Powered by a 426 Hemi with a pistol grip four-speed, the Mopar was Hemi Orange with a black bumble bee stripe and black vinyl roof. It appeared stock, aside from the American Racing Torque Thrust D wheels and modern radials.
5. Christine (1983)
Directed by the John Carpenter, the big screen interpretation of Steven King's novel about an evil 1958 Plymouth Fury has become a cult classic with both car guys and horror film fanatics. Between 23 and 28 cars (depending on the source) were purchased for the production, including Belvederes, Savoys, and real Furys. The majority were used for filming, while the rest were plucked for parts. Several are said to have survived and were sold after filming.
4. Baby Driver (2017)
There are quite a few fine rides in this cops-and-robbers film about a good natured getaway driver who likes to listen to music while he wheels. Although the Subaru WRX got most of the marketing play, there's also some good action in a red 2017 Dodge Challenger with automatic transmission. It's unclear whether or not the Challenger is a Hellcat or another SRT model, but its action in the film includes a monster burnout and plenty of power sliding.
3. The Fate of the Furious (2017)
This latest of the Fast and Furious movies was filmed long before the 2018 Dodge Demon debuted at the 2017 New York Auto Show. In fact, the movie was released the same week the supercharged 840-horsepower muscle car was unveiled. In reality, Challenger Hellcats and other SRTs were dressed up as Demons for filming. The world's quickest and most powerful muscle car is now being delivered to owners, and Hagerty is proud to partner with Dodge as the official insurance provider of the 2018 Dodge Challenger SRT Demon.
2. Phantasm (1979)
If the makers of this horror film used a real 1971 440 six-pack Plymouth 'Cuda, one of only 108 built with a four-speed transmission, it would probably be the most valuable car on this list. But they didn't. They found a battered and beaten 1971 'Cuda 340 with a four-speed and made it look like a 440 six-pack car, then they added flares to the rear wheelwells, Crager S/S mags, and a racked suspension for that perfect 1979 day-two look. The E-body was chosen because director Don Coscarelli's best friend drove a new Sassy Grass Green four-speed 'Cuda when the two were in high school.
1. Vanishing Point (1971)
A 1970 Dodge Challenger R/T—white with a 440 and four-speed—fresh off the showroom floor, is driven flat out through the Southwest by a pill-popping ex-cop with little to live for. That's Vanishing Point, one of the greatest road movies off all time. Even the E-body's Colorado license plate, QA-5599, has become iconic in the Mopar community. Chrysler loaned the studio four cars for filming, three with the 440 four-barrel and four-speed combination and one with a 383-cu-in engine and an automatic transmission. They were all badly abused during production, after which they were returned to Chrysler and crushed. Sad, considering the car destroyed at the end of the movie was not one of them—it was a 1967 Camaro shell filled with explosives.