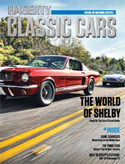 For More Than 50 Years The Shelby Name Has Been Synonymous With Serious Performance
The Cars Behind the Man
Shelby American gained recognition from the moment the first Cobra hit the street in 1962. The original Cobra/Ford GT/Shelby Mustang period spanned just over eight years and was packed with countless racing accomplishments, including the World Manufacturer's Championship and a 1-2-3 finish at Le Mans. You name it and Shelby won it.
After his retirement from racing in 1961, Shelby started the Carroll Shelby School of High Performance Driving at Riverside International Raceway in California. But teaching aspiring race drivers was not Shelby's dream. Building his own car was.
Shelby decided the best path was to combine a proven chassis with a powerful and reliable American V-8, just like the Cad-Allard J2 he raced and the American "specials" he encountered afterward. Shelby knew the recipe; he just needed the two key ingredients — a car and an engine, plus a little Texas charm.
While Shelby originally hoped to use Chevrolet's small-block V-8, GM management thought otherwise. Similarly, one of Shelby's early ideas for a chassis met a dead end when BMC showed little interest in selling Austin-Healey rolling chassis.
But all was not lost. Shelby's contact at Ford, Dave Evans, assured him that their new lightweight 221-cid V-8 engine had been extensively tested and had room left for more displacement and power. But the real kicker was that Ford appeared to be a willing partner. Perhaps it's because Shelby told them he already had a world-class chassis lined up. In his head, anyway.
A Snake is Born
AC Cars in England had just lost Bristol as the engine supplier of choice for their Ace sports car. Although a reasonably sound sports car, the Ace was already eight years old and outdated in comparison to new British cars like the 150-mph Jaguar E-Type. Shelby, with Ford already on board, immediately entered into negotiations with AC and was off and running. Ford shipped a few engines to AC, which modified the Ace to accept the new engine, and also made numerous Shelby-specified tweaks.
The first "AC Ace Cobra" mule, later numbered CSX 2000, was shipped to Shelby in Los Angeles without an engine. Upon arrival on February 2, 1962, CSX 2000 was sent to Dean Moon's shop in Santa Fe Springs, where a crew of California hot rodders reportedly installed Ford engine XHP-260-1, now 260 cid, in less than eight hours. The result was the basis of the Shelby legend, and it was terrorizing the streets within hours of receiving its engine. Magazine testers drove the car and spread the word that Shelby's new sports car delivered earth-shattering performance. The new car wasn't officially a "Cobra" until some time later, when Shelby says the name came to him in a dream.
The first Cobras are known as "Leaf Spring" cars, because their chassis used transverse leaf springs as the basis for independent front and rear suspension. Like any production car, they evolved. While all "Leaf Spring" Cobras are powered by Ford small-block V-8 engines, some important differences exist among the 592 cars built. The first 75 or so had 260-cid engines, before Ford's new 289-cid version of the same engine was fitted. The first 125 cars had the Ace's worm-and-sector steering system, which was replaced by a superior rack-and-pinion setup. Numerous other production changes followed, such as the switch from Lucas electrics and Smiths gauges to Ford electrics and Stewart-Warner gauges. Many Cobra purists favor the small-block Cobras with the 289, rack-and-pinion steering and the Ford electrics alternator, and S-W gauges. Competition models are also coveted, of course.
Shelby made at least nine variants of Competition small-block Cobra roadsters, plus the drag race-ready "Dragonsnake" cars, though clearly the top dog would be one of the six Cobra Daytona coupes. The slippery Daytona was Shelby's key to boosting the Cobra to dominance in the FIA's production car class in Europe. It worked, and Daytona coupes won the World Manufacturer's GT Championship for Shelby American.
A More Powerful Mouse Trap
As good as the small-block Cobras were, by 1965 they were long in the tooth. The competition was also catching up, as Chevrolet now had a 396-cid big-block for the Corvette. Shelby's response was the 427 Cobra. While instantly recognizable as a Cobra, the 427 cars had a completely reworked and strengthened chassis designed with Ford's new supercomputer. The leaf springs were gone, replaced by tubular upper and lower control arms suspended by coil-over shocks at each corner. These cars are known as "Coil Spring" cars, though certainly the most obvious upgrade was the 427 underhood and more muscular bodywork.
Shelby American offered both Street and Competition versions of the 427, as well as the 427 S/C, or Semi-Competition. On track, however, the 427 cars never saw the success of the small-block cars. But in the court of public opinion these big-block Cobras quickly earned their reputation as the baddest sports cars ever to wear license plates. The 427 Cobra's 450 hp and 2,400-lb curb weight equal performance that rivals most supercars of today.
Henry's Revenge
During the Cobra's reign, Shelby also had his hands in another project — to help Henry Ford II build a race car that would kick sand in Enzo Ferrari's face. Having declared Ford the "Total Performance" company, Ford II needed a sports car that could dominate the European race scene and win its ultimate race: the 24 Hours of Le Mans. Meanwhile, Enzo Ferrari had walked out of a deal for Ford to buy his company, and Henry Ford II wanted revenge at any cost. As Ferrari discovered on the race track, hell hath no fury like a Ford scorned. Ford found a willing partner in Eric Broadley of Lola Cars, LTD in England, and soon the Lola GT would evolve into the Ford GT40.
Ford looked to Shelby American to help make the GT40 a winner. After much trial and tribulation, Ford, with Shelby American, won the 24 Hours of Le Mans in 1966 with a perfect 1-2-3 photo-op finish. The effort cost Ford more than $60 million, and no doubt HFII thought it was worth every penny.
Shelbys for the People
The largest chapter of the Shelby story belongs to the Shelby Mustangs. When Ford introduced the Mustang as a mid-year 1964 model, it was an unprecedented success. Ford knew that "cute" and "affordable" would run their course, yet performance would endure. The company already built high-performance 289-cid versions of the Mustang but had failed to homologate it for production racing with the Sports Car Club of America. Once again, Shelby entered the picture, this time with the GT350 Mustang.
The rest, as they say, is history. For 1965, Shelby built 521 Street and 36 Competition versions with the 289, and they conquered SCCA B/ Production racing to win the national title. These cars were raw, elemental race cars for the street with two seats, no radio, loud side-exit exhaust and any color you wanted as long as it was white. Today the 1965s are the most coveted of the Shelby Mustangs.
A kinder, gentler GT350 came out for 1966, with subtle styling changes, color choices, rear-exit exhaust and a rear seat option. A unique partnership with Hertz resulted in a run of special GT350 H (for Hertz) cars exclusively for the rental car giant, which they rented to members of the "Hertz Sports Car Club." Including 1,001 Hertz cars, a total of 2,378 1966 GT350s were produced.
In 1967, the Mustang received a body style change, and so did the Shelby Mustang. Even more changes differentiated it from the Ford version, including a new fiberglass nose, hood, deck lid and taillight panel, along with four body side scoops and a roll bar with retractable shoulder harnesses. But the big news was the introduction of the big-block 428-cid GT500. While it looked identical to the GT350, the GT500 had the edge with its dual quad 428 FE engine, which literally stuffed the Mustang's engine bay. Thanks to the GT500, and the sexy new look of the 1967 cars, sales jumped to 3,225.
Things really changed for the Shelby Mustangs in 1968. Shelby American turned production of the Mustangs over to Ford, which in turn had A.O. Smith build the cars in Michigan. What began as a program to trim the fat from the Mustang and make it into a race car had now become a program to build an upscale performance themed Mustang. Buyers wanted less bone-rattling and booming pipes and more comforts like air conditioning and automatic transmissions, and Ford was happy to oblige. The 1968 cars combined Shelby style with upgraded suspensions and interiors and were aimed at more mature buyers who wanted some grand touring car with their performance. Also new for 1968 was the first production Shelby Mustang convertible. And by mid-year buyers could select the GT500 KR, for King of the Road. In place of the standard GT500's 428 was Ford's new 428 Cobra Jet engine with ram air, which the company had put into Mustangs to go drag racing. And thanks to the increased production capacity at A.O. Smith and the positive reaction to all the Shelby Mustangs, it was the best sales year, with 4,451 sold.
With a new Mustang body style, there were more changes for 1969. Bigger in every dimension, the 1969 Shelby Mustangs again melded looks, luxury and performance. The GT350 now had a 351-cid engine, the GT500 came only with the 428 Cobra Jet and the GT500 KR was gone. At 2,361 units, sales for 1969 were lackluster, possibly because buyers were able to similarly equip a regular Mustang for less money, and the potent Boss 302 and Boss 429 engines were not available in the Shelby versions. Left with a surplus of unsold 1969 Shelby Mustangs, the remaining 789 cars were renumbered, given a modified stripe design and sold as 1970 models. So while technically there was a 1970 model year for Shelby Mustangs, production really died in 1969. And that was it for Shelby.
Beyond Ford
Or was it? In an odd turn of events, Shelby signed on with Chrysler in the early 1980s to produce, yes, Shelby Dodges, but that's another story (visit hagerty.com/shelby-chrysler to learn more).
Not one simply to hang it up, Shelby began work in 1994 on his first clean-sheet car — the Series 1. It debuted in 1999 and featured a full aluminum chassis, composite body and Oldsmobile Aurora V-8. Unfortunately, production issues limited the Shelby supercars to just 250 units. Today, Carroll Shelby is back with Ford and Shelby American is building cars at its state-of-the-art facility in Las Vegas, Nevada. New Cobras are built beside new GT350 Mustangs, along with GT500 upgrade packages that produce more than 1,000 rear-wheel horsepower.
All of the stories and accomplishments are legendary, but none more so than the magic of the company and its cars. Since 1962, it has been Shelby's perfect storm. He combined the right ingredients, talent, sponsors, drivers and unbridled enthusiasm to take what some had called "a bunch of junk" out into the world and didn't come home until there was nothing left to win. Call it what you will — dumb luck, stubbornness or being in the right place at the right time — nobody can deny that Carroll Shelby and his creations are one of the greatest American success stories of all time.