Game Changers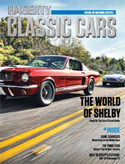 The Little Hondas That Transformed Our World
After World War II, American motorcycling fell into disrepute. Most riders were decent, happy fans of road fun and bugs in the Brylcreem. But their usual motorcycles were panhead Harleys, and maybe these seemed too loud, coarse and rudimentary for a generation aspiring to be silent, smooth and sophisticated. In 1947, 4,000 motorcyclists held a rally in Hollister, California. Mild fracas ensued. Using staged photographs, Life magazine played it up as "The Hollister Riot." That led to the 1954 movie "The Wild One," with Marlon Brando cast as the boy every dad had forbidden his daughter to date. This caused all the juvenile delinquents in the nation to buy black leather motorcycle jackets to go with the Harleys they didn't have. (Never mind that Brando was shown riding a hoity-toity British Triumph Thunderbird 6T.) The motorcycle came to be viewed as a sign of serious social maladjustment. Anyone riding one was assumed to be headed to prison or, worse, a tattoo parlor.
Then in 1963 — with a single Japanese import — motorcycles suddenly became cool. Everybody wanted one. To judge by the number of my fellow Baby Boomers playing parts in "The Mild One," everybody still does. There were 646,000 motorcycles registered in the United States in 1962. Now there are 6,634,500.
This alteration of public opinion happened at Suzuki GSX1300R velocity. Although, in fact, the actual speed involved was 43 mph — as fast as you could go on a Honda 50, the motorcycle that changed everything.
The Honda 50 was an odd little cause for such a big effect. The pressed steel underbone frame was a cookie tin on wheels. The horizontal pushrod four-stroke single had an espresso cup 3-cid, producing a Hoover upright 4.5 horsepower. The clutchless trans-mission's three gear ratios were slug, turtle and fat lap dog.
But the 50 had other things going for it, not least of which were looks and luck. The Honda's tidy styling, with modernistic swoop fairings, pretty color combinations and girl's bicycle seat step-through design, gave it a non-threatening — that is, non-motorcycle — look.
All those kids born after the war were now begging for the car keys. Parents could accept Billy and Jane hopping on a neat, cute and cheerfully buzzing device barely more rapid than a Schwinn. At $250, it was Christmas or graduation giftable. And it came with maybe the most brilliant promotion campaign in history, Grey Advertising's "You Meet the Nicest People on a Honda," which was actually written as a Marketing class project by a UCLA student.
Crazy weirdo bikers vanished from the popular mind, replaced by images of wholesome middle class Americans riding Hondas. If 4,000 of them descended on Hollister, the town would be wracked with Kiwanis Club meetings, church picnics, sock hops, charity bake sales and scout jamborees.
When Honda entered the U.S. market in 1959 (with the slogan "Nifty, Thrifty Honda 50") it sold 170. After 1963's "Nicest People" print and TV ad blitz, annual sales exceeded 200,000.
The 50 was, as the Beach Boys sang in "Little Honda," Not a big motorcycle/Just a groovy little motorbike. But it was a real motorcycle nonetheless and turned everyone who rode it into a motorcycle rider. The 50 resembled a scooter. But it was no Vespa with eight-inch wheels, AWOL rear springs and engine tacked on one side of the rear axle. Scooters had the handling characteristics of a grocery store shopping cart on a wheelchair ramp. The Honda didn't.
You could get a lot of fun, if not a lot of hurry, out of a Honda 50. And you could get a little more hurry out of the near-doppelganger 89-cc Honda 90 that added half a horse to the power. (It also started the trail bike craze, with the lower-gear-ratio, knobby-tired Trail 90.)
These made you want bigger motorcycles. Honda had some. The 305-cc C77 Honda Dream stayed with the non-threatening, mom-reassuring, un-Harley look, though in a different way.
The Dream seems to have been styled during a sake chug-a-lug. The front fender comes off the head of a Trojan warrior. The rear fender is modeled on an early Elvis haircut. There's enough molded sheet metal in the front fork assembly to make a Buick. The headlight is rectangular and futuristic, if your idea of the future is 1979. And the shock absorbers are — dig it — squares, square.
But it was a great touring bike. It could get you to spring break in Fort Lauderdale without needing repair, violating small-town noise ordinances or leaking oil on the floor of the tiki bar you rode it into to impress chicks. All this being unheard of in an early '60s motorcycle. Plus, it had an electric starter so you could let one of your bikini-clad admirers fire it up and run it into a palm tree.
Even better was the décor-free Honda Superhawk CB77, also an OHC 305cc four-stroke, but with a 180-degree crankshaft, dual carbs, 9.5:1 compression ratio, 9,200 rpm redline and an engine that (due to its four main bearings instead of two) did not, as was customary at the time, seize up like Congress during a civil rights filibuster.
By the time you got on a Superhawk, you were riding a motorcycle that looked like a motorcycle — one of the prettiest of the era. But mom and dad weren't quite so tickled with your conveyance. You could meet some other kind of people on a Superhawk.
And you did. My friends and I were mostly riding Suzuki and Yamaha 250s. Their two-cycle engines were cheaper and simpler, and a lot of speed could be gotten out of a small two-stroke if the tach needle was kept in exactly the right part of the power curve, which we almost knew how to do.
The Yamaha YDS3 handled beautifully, thanks to Yamaha's racing division. And it stayed in tune, thanks, perhaps, to another division of Yamaha, which made pianos.
The Suzuki X6 Hustler was the first production bike with six gears, had nearly 30 horsepower and weighed only 297 pounds. Frankly, I found mine a little twitchy at 100 mph. At any serious speed you didn't want to hit any pavement irregularities such as the lane divider paint.
But good as the light Japanese machines were, louder and dumber is always better when you're 20. Would-be crazy weirdo bikers were back, and they were us. We yearned for the big Brit bikes.
A 650 Triumph Bonneville would turn the skinniest dweeb of a Chem major into Brando. The 750 Norton Commando had such aggressive looks that it appeared as if it could do you serious harm just standing still. And, with beer and faulty kickstand placement, it did so to a friend of mine. We were even willing to accept the fact that the British bikes didn't work.
I believe there's a college buddy of mine, class of 1969, who's still behind the DEKE house trying to kick-start his BSA Gold Star.
Japanese manufacturers smelled what was cooking. The 1965 Honda CB450 Black Bomber left chopper riders tangled in their ape-hangers on the first curve and would have whipped almost all the British bikes, if any of them had been running. The Honda's DOHC four-stroke twin with a 10,000 rpm redline made for a top speed of… you didn't want to find out. The CB450 was a modern motorcycle in many respects, but it still had a pair of dirty-sneaker drum brakes.
The 1968 Kawasaki H1 Mach III became the fastest street bike in production with an engineering shock of a three-cylinder, two-stroke, 500-cc, 60-hp engine and a dry weight of 380 pounds. Its handling was legendary — the legend being that no one who put an H1 into an S-bend ever came out alive.
The next year brought the Honda CB750 four, and the rest is lunatic-zoom-on-two-wheels history. From 3-cubic-inch nicest people to superbike pilots in six years; what a debt we owe to, basically, a moped that had been to the gym.
If it weren't for the Honda 50, motorcycles might have disappeared completely from the United States. In "Easy Rider," Peter Fonda would have gone looking for America with one knee in a Radio Flyer wagon. We'd call the yearly Vietnam vet memorial gathering in Washington "Footwear Thunder." There'd be nothing to race at Daytona Bike Week but sand fleas. And every year half a million people would go to Sturgis, South Dakota, just to stand around and eat corn dogs.
Imagine trying to reintroduce motorcycles in today's safety-silly, caution-carping, worry-wiener America. It's possible we'd still be allowed to ride, but we'd have to have airbags inside our helmet visors, wear hazmat suits and equip our bikes with legally mandated training wheels.
Thanks, little Honda.
And if you care to meet more of the nicest people, Honda 50s are still being made in such places as Cambodia, Nigeria and Peru. But you'd better hurry up. All those folks will be crazy weirdo bikers soon.