Know Your Designers: Giorgetto Giugiaro
Born: Garessio, Italy (near Turin) August 07, 1938
Early Plans: To be a painter, like his father Mario Giugiaro. Studied under a famous local cartoonist, Eugenio Colmo, known as Golia.
Discovery: In 1955, Golia's nephew, Technical Director of Fiat, saw some of 17 year-old Giorgetto's car sketches, and got him a job at Fiat's Special Vehicles Styling Center.
Biggest Hits
1962 BMW 3200 CS: The direct design precursor to the delicate neue klasse coupes and sport sedans like the 2002 and 3.0 CS that still define the BMW brand, including the first use of the forward-bending C-pillar ("Hofmeister Kink") that remains a design signature.
1963 Iso Grifo: A groundbreaking "hybrid" Grand Touring car. Combination of sensual European styling with brutal American big-block power.
1974 VW Golf: The first modern Volkswagen, signaling the brand's shift out of its Beetle roots. Crisp, efficient, and purposeful.
1976 Lotus Esprit: One of Giugiaro's first "folded paper" designs, with crisp edges and harsh lines, it looks like a Grifo that has been ironed flat.
1978 BMW M1: BMW's limited-production homolgation special was the brands first M car, its first mid-engined vehicle, and a total outlier design-wise, but a looker nonetheless.
1981 Delorean DMC 12: Gullwing doors, stainless steel body panels, and iconic movie car status surround what ended up being a slow and mediocre, but lovely, vehicle.
Lasting Influence
Giugiaro is among the most influential designers in automotive history, a fact attested to by his winning Car Designer of the Century in 1999. His work not only demonstrates a meticulous attention to detail and an innate artistry, it also traverses highs and lows, from the first Hyundai, to the best-selling Mk 1. VW Golf and its derivatives, to supercars from Maserati, BMW, and Lotus. He was not afraid to embrace the future and make it happen now, as demonstrated with his outrageous futuristic folded paper designs. His work always considers the manufacturer and the audience first, and is as often about utility as it is about line, space, and proportion. He is still designing the future, with bubble-topped, luxury autonomous concepts.
Other Notable Automotive Work
Bertone 1959-1965
Alfa Romeo 2000/2600 Sprint
Alfa Romeo Giulia Sprint GT
Fiat 850
Chevrolet Corvair Testudo Concept
Ferrari 250GT SWB Bertone
Mazda Familia
Ghia 1965-1967 – The firm was purchased by Argentine racecar driver Alejandro deTomaso shortly after Giugiaro was hired.
De Tomaso Mangusta
Maserati Ghibli
Italdesign Giugiaro 1968-2015 – Majority interest was purchased by the VW Group in 2010, and fully in 2015.
Alfa Romeo Alfetta GT/GTV
Audi 4000
Bugatti EB 112
Lexus GS
Fiat Panda
Saab 9000
Subaru SVX
GFG Style (with son Fabrizio) 2015-present
Envision/GFG Sybilla
TechRules Ven
S.A.M.E. Frutteto Series Tractors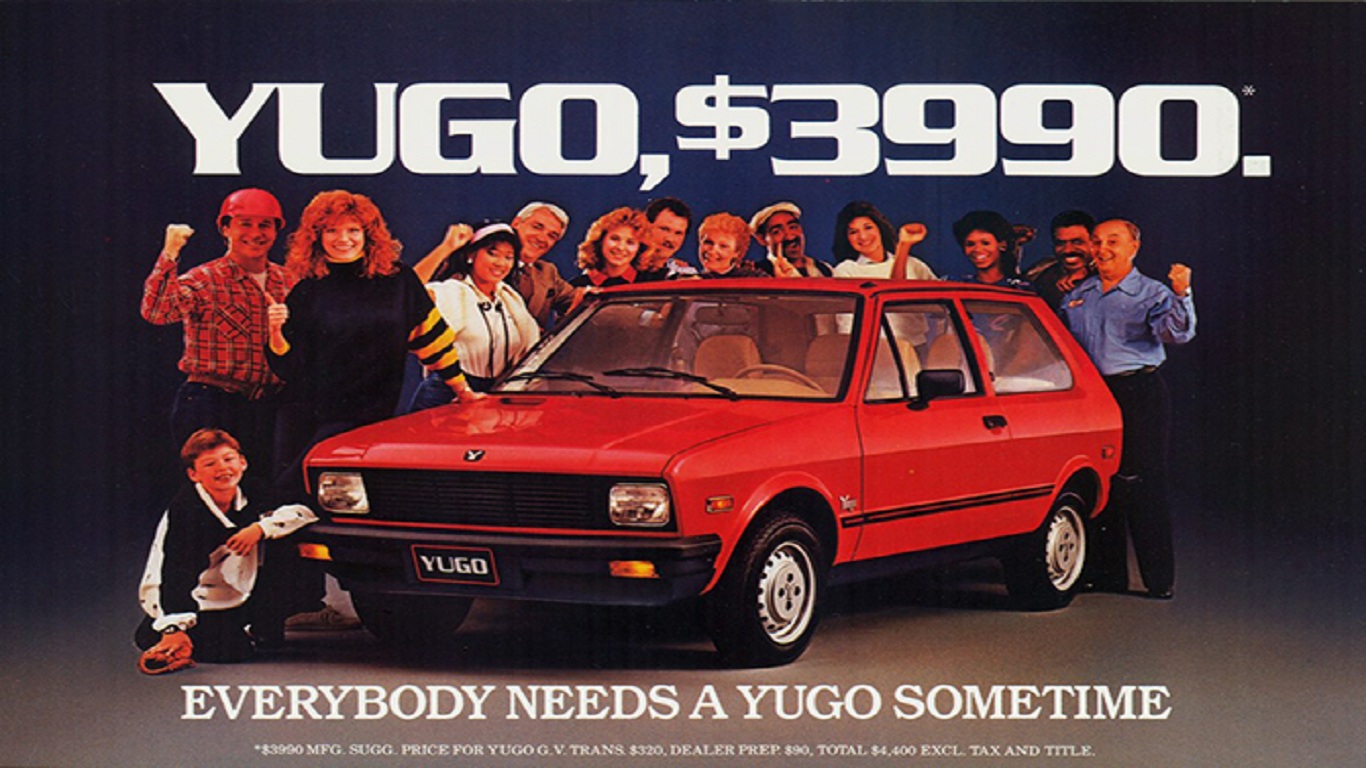 Biggest Bomb: The punitive, bargain sub-basement, Yugoslavian-built Yugo GV (1977)
Best Oddball: Lancia Megagamma (1978) A high-riding proto-minivan that evolved from his Alfa design for a NYC Taxi of Tomorrow (1976).
Other Design Work: Nikon cameras, Beretta firearms, Suzuki and Ducati motorcycles, a new kind of pasta for Barilla, and computer/notepad prototypes for Apple.
Biggest Regret: Turning down an opportunity to work with Honda earlier in his career. They never reached out again. (Giugiaro never said no to anyone again.)