A day at the races with drag racing royalty
He told me 9:00 AM, but when I pull into the parking lot of Auto Club Speedway in Pomona, California at 8:35, there is already a crowd around a red Dodge Demon, and holding court is Don "the Snake" Prudhomme. Dapper in a suit, directing the Dodge booth folks about where to put the stanchions around his new car. Fans and Dodge reps and NHRA marketing folks all vie for the attention of the man voted number 3 on NHRA's list of 50 Greatest Drivers.
Prudhomme raced dragsters in the 1960s, and is responsible, along with Tom "Mongoose" McEwen, for bringing major sponsorship into professional drag racing in 1970 with the formation of the Snake and Mongoose Funny Car rivalry. With heavy promotion by Hot Wheels and a 1/64-scale Plymouth Funny Car in every kid's collection, both drivers became household names.
Prudhomme is retired now, attending the races as a celebrity guest and, boy, are there fans eager to meet him. A photographer tells him he used to have the Snake and Mongoose Hot Wheels set, Prudhomme nods. He'll hear that a lot today. He turns to me and pulls off his Snake Racing ball cap. His hair, normally a soft, grey, poof of tight curls is cut short. "Did you do that on purpose?" I ask. "Accidently on purpose," he answers. "I went to Supercuts and they went BZZZZZT and cut it all off." The man drives up in a $90,000 car with a $17 haircut.
"Where we gotta be, baby?" he asks me. Somehow I've turned into his agent for the day. 10:00 AM, AAA stage with McEwen. The host is Alan Reinhart, NHRA announcer. He asks how the job of driving has changed. It's a common question, but Prudhomme always answers like it's the first time he's heard it. "You had to know how to work on the engine. When it went down the quarter-mile, you had to know what it was doing, when to shift, what the tires were doing. You were making decisions all the way down the track and when the crew came to meet you, you needed to know what needed to change for the next round. Before the slipper clutch, we used to smoke the tires all the way down the quarter."
Next up, an autograph session with fellow drivers, past and present. Prudhomme and defending Top Fuel champ Brittany Force whisper secrets behind their hero cards. She laughs at everything he says, but won't repeat any of it. The signing is like an assembly line. Mello Yello marketing people watch to prevent fans from grabbing handfuls of cards or holding up the line. A few old racing buddies swing by to say hi.
"Tired of watching him be famous?" I ask.
"Honey, I got 50 years of watching that."
Sharpies dulled, we dart across the midway for a Facebook Live interview at the Lucas booth. On the walk over, McEwen tells Prudhomme he swears too much. "You say f**k a lot."
"I do, don't I?" says Prudhomme. "I think about it a lot."
"If you got more in your younger days you wouldn't have to think about it so much," ribs McEwen.
"Yeah, that's my problem," says Prudhomme then turns to me. "He gives me a hard time but I fire right back, you see that?" I tell him that I think Mongoose got that one. "It's best two outta three," he says. "It's a match race."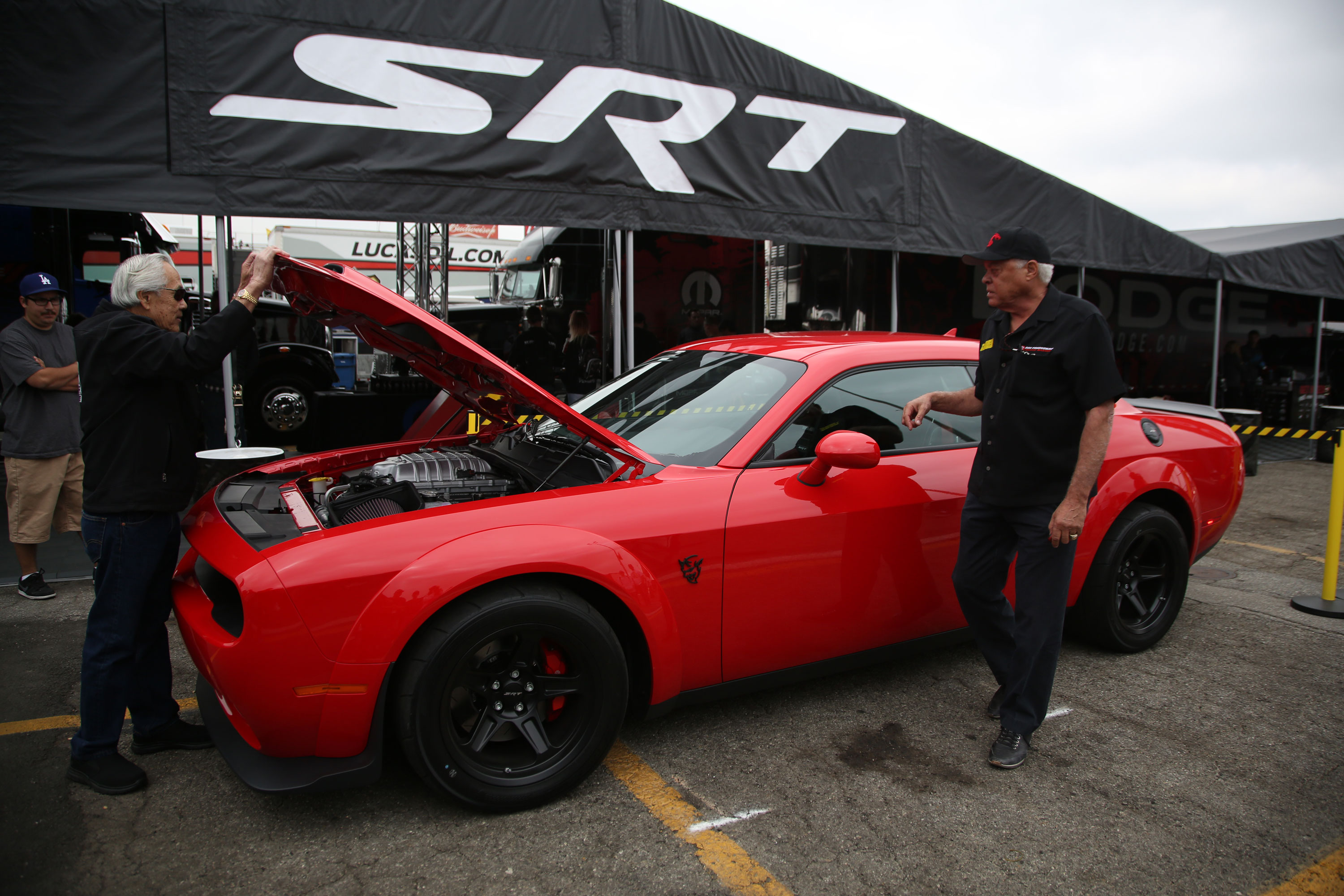 Back on the golf cart, a fan grabs at Prudhomme's hand and says "I used to watch you race all the time! You were great! Back when I was young and you were young." Prudhomme slips his hand free as we drive off. "Why did he have to add that last part? We were going great until then."
Our next stop is the announcing booth, high above the starting line. The nitromethane wafts up just enough to give the nostrils a pleasant burn, like the horseradish on good prime rib. A nitro pass can cost upwards of $10,000 per run, and that's if the car stays in one piece. Most of them don't. Prudhomme grows steadily more agitated watching the destruction. "I hate to get into how expensive it is, but people don't realize what it costs when you hurt 'em. I don't know how they can do it. When I won here in '65 we didn't take anything apart."
"Would you ever want to be a team owner again?" asks Reinhart.
Prudhomme shakes his head. "Nah."
The Funny Cars come up and, one after another, rattle tires and shut off early. Don was calm when he came in, joking and leaning forward, but with each run he tenses up, leans back, crosses his arms. In the racing days, Prudhomme always had a cigarette in his mouth. Now, as the cars shake and shut down, his eyes narrow and his hand twitches for the ghost of a smoke. He may not want to own a team again, but the itch to race again is barely below the surface.