A showroom-fresh Volaré sets the clock back to 1976
The Plymouth Volaré and Dodge Aspen: Two of those '70s cars that, much like Rodney Dangerfield, don't get any respect. Volaré. Aspen. Pinto. Vega. Astre. All cars designed by companies with deep pockets, full design staff, engineers, test drivers and everything else they needed to build the best products possible. But there was many a slip between the cup and the lip in those days, especially in the mid-1970s. Today, we're going to look a little deeper into the new compact Plymouth, introduced in the autumn of 1975 as a '76 model.
It had big shoes to fill. The venerable A-bodied Dodge Dart and Plymouth Valiant were a little bit staid; but they were also tough cars, and beloved of young families, retired folks and librarians alike. Chrysler was certain enough of their appeal to keep them in the lineup for 1976—or was it that they were uncertain about the new models?
If there was a problem, it wasn't in the sheetmetal, which was attractive and cleanly styled. There was further purchase incentive to be had with the addition of a station wagon, and in inaugural '76 it proved to be the most popular body style.
"The new small car with the accent on comfort," touted Volaré showroom brochures and period advertising. They were rated at 30 mpg on the highway and 18 mpg in the city, when equipped with the Slant Six and manual transmission.
Plymouth also frequently mentioned "The Clincher," which was a twelve-month warranty on all new 1976 Plymouths. Unfortunately for Chrysler, and their customers, many new owners would need that benefit.
Along with the new wagon, the expected two-door coupe and four-door sedan rounded out the lineup. Coupes had a 108.5-inch wheelbase, while sedans and wagons had a 112.5-inch span. Three trim levels were available: Base, Custom and top-of-the-line Premier. Volaré two-doors were also available with a Road Runner package, which consisted primarily of E70x14 RWL tires, Rallye wheels, side and rear panel stripes and heavy-duty suspension.
Like so many cars of its time, your Volaré could be as plain or as fancy as you wanted. Options included a manually-cranked sun roof, air conditioning, towing package, power windows, brakes, and steering; automatic transmission, vinyl roofs (including a landau top on coupes) and several wheel cover choices in addition to the always-classy Mopar Road wheels and Rallye wheels.
Standard engines included the 225-cubic-inch Slant Six with 100 horsepower, or the 318-cubic-inch V-8 with 150. My 1976 brochure claimed both were standard, though it did not specify whether that varied on the model and trim level. A 360-cubic-inch V-8 with 170 horsepower was optional. A three-speed manual was standard on base models and Customs; Premiers got a three-speed automatic at no extra cost.
Our featured car is about as base as base can be, with no obvious options other than automatic transmission, and one of 23,058 base sedans built. It was on display at a car show held at a church just down the road from my home. A friend of mine, Pete Peterson, told me about the show.
I planned to attend, then promptly forgot about it. On the day of the event, I drove by on the way to the local Walgreens and remembered. The Volaré became my favorite car at the event. You just don't see them anymore… although, I had seen this particular car before.
About five years ago I was driving to work and came upon it sitting at a red light. I was floored by its nice, original shape, and managed to get a single photo before it sped away. It even had a period-correct Kimberly Chrysler-Plymouth dealer logo on the trunk lid, a dealership on Kimberly Road in Davenport. They're still in business today, by the way.
Pete happened to know the owner of this car, who was nice enough to tell Pete about the car. As he related, "It's a 1976 Plymouth Volaré. Almost 100-percent original. All we replaced were a few minor parts on the engine to get it running. It has just over 7000 miles. No radio, no A/C."
"The lady we bought it from is in her 80's and her dad bought it. They lived on Brady Street (a busy four-lane arterial road in Davenport, for those of you not living in the Quad Cities) and the car would hesitate accelerating sometimes and so he was too nervous to pull out on Brady Street so he parked it and never drove it."
Well, that certainly explained why it looked showroom new! As many of you fine folks likely know, the Volaré and Aspen had numerous quality control problems upon their debut. Perhaps the most infamous issue had to do with the front fenders, which rusted through in no time. It got so bad that Chrysler Corporation added a fender replacement warranty to help soothe irate owners, even as the firm debuted a new rustproofing system late in the model year that was a first among domestic automakers.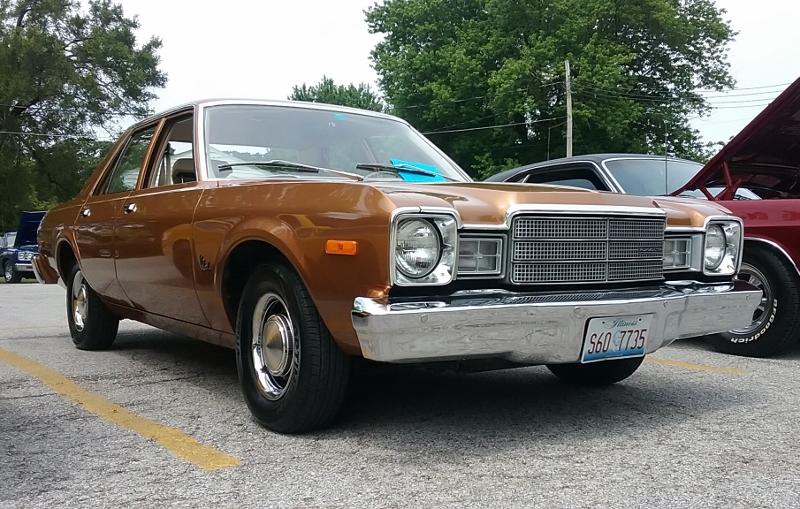 Quality control trouble continued, but by around 1978-79 most of the glitches and worst problems (though not all) had been corrected. It became a fairly decent car for folks who hadn't gotten gun-shy about possibly buying one of these compact Mopars. The duo carried on through 1980 and then were put out to pasture, though their basic chassis and design carried on in the Gran Fury and Diplomat M-body cars, which would become very popular in police and taxi fleets by the early '80s.
We wouldn't (and couldn't) forget the Volaré's Broughamed-out Chrysler Fifth Avenue siblings, but they weren't the only upscale descendants of this humble compact. The 1981 Imperial was based on the new razor's-edged Cordoba and Mirada, which in turn were based on the F-body cars. There was also an outrageous European sibling—the Monteverdi Sierra, built in Switzerland with a Chrysler 318 and wishbone front suspension in place of the usual torsion bars. Yet all of those striking variants faded out of memory as the Fifth Avenue continued to trickle out of showrooms. Those cars lasted to 1989, and were among the first Chrysler products to come with a driver's side airbag. It was a decade-and-a-half-ride, and it all started with the Aspen and the Volaré. A rough start, but a long-legged stride to the finish.