The 1967–71 Ford Thunderbird isn't flying high, but it's a lot of car for the money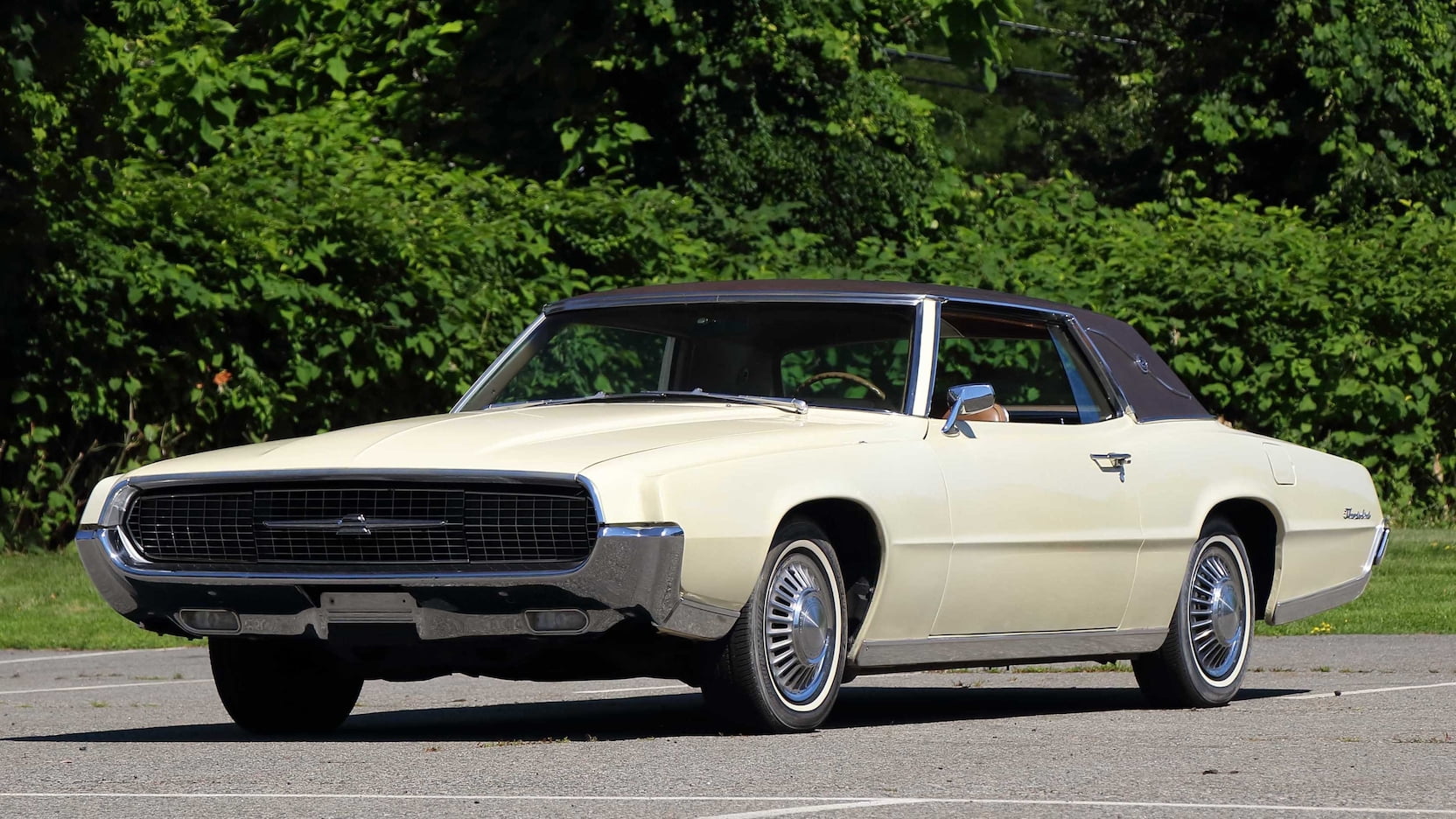 If we hear the name "Ford Thunderbird," most of us think of those first 1955–57 two-seaters with their porthole hardtops, sharp tailfins, and Y-block V-8s. Some of us might also think of the odd, neo-retro 2002–05 T-Birds that not even Halle Berry could make look good in Die Another Day—but the Thunderbird family goes way deeper than that.
The car took on many guises over half a century, with "Baby Birds" (1955–57), "Square Birds" (1958–60), "Bullet Birds" (1961–63), and even "Super Birds" (1989–97). Among the least appreciated Thunderbird generations is the 1966–71 car, affectionately (or maybe sarcastically) referred to as the "Glamour Bird." With prices going nowhere and buyer interest dipping, it's still underappreciated; the 1967-71 T–Bird currently carries a Hagerty Vehicle Rating of just 36.
What does that mean? The Hagerty Vehicle Rating is based on a 0–100 scale and considers the number of vehicles that are quoted and insured through Hagerty and takes into account auction and private sales results. A vehicle that is keeping pace with the overall market has an HVR of 50. Ratings below 50 are trailing the rest of the market, and ratings above 50 are leading. Having fallen from 59 to 36, the Glamour Bird went from tracking straight to falling behind by quite a bit. So what happened? Mostly it comes down to weak prices for less-than-perfect examples and a decrease in buyer interest, which we measure through insurance quote activity.
The fifth generation marked a major change for the Thunderbird in several ways. The Mustang had taken a chunk out of T-Bird sales by being a sporty two-door four-seater that was both cheaper and sexier, so Ford decided to take the Thunderbird upmarket and upsize.
Ford dropped the Thunderbird convertible, added a four-door version with suicide rear doors, moved from unibody to body-on-frame construction, and radically changed the styling to include a wide-mouthed grille with hidden headlights and a slimmer overall appearance. Ford touted in an ad, "Any way you want to fly this year, the Bird is there, one step ahead." It looked like a step in the right direction, as Ford sold about 9000 more T-Birds in 1967 than it had in '66, for nearly 78,000 total. Sales dropped every year after that though, and by 1969 sales slid to below 50,000 for the first time since recession-sick 1958.
For 1970–71, Ford dropped the gaping fish-mouth grille in favor of a narrower grille that jutted forward in the middle. Ford would have liked you to think of it as this Bird's proud beak, but if you saw a hint of Pontiac in there, you wouldn't be the only one. This "beak" is often credited to then-president of Ford Bunkie Knudsen, leading some people to call the 1970–71 cars "Bunkie Birds."
Early fifth-gen T-Birds got the 390- or 428-cubic-inch FE V-8, but 1968 saw the introduction of Ford's new 429 big-block. In the Thunderbird it makes 360 horsepower and 480 lb-ft of torque, so while it's a more than two-ton comfy cruiser, it's not exactly slow, either.
After selling nearly 280,000 Thunderbirds from 1967–71, Ford redesigned the car yet again for its sixth generation, giving it more conventional styling and even more heft, as well as deeming the never-popular four-door model a swing and a miss and dropping it altogether.
Ford marketing folks may have thought the Glamour Bird was "all set to set trends" and a "beautiful new way to make an entrance," as one ad proclaimed, but these days it's among the least popular classic Thunderbirds. Its proportions just look off from some angles, especially in four-door form. And those landau bars—a vestigial styling cue from horse-drawn carriage days—probably aren't coming back in style any time soon. They weren't in style in the '60s, either.
On the other hand, the sequential turn signals, suicide rear doors, and the available Cayman-grain vinyl roof are pretty cool—as is a big-block 429. Sadly, those features aren't enough to stop these T-Birds from commanding far less money than earlier ones. Despite some small movements, their median condition #2 (excellent) value is almost exactly the same as it was at the very beginning of the Hagerty Price Guide way back in 2007. In fact, it's $100 less at $14,200.
These are not cheap cars to restore, so gleaming show-worthy examples are quite rare, but even the most valuable configuration, the 1968 coupe with the 429/360-hp V-8, is still only worth $21,900 in #1 (concours) condition.
With the latest update of our pricing guide, most versions in #3 (good) and #4 (fair) condition were down slightly. Over the last three years, the average price at auction for fifth-gen T-Birds has been just $8900, and although buyer interest skews surprisingly young—with Millenials making up nearly 22 percent of quotes (probably because of the low prices)—that interest is down overall.
So, making money on a fifth-gen T-Bird doesn't seem likely, but if we're talking cubic-inches-per-dollar or distinctiveness-per-dollar, it's a solid value. With vintage looks, big comfort, huge engine, and attainable parts, it also comes with a price that rarely even stretches into the teens.