Nothing succeeds like the 1977 Eldorado's excess
I've always had a hankering for the Cadillac Eldorados of the 1970s. It goes way back. In the second grade, on the way home from a doctor's appointment, my dad stopped at Drug Town in Iowa City, and let me pick out a model car from the toy aisle. I selected a Jo-Han 1976 Cadillac Eldorado snap-together model kit, molded in aqua blue. I built, and loved, it immediately. The blue Eldorado had pride of place on the shelf in my bedroom. And while I destroyed many of my toys back then (that I would love to have back), the Eldorado survived to the present. Today it sits on a shelf with several other 1/24 scale model kits and dealer promotional models in my home office.
The 1971 Eldorado was completely restyled. Much more baroque as well, with fender skirts, simulated vents on the quarter panels, and a more formal front end with 'cathedral' styled parking lamps. It attracted a variety of customers, including Shaft songwriter (and singer) Issac Hayes. The customized early-Seventies Eldorado was a staple of "blaxploitation" films, but it wasn't just popular with an urban audience; the country-club set reveled in the new-for-'71 availability of a convertible.
This same body would last all the way to 1978. Differences between 1971 and 1972 models were minor, limited to grilles, taillamps, wheel covers, and color and upholstery choices. But 1973 brought a much more extensive restyle, with the newly-required 5-mph front bumper. 1974s received a matching rear 5-mph bumper, and more overall length as a result.
1975 Eldorados swapped their quad round headlamps for a quartet of rectangular units. There was the usual revision to the grille, while the fender skirts said sayonara, with a full rear wheel opening for the first time since 1970.
From 1971 through 1975, the Eldorado coupe was available with the Cabriolet roof, which was a padded landau-style vinyl roof with a smaller rear quarter window and limousine-style backlight. But midway through 1976, a more elaborate option package appeared for coupes: the Biarritz.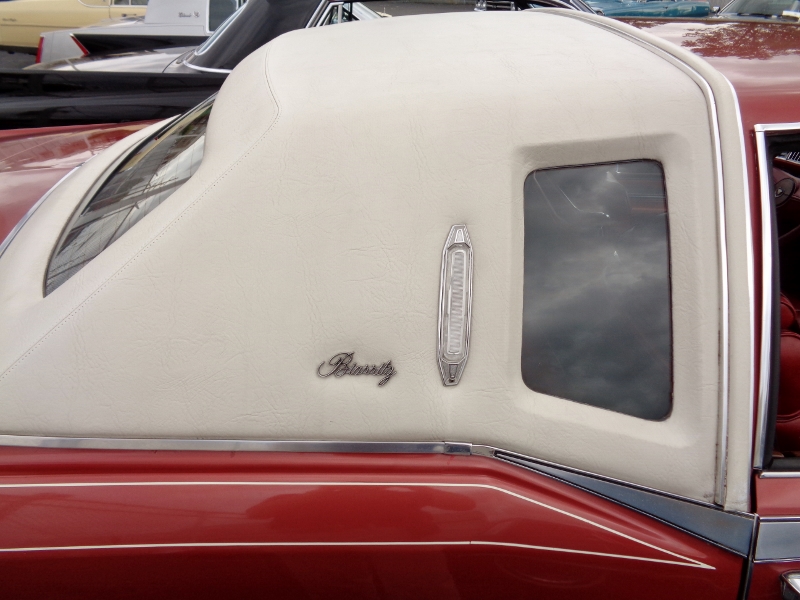 Although similar to the Cabriolet roof offered in 1972–75, it added a matching vinyl insert at the leading edge of the vinyl top, an aluminum crossover molding, color-keyed wheel covers, opera lamps, Biarritz ornamentation on the sail panel, and a large stainless molding running from beneath the top, across the doors, and ending at the leading edge of the power dome hood, in a spear.
1976 Biarritzes made do with the same interior as other Eldorados, admittedly a nice, cushy environment. 1977 models received these most excellent, over-the-top, floating pillow thrones. Cadillac had a name for everything back then, and these were called Cadillac Contoured Pillow Style Seating, with 50/50 Dual Comfort up front.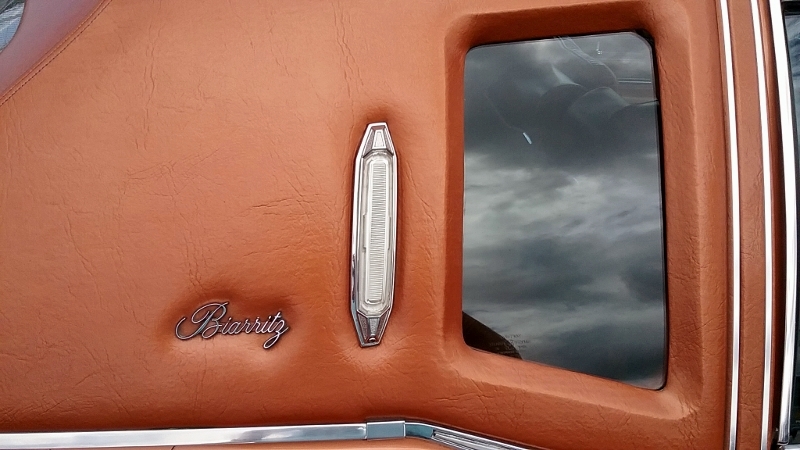 1977 Biarritzes came in five special color combinations, all with a color-coordinated interior: Buckskin Firemist, Cerulean Blue Firemist, Sable Black, Frost Orange Firemist, and Cotillion White. Sierra grain leather was the only upholstery material choice.
Other new features on the '77 Biarritz: accent striping on the fenders, hood and decklid, and remote-controlled passenger side rearview mirror. If that was not enough finery for your Eldorado, an optional sunroof (steel panel) or Astroroof (tinted glass panel) was available.
As you may have guessed, our featured 1977 Eldorado Biarritz is Frost Orange Firemist, the same color shown in the plush 1977 Eldorado dealer brochure. I acquired this brochure for my collection in the late 1990s, and was always smitten with that orange Eldorado on the first page.
So you may understand how I stopped in my tracks when I saw this beautiful car at the Shirey Cadillac show last Memorial Day weekend. I've previously written about that show, and there were many other nice cars there, but this one was my favorite. It just checked all the boxes. What a swank conveyance! And throughout that afternoon, I kept circling back to that car, just to check it out again. And again.
The Firethorn Red 1976 Biarritz was photographed at the same show, but in 2016. At the time, it was owned by my friend Andrew Bobis. It has since been sold and now lives happily in Texas with its new owner.
As you'd expect, the 1977 Eldorado was unapologetically American luxury, with size and features to match. The 1977 Biarritz, model #69347, weighed in at 4955 pounds of chrome, glass, leather and rubber, and rode a 126.3-inch wheelbase.
What price luxury? $11,187. For comparison, the 1977 Seville had an MSRP of $13,359, the Fleetwood Brougham was $11,546, and the Coupe de Ville was $9810.
Eldorados were powered by GM's excellent Turbo Hydra-Matic automatic transmission and the Cadillac-exclusive 425-cubic inch V-8, with 180 horsepower and an impressive 320 lb-ft of torque. As had been the case since 1967, drive was supplied via the front wheels, though the engine was mounted in longitudinal, not transverse, fashion. This so-called Unified Powerplant Package also motivated the radical GMC motorhome, with an Oldsmobile 455 in place of the Cadillac engine.
If you selected the optional fuel-injected 425 V-8, power was bumped to 195, but it was not commonly seen. 47,344 Eldorados were built for the year; I was unable to find a figure for Biarritzes alone.
1978 was the last hurrah for the truly large and in charge Eldorado. A revised grille was the primary change, and there were some new colors. Its razor-edged successor offered similar room in a much more compact package. The eagerness with which the market accepted the downsized '79 model led many people to lampoon the 1971–78 models as mere caricatures or parodies of themselves. Still, I will never lose my fondness for those massive and opulent mid-'70s Eldorados, and the Biarritz was the best of the bunch.