This downsized '87 Fleetwood is amazing in Amethyst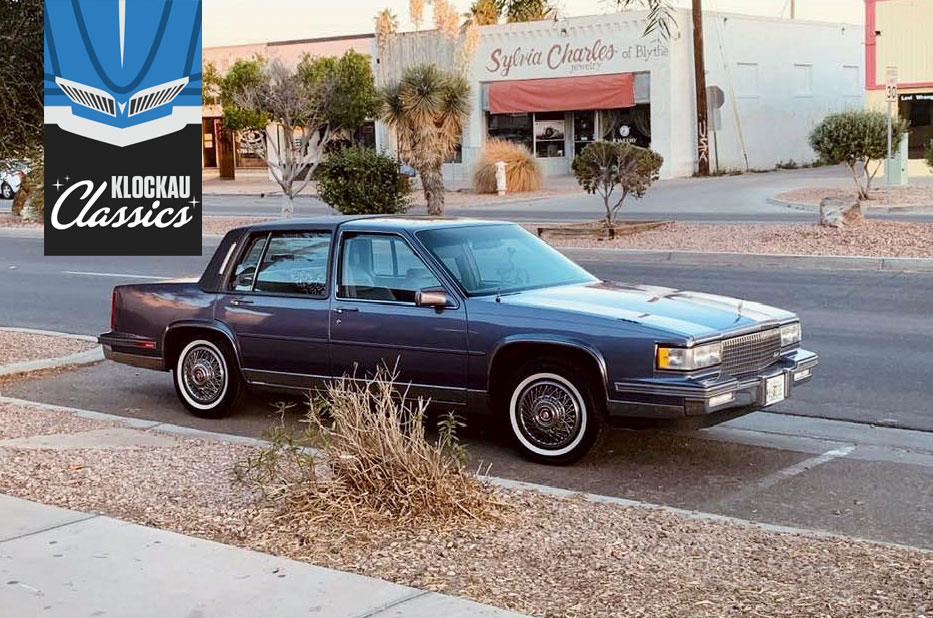 Believe it or not, Cadillac once had an all-car lineup. No trucks, no SUVs, no crossovers—just cars that were traditional yet modern. The Fleetwood d'Elegance was such a car. In '87, it combined the new-for-'85 front-wheel-drive C-body platform with lots of padded vinyl, chrome, wire wheel covers, and button-tufted comfort.
Between 1980–90, Cadillac changed drastically, with a round of downsizing in 1977 and another to follow. Introduced in March '84 as very early 1985 models, the Sedan de Ville, Coupe de Ville, and Fleetwood were not only smaller and lighter; they were also front-wheel-drive.
Although the Eldorado personal luxury coupe had been front-wheel-drive since 1967 and the Seville since 1980, it was the first time for the de Ville and Fleetwood. Just as importantly, the existing front-wheel-drive Cadillacs used the longitudinal layout familiar from Cords of yesteryear, while the new cars would feature a compact transverse package inspired by the original Mini and popularized in the United States by Honda. Somewhat confusingly, there were two Fleetwoods now: the front-drive Fleetwood and Fleetwood d'Elegance, plus the rear-drive Fleetwood Brougham with the 1980-style body and chassis. That older car would be renamed "Brougham" for 1987, leaving the Fleetwood nameplate exclusive to the new front-drive body style.
A Fleetwood Coupe was offered for 1985 and 1986, but for 1987 only the four-door Fleetwood d'Elegance remained in the lineup, along with a Fleetwood Sixty Special sedan featuring a stretched wheelbase. All 1987 de Villes and Fleetwood received a new eggcrate grille, flush composite headlamps, and a slightly stretched rear end. The new tail offered a slight nod to Cadillacs of the past, with a suggestion of a fin encasing the lamps. It was a modest admission on Cadillac's part that they had perhaps been too aggressive in 1985. The next update, for the 1989 model year, would gain nontrivial length and visual bulk.
These modern, but much smaller, Cadillacs, have taken a lot of flak from some quarters online the past few years. The truth is that they sold pretty well at the time. Just in 1987, 129,521 Sedan de Villes were built and sold, not bad at all for a luxury make. The Fleetwood d'Elegance production, by the way, was lumped in with de Ville figures, so the 129K figure includes Sedan de Ville and Fleetwood d'Elegance production.
Not that there was no difference; the Fleetwood it was even more luxurious than the Sedan de Ville and Coupe de Ville. The 1987 deluxe Cadillac brochure enthused thusly: "As its name implies, the distinctive character of this Cadillac is rooted in elegant styling refinements: Formal Cabriolet roof, opera lamps, wire wheel discs and new grooved lower body side moldings."
And there were colors. So. Many. Colors. Standard colors, optional Firemist colors, and two-tone combinations. Unlike the sea of silver, black and white cars you typically see today, Cadillac urged customers to pick something original, something distinctive. There were a wide variety of interior colors as well. Instead of the expected dark gray and tan, you could also choose black, dark blue, white, tan, burgundy, and yellow.
And it indeed did have most excellent seats. Standard upholstery was Royal Prima Cloth, but of course leather was optional and frequently ordered. Base price of the 1987 Fleetwood d'Elegance was $26,104; the Sedan de Ville, by comparison, was $21,659. The standard, and only, engine available was the 249-cubic-inch, aluminum overhead-valve 4.1-liter V-8, with 130 horsepower. This Cadillac-exclusive mill would cause many of its owners considerable heartache, but the final 4.9-liter variants are much sought-after as transplants for… of all things… the Pontiac Fiero!
Standard features on the Fleetwood d'Elegance included dual six-way power front seats, leather-wrapped steering wheel, genuine American walnut on the door panels and instrument panel, Electronic Climate Control, rear seat reading lamps, a digital instrument cluster, the new for '87 five-year, 50,000 mile warranty, and deluxe Tampico carpeting, with matching reversible floor mats.
So even if you didn't order a single option, the Fleetwood d'Elegance was a very nice car. But naturally, there was a long list of extras, and most Cadillac owners ponied up for them.
Such options included a cellular telephone, memory seat, Twilight Sentinel, an Astroroof (GM's term for power glass sunroof), two-tone paint, and two different alloy wheel choices.
I paid attention to Cadillacs back in the '80s when I was a kid, because I loved them. I don't remember seeing many Fleetwood d'Elegances back then, but there were always many Sedan de Villes around. Despite its padded coach roof and most excellent interior, it seems like the extra $5000 over the Sedan de Ville to get one didn't sit well with many new Cadillac shoppers.
And if one wanted more Cadillac for the money, there was always the venerable rear-drive Brougham. With a base price of $22,637, the Brougham was both more impressive-looking and cheaper than the Fleetwood d'Elegance. I'm still curious to know how many Fleetwood d'Elegances were actually built from 1985–88.
Speaking of, the 1988 Fleetwood d'Elegance was pretty much the same as the '87. In fact, the entire Cadillac line was about the same as the previous year, though both the Seville and Eldorado got a small facelift. The biggest news was the 4.1-liter V-8 was revised and became the 4.5, with more power. It was also a much more robust engine than the outgoing 4.1-liter V-8. Come 1989, both the De Ville and Fleetwood would get stretched, with the Fleetwood gaining exclusive fender skirts.
Today's featured car, affectionately dubbed "Miss Lillian" by its owner, John Savage, is in the very unusual and very attractive combination of Amethyst Firemist with matching top and leather interior.
I spotted it on one of my favorite Facebook groups, "Underappreciated Survivors," and contacted John to see if I could get more pictures. He delivered in spades with a multitude of photos of the car, and it resulted in the article you see before you.
It's a gorgeous car, and with only 42,000 miles, looks like a brand-new car. John says it is the most trusted car in his fleet. He's driven it on Route 66 and visited the Grand Canyon. And that's what the old car hobby is all about: Finding something you really like, driving it, and just enjoying it. All that, and Cadillac style too!