This Russian amphibious vehicle is all-terrain, all-purpose, and all-out wild
Feeling the winter blues and wishing you could be out on your boat? This Tupolev A-3 Aerosledge is just the ticket—and you don't have to wait until spring to enjoy it. It crosses the block on Saturday at Barrett-Jackson's Scottsdale auction.
A remnant of the Space Race and Cold War, the Russian Aerosledge is all-weather, all-purpose, and practically all-terrain. Designed by aeronautical engineer Alexei Tupolev in 1961 at the behest of the USSR military, the amphibious rescue craft was intended to quickly recover Russian cosmonauts in the hostile Siberian environment after they had completed their space missions. Built small enough to fit inside an MK6 helicopter, it had to be able to cross lakes and swampy tundra, operate at temperatures well below freezing, and be tough enough to handle whatever Mother Nature might throw at it after it was dropped north of the Arctic Circle.
Tupolev was just the guy to build it. Considered the father of Soviet aviation, he developed the supersonic TU-144 jetliner and the TU-95 strategic bomber, and he had Russia's finest engineers at his disposal.
In 1965, Tupolev introduced the A-3 Aerosledge prototype (N007), in which he married the fuselage of an aircraft with the metal hull of an outboard boat, built with 2mm-thick duralumin, a hardened alloy consisting of copper, magnesium, and manganese. The A-3's metal hull is double-plated and coated in a low-friction polyethylene material, enabling it to slide over water and snow.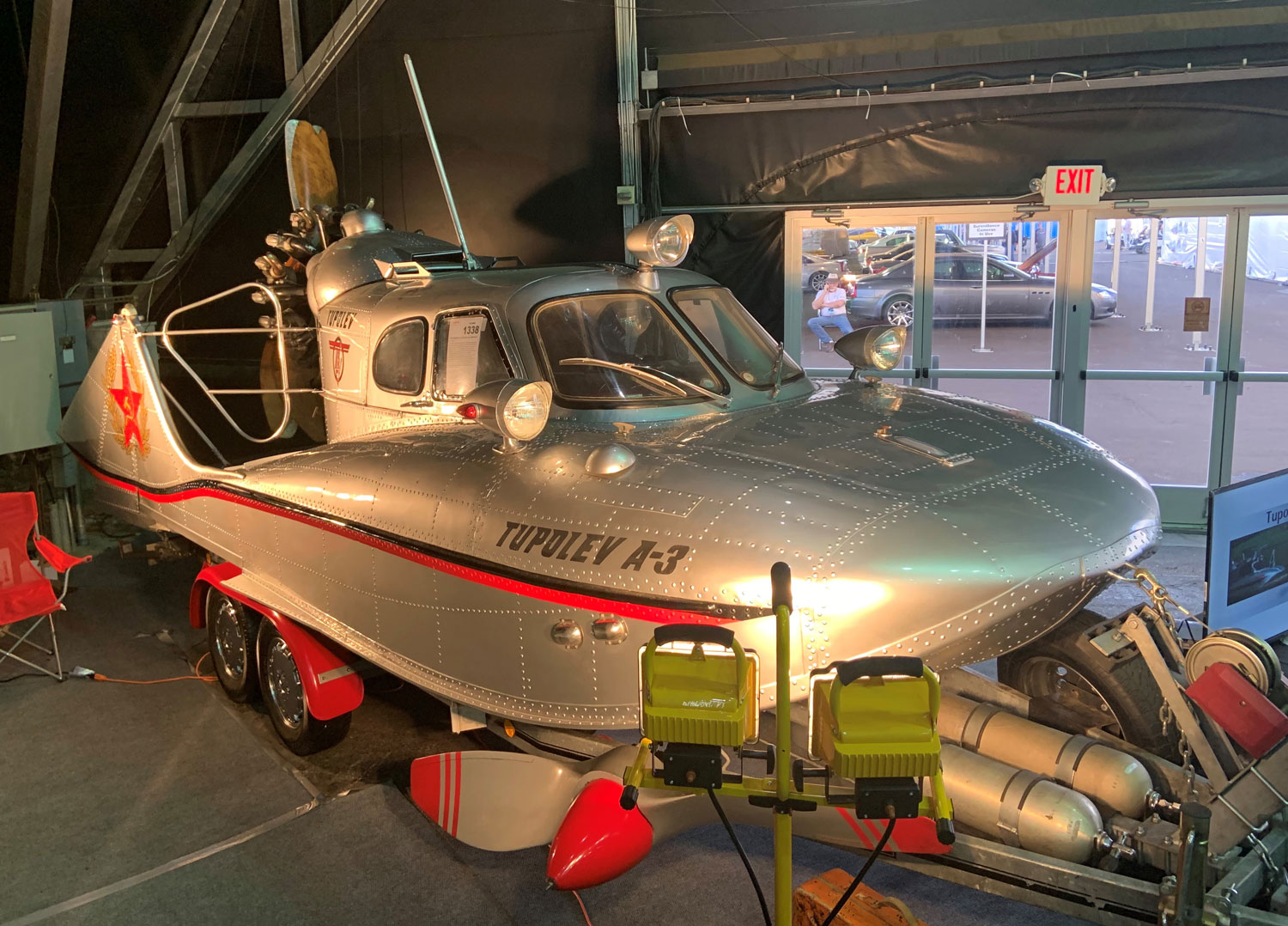 The 20-foot-long Aerosledge was capable of carrying 600 pounds (3–4 men) at speeds up to 75 mph over snow (hovering just above the surface) and 40 mph over water. Power comes from a 10.2-liter Vedeneyev M14B air-cooled nine-cylinder radial engine, which produces 365 horsepower. The A-3's colossal engine holds two interconnected six-foot propellers that work in tandem. The engine doesn't utilize a battery; instead, a 500-psi air pressure system starts it in sub-zero temperatures.
Transverse bulkheads divide the craft into three watertight compartments, allowing the 3150-pound A-3 to remain afloat in case one of the compartments takes on water.
According to information on www.russianboat.com, this Tupolev A-3 Aerosledge (C003) was originally constructed in the early 1970s and was purchased from a Russian general. It comes with its original Russian owner's manual, tool kit, and paperwork. It sold for $220,000 at Barrett-Jackson's 2015 Scottsdale auction.
The current owner claims the A-3 is one of only three in existence, but good luck finding another one—unless you have Russian connections and plenty of rubles.