The 1972 Bonneville was a bit of class for the middle class
It's time once again to talk up my buddy Jason Bagge. A resident of Spokane, Washington, he likes 1970s land yachts like Auric G. loves gold. This handsome black-over-white 1972 Bonneville is probably my favorite out of all the cars he has owned. Let me tell you why.
First of all, I have a very strong connection with Pontiac Bonnevilles. The first car I remember riding in was my father's company car, a 1979 Bonneville sedan, metallic root beer-brown with beige top and beige interior. I must have been two years old or so.
As best as I can recall, I was sitting in a booster seat in the middle of the rear seat of the car. The Bonneville was going through the Shell station's car wash, just a few blocks from our house. I vividly remember the water splashing everywhere, and the bright red and yellow scrubbers spinning by—this was well before "touchless" automatic car washes.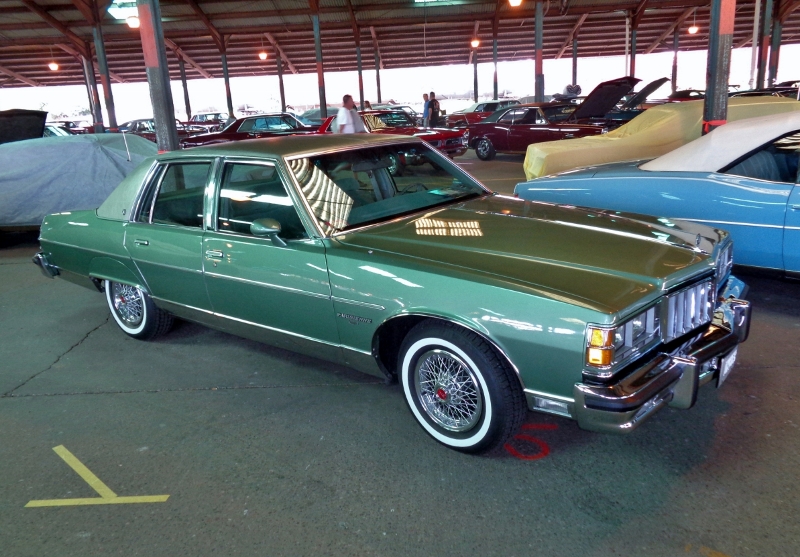 I am willing to guess that was the first time I went through a car wash, ever. Anyway, since then I've been very fond of Pontiac Bonnevilles, especially the 1977–79 sedans. But I like all of the big Bonnies to bear the name, from the first drop-top, fuel-injected '57 convertible to the final '05 sedans. With the exception of 1971–75, when the Grand Villes ruled the roost, these upscale full-sizers were the finest, plushest Pontiacs of their time.
But I have digressed enough on 1977–79 Bonnevilles. If I'm not careful, this will turn into a full history of the Bonneville! So let's get back to 1972. The '72 Pontiac Bonneville was introduced along with the rest of the new Pontiacs on September 23, 1971. The Bonneville was entering its second model year as second fiddle. That was due to the introduction a year prior of the "Super Bonneville," the Grand Ville.
Sporting even finer interior appointments than the Bonneville, and with an exclusive C-body formal roofline on two- and four-door hardtops, the Grand Ville was a sign of further movement of the division from muscle cars and sporty features into velour, toothy chrome grilles, and other signs of Broughamage. As a result, the Bonneville lost its convertible body style to the Grand Ville starting in '71; the first time since 1957. Few would have suspected it at the time, but there would never again be a Bonneville convertible; the final full-size Pontiac convertible was the 1975 Grand Ville Brougham. Die-hard fans of the marque could console themselves with topless Firebirds and Sunbirds in later years.
The full-size 1971 Pontiacs were all new, with an unforgettably giant, love-it-or-hate-it full width grille. It was present throughout the lineup, though the grille bars varied depending on trim level. In the year that followed, the biggest changes were a more formal grille, a heftier front bumper, and redesigned taillights. While I personally love the '71 nose, I have to say that the '72 schnoz is more attractive. Especially in Bonneville and Grand Ville form, with the flossier, vertically patterned grille bars.
One other change to '72 big Pontiacs was that there were no more Bonneville station wagons. Top trim wagons were now moved to the Grand Ville series, with your choice of painted sides or woodgrain trim, and two- or three-seat iterations. Catalina wagons carried on as before. As had been the case since the 1971 redesign, all station wagons had a three inch longer wheelbase than other full-sized Pontiacs.
All Bonnevilles had the 455 V-8 as standard equipment, with a two-barrel carburetor and 185 horsepower. Optional were a four-barrel 400 (250 hp at 4000 rpm), four-barrel 455 (220 hp at 3600 rpm) and two-barrel 455 (200 hp at 4000 rpm). Turbo Hydra-Matic automatic transmission and front disc brakes were standard on all Bonnevilles.
Pontiac reached fifth place in 1972 sales, with 702,571 Pontiacs of all shapes and sizes built for the model year. The Series 2N Bonneville was available as a four-door pillared sedan, four-door hardtop, and two-door hardtop. The four-door hardtop, the model as seen here on these digital pages and owned by Jason back in the spring of 2018, had a base price of $4292. Curb weight was 4369 pounds. It was the most popular Bonneville of the year, with 17,202 produced. The pillared sedan sold 15,830 units; the coupe, 13,866.
As had been the case for most full-size American cars in the '70s, one could personalize his or her Bonneville with myriad color, trim, and appearance options. Selected items you could add to your brand new Bonneville included automatic air conditioning ($507), automatic level control ($77), cruise control ($62–67, depending on model), power trunk lid release ($14), and for audiophiles, an AM/FM with eight-track stereo tape player, for $363.
I have always had a soft spot for the now-extinct four-door hardtop. They were so cool! Smooth, swoopy, and just as cool-looking as the two-door hardtops, in your author's opinion. Good looks combined with four-door practicality. The best of both worlds! And the '72 Bonneville had style in spades, especially when painted in Starlight Black with white Morrokide upholstery and a black vinyl roof, like Jason's car.
Speaking of, Jason had been stalking this car for years. It lived a mere five-minute walk from his place, but was never for sale. He'd stop by, yak with the owner, and sometimes spiff up the car a little, just for fun. Lo and behold, in March 2018, it finally appeared on craigslist. He realized he needed to snap the car up before someone else bought it. So he walked over, struck a deal, and went to work.
It's amazing how some simple detailing can make a nice old car look nearly new. A borrowed power buffer, a new set of whitewall tires, and voila! During the few months he owned it, he had a blast cruising the streets with his dad in the shotgun seat, pulling over and yakking whenever a buddy saw him go by. "Hey man! Cool car, Jason!" And it's time for another photo op.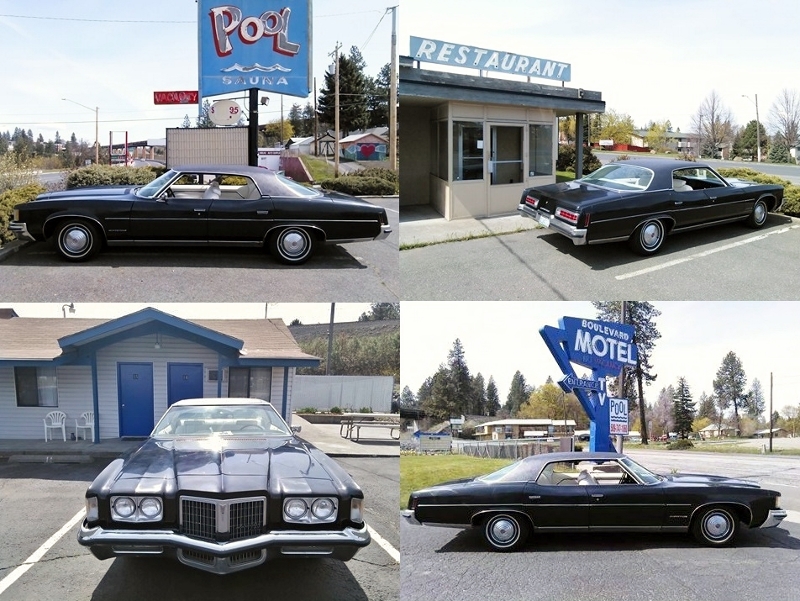 Before he even bought it, I told him that if he did get it, I really, really, really wanted to write it up. And once the car was secured, Jason went above and beyond in getting me some cool pics! I mean, he's in Spokane, I'm in the Midwest. It's not like I was going to drive by and get my own set of pictures. But as you can see, the pictures are just terrific! He found some really photogenic spots around town, and I thank him.
This Bonneville is really something. I love the black paint and top combined with the white interior. It's not a very common combination, but it really pops! As I think I may have mentioned before, my grandmother once had a 1977 Thunderbird in black with a red pinstripe and white bucket seat interior with dark red dash and carpeting, so I've always had a serious soft spot for that combo.
The really impressive thing about this car is that it is original. And it only had 40,414 miles on the odometer when these pictures were taken.
While the interior is nice enough, you can see that the Bonneville was perhaps not quite as upscale as it had been in, say, 1970, due to the Grand Ville's appearance. But it was still a nice, quiet, comfortable place to be! Although Jason's car was missing the optional power windows, it did have the power front bench seat.
As you can see in the pictures, this is clearly a low-mile car. All of the door panels, the seats, the carpeting, and hardware were all in excellent shape.
About the only problem with the interior was that due to the car sitting outside for several years, portions of the black carpeting had faded to a tobacco brown hue. If he'd kept the car a while longer, Jason would have dyed them back to a uniform black.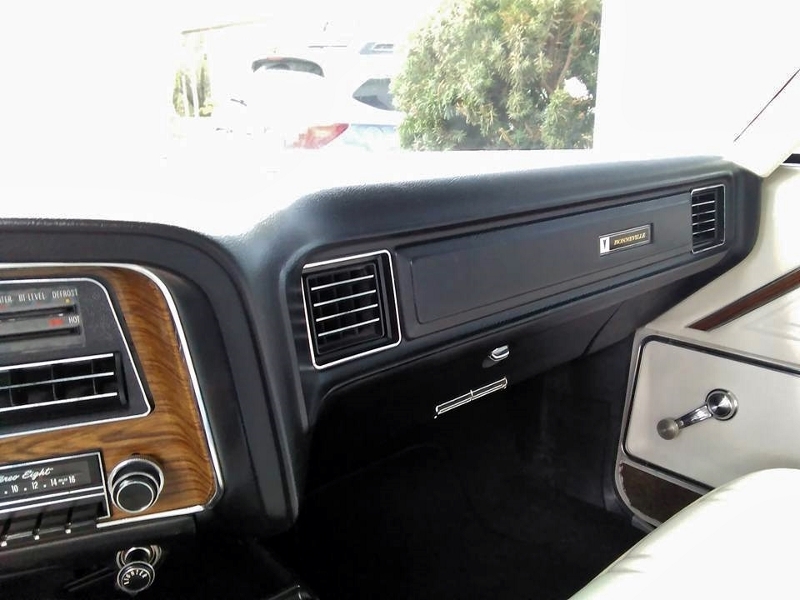 During the approximately three months he owned this car, I constantly emailed and messaged him, telling him he really should keep it, due to its rarity, remarkable condition and low mileage, and that fantastic "tuxedo" color combination. As frequently happens, however, another neat old land yacht turned up, funds were required, and this fine Pontiac went up on the eBay block…
…and was sold, believe it or not, to a classic car museum in Eastern Europe. Over the past 10- to 15 years, European collectors have really been getting into the '70s American full-size cars, particularly in Sweden. Country Squires, Fleetwood Talismans, and Caprice Landaus — they love them all.
And as many home-brewed collectors still think of these cars as not worth much, and as the Europeans are willing to step up with their checkbooks, many large and in charge Broughams have sailed away from their homeland. As was the case with this car. Sounds like a nice retirement, at any rate, for a really nice Bonneville! And as for Jason, don't worry; he recently found a 1974 Ford LTD Brougham coupe, which I will probably have to write up once he gets it all pretty!