Inside a snake pit: 33 Vipers, one parking lot
The Motor City Viper Owners club hosts an active group of enthusiasts. Casual meetups, of course, are a must, as are occasional autocross events; and once a year, they all let loose and go on a road trip together. This year, the club happened to drop through the Hagerty Garage on its way even deeper into north Michigan. Fortunately, no anti-venom was required, even after 330 pistons roared out of the parking lot.
One of the more active chapters of the national Viper Owners Association, the Motor City Viper Owners club boasts some celebrity members of the Viper community. Numerous former team Viper members and even Ralph Gilles (current president and CEO of SRT) are counted amongst the ranks of enthusiasts who gather at events centered around this now defunct V-10 sports car.
These enthusiasts don't content themselves with polishing fenders in isolated garages. The Detroit area group is highly active, and schedules meetups and trips that draw even wider swaths of the Viper fanbase. One member said that members of the Viper Owners Association will travel from states away to attend the Detroit chapter events, which happen with surprising regularity. Almost every week the group has something going, even in the winter months.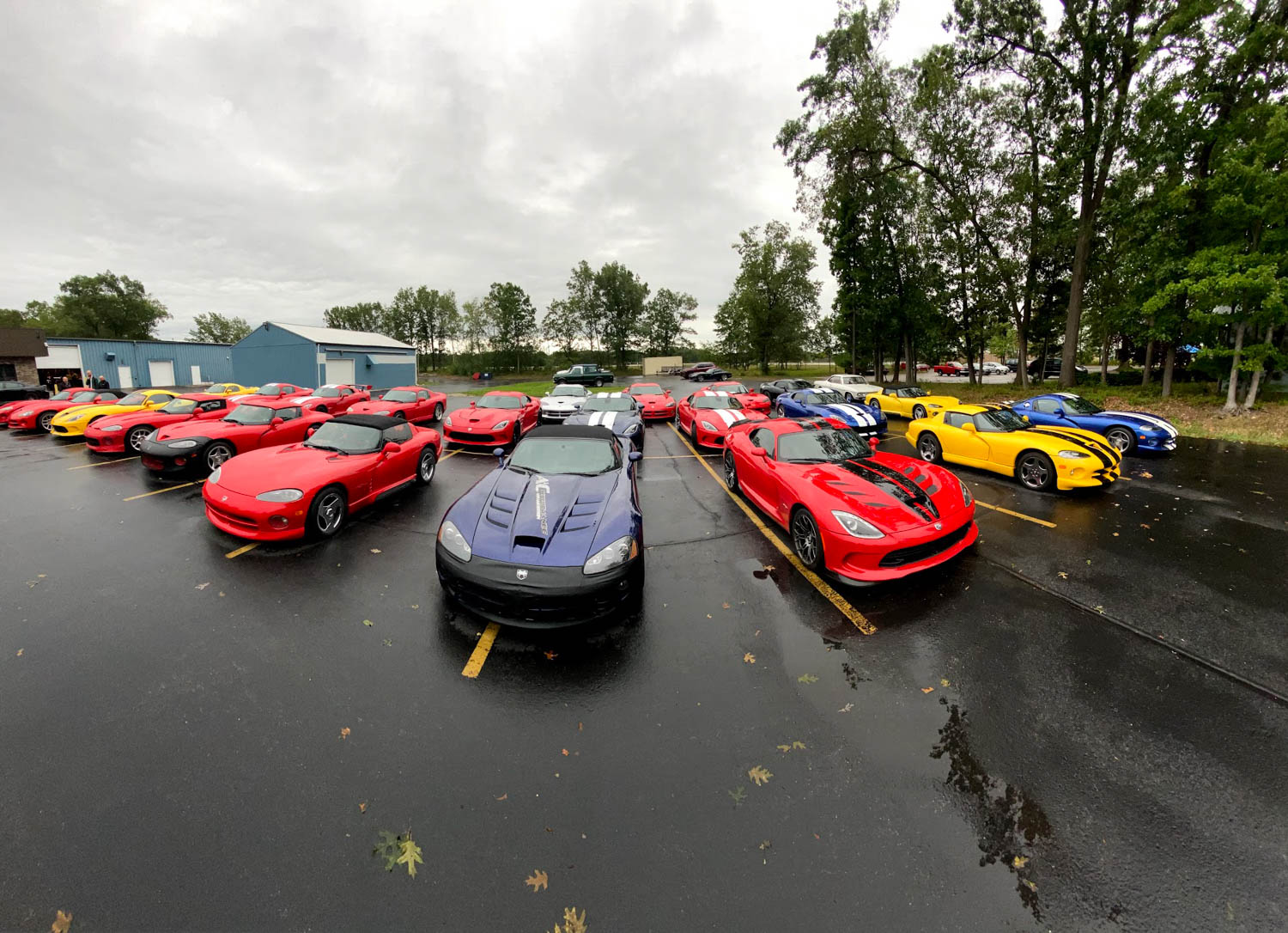 The assembled Vipers ranged from the first year of production to the last, and multiple cars boasted nearly 100,000 miles on the odometer. The rain didn't seem to scare any of the drivers, regardless of the lack of drivers' aids in any of the cars. We were surprised by the prevalence of first-generation cars with their "toupee" tops. Only one car wore the soft top, while a few others sported hardtop conversions.
The group serves as a good reminder that cars are meant to be driven, even as the values for a particular model are on the rise. While conversing with the group during its break, no one brought up values. The unit of choice in the numbers tossed was mph, not USD: many owners chatted and compared the speeds they had wrung from their cars at driving events like the club's annual autocross at the Chrysler proving grounds.
One of the most interesting things, though, was the popularity of personalized license plates. We have assembled most of them in a gallery for your perusal.
Let us know in the Hagerty Forums which is your favorite, or if you'd pick something entirely different for your Viper's personalized plate.