Patrick Dempsey's Panoz-built 1965 Mustang Fastback is up for grabs
When actor and racer Patrick Dempsey decided to restomod a 1965 Mustang Fastback in 2008, his goal was to merge vintage style with a modern, daily-driveable performance car. To execute Dempsey's cost-is-no-object vision, he tapped Panoz Custom Sports Cars do the fabrication, using a 2004 SN95 Mustang Cobra SVT as the donor car. Now you can buy it from Blacksmith Garage in Eden, Utah.
The Dempsey Mustang, however, is more than just an engine swap. It was a $300K, 2½-year project requiring 3900 hours of labor for engineering, CAD, custom molds, fabrication, assembly, and finishing touches by folks who build Le Mans endurance racers.
The Cobra SVT engine is a supercharged, 32-valve, 4.6-liter V-8 that has a cold air intake and cut-out exhaust system and Panoz tuning, boosting power to 420 horses and torque to 420 lb-ft. Also sourced from a SVT Cobra is the T56 Tremec six-speed manual transmission. To help shift those gears, a late-model SN95 pedal cluster has been installed. The custom side-exiting stainless steel cat-back exhaust system uses variable tune Magnaflow mufflers.
The front end rides on Panoz's version of the SN95 Mustang front suspension, featuring adjustable double wishbones and coil-over shocks. The suspension mounts to a custom inner front clip that has been fabricated from the S197 firewall forward and ties to tube reinforced rocker panels and a modified S197 2005–14 Mustang floor pan. The structure has been designed to provide both better stiffness for improved handling and a crush zone for passenger safety. In addition to the custom front inner clip, the body features hybrid unibody and spaceframe construction, a fabricated torque box, a reinforced toe box, front and rear crumple zones, as well as side impact protection.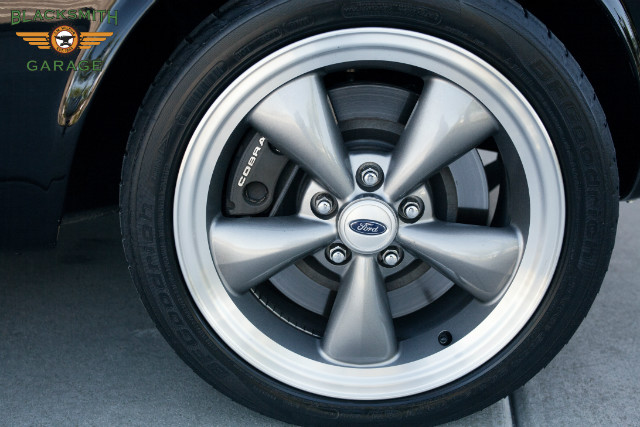 It might look like a classic, but this car has a whole lot of high-tech going on under the metal.
Surprisingly, there is no IRS; instead a wider, stock three-link solid axle from a S197 Mustang was installed, allowing for rear disc brakes and ABS, as well as increasing the rear track. Steering is via a Ford power rack and pinion setup with 2.5 turns lock to lock. The power-assisted braking system features 13 inch vented rotors and two-piston PBR calipers in front, and solid 11-inch rear rotors with single piston Varga calipers.
The body is straight and said to be in like-new condition, with gloss black paint. HID headlights and LED taillights and a full complement of factory safety, convenience, and diagnostic features are on board, including a Becker Mexico radio with Bluetooth, and power seats, door locks, and windows.
The black exterior is matched with a black leather interior installed by Equus Automotive, performed after the company purchased the car from Dempsey. Headrests and the leather-wrapped steering wheel have Equus' unicorn logo.
The Mustang has been driven just 8400 miles since the build. The leather still smells new and the A/C blows cold. It's essentially a new car, and man does it look fantastic.
Mustang Monthly put the Dempsey Mustang on the cover of its May 2008 issue, stating, "If they handed out Academy Awards for resto-mods, actor Patrick Dempsey would get the Oscar for his Panoz-built '65 Mustang."
For a guy known for driving Porsches, Dempsey has awfully good taste in pony cars.