When it comes to 1970s BMWs, three's company
While some folks who are into cars are equal opportunity accumulators, many of us are particularly smitten by one marque and have owned several models. As you've probably gleaned from reading this space, my primary poison is 1970s-era BMWs. If you could call what I have a "collection" (and I don't), it is based around the three cars I think of as "The Nixon-era triplets." Below, I'll describe each car, both in general and the one that I own, then compare them and pick the one that's the most fun to drive.
Just a note from a buyer's identification standpoint: Since U.S. DOT standards mandated 5-mph bumpers in 1974, and since all three of these cars were built from 1968–76, there are early versions with small chrome bumpers like the ones pictured, as well as later versions with big hydraulically-damped bumpers.
Many of us who are taken by a certain model have an origin story. Mine is that, when we lived in Amherst, Massachusetts, in the early 1970s, a Hampshire College student who lived with us for a summer had a '71 BMW 2002. He drove me all around the back roads of Amherst in that car, forever impressing on me what the boxy little German sedan could do. I bought my first one in Austin, Texas, in 1982, and have owned, at last count, 37 of them.
BMW 2002s are the cars that established BMW in this country, and rightly so. They have earned every bit of their reputation as enthusiast vehicles. The handling is wonderfully tossable right out of the box, and they can be turned into go-carts if you tweak them. Power-wise, they're quick enough as-is to be fun, but they're even more fun if the horsepower is goosed up a bit.
Like all 1970s BMWs, they have a greenhouse of windows providing incredible visibility. They have a quintessentially German sparse-yet-functional interior. Yes, they rust like any old car does, but they tend to wear their rust on their sleeve, so what you see is what you get. The pre-'74 round taillight cars with small bumpers, especially the mechanically fuel-injected 2002tii, have become quite collectible. For pretty shiny rust-free driver-quality cars, expect to pay perhaps $8K–$15K for a big-bumpered 1974–76 2002, $12K–$20K for a small-bumpered round taillight car, and $25K–$40K and more for a round taillight injected 2002tii.
Personally, I'm a big fan of the Kugelfischer mechanical injection in the tii. Once they're set up, they're trouble-free for years. The immediacy of the throttle response isn't quite as good as a set of well-tuned side-draft Webers, but the wind-up is better. There are certain intangibles in certain cars, and the way the tii sings during acceleration and fast cruising—the sound and feel of the engine through the rubber mounts—is one of them. It simply has a different feel than the carbureted cars that isn't reflected in the relatively minor difference in performance stats.
I've owned this car, a 1972 2002tii, for about eight years. As a '72, it's received what are commonly referred to as "pre-2½ mph bumpers." The rear bumper is flush against the body; the front bumper comes out only as far as the nose as the car. In contrast, the '73 bumpers, though still small and chrome, stick out a few inches farther. Thus, the '72 cars have a slightly more compact and tidy look. This car lived in New Mexico for much of its life, so it is remarkably solid if not 100-percent rust free. It's a well-sorted survivor car with some desirable modifications, including a five-speed transmission, recently reupholstered factory Recaro seats from a 320i, and a resurrected A/C system that produces 32-degree vent temperatures.
I have other 2002s, but this is the one I'd jump into if I wanted a comfortable drama-free road trip, maybe hitting a few twisties along the way.
When I lived in Austin during those primitive pre-internet days, I'd find cars by driving slowly through neighborhoods and looking down people's driveways. I'd already owned six 2002s when I first came face-to-face with a 3.0CS, BMW's big two-door early-1970s coupe (code-named E9 in BMW's body nomenclature). Suddenly, I thought "Forget 2002s; I want one of these!" With its lithe lines and wood dash, the E9 coupe is widely considered to be the most beautiful, elegant car BMW ever built.
These are true pillarless coupes (no B-pillar), so when the windows are rolled down, there's an unbroken opening that's breathtaking. And all E9 coupes have BMW's legendary M30 inline six-cylinder engine, whose torque spoils you and makes you never want to go back to a 2002.
The E9 coupe began in 1968 as the 2800CS, identical to the subsequent 3.0CS except for rear drum brakes and a slightly smaller engine. In the United States, we got the dual Zenith-carbureted 3.0CS from 1971–74, nearly all of which were fully loaded with leather, power windows, and air conditioning. In Europe, you could also get the 3.0CSi, which had higher-compression pistons and a Bosch D-Jetronic injection system. The Euro cars tended to be less well appointed, with velour interiors and no A/C.
The other variant is the rare and oft-confusing 3.0CSL. This is a lightened homologation special version of the E9 built using thinner sheet metal and having aluminum door skins, hood, and trunk lid. The CSL also had Scheel racing seats, fixed rear windows, no sound insulation, a fiberglass rear bumper, and no front bumper.
The CSL is confusing for several reasons. First, many British CSLs were ordered with a so-called "town package" that added most of those deleted amenities back in. Second, some of the later cars had an aerodynamics package that included a front air dam, audacious roof and trunk spoilers, and front fender wind splits, giving them the nickname "Batmobile." Third, the actual Group 2 and Group 5 race cars had massive fender flares, fat rubber, and unobtanium engines. So when you say 3.0CSL, it can mean a lightweight, stripped road car; a road car with creature comforts; a small-b batmobile; or a BATMOBILE. But I digress.
The problem with E9s is that, although they're gorgeous, they have a Karmann-built body, and if you learn only one automotive joke, it shouldn't be a Lucas joke; it should be, "Karmann invented rust, then licensed the process to the Italians." If 2002s wear their rust on their sleeves, E9s hide it away like a shame on the family. The fenders are lap-seamed to the corners of the windshield, making removal a major operation, and they need to be removed in order to address the rust that often forms up under the front shock towers and breaks through the firewall. What you think is a rocker panel is actually a long wide piece of trim, held in place by dozens of tiny screws, and hiding the true condition of the actual sheet metal underneath. A layer of so-called "elephant skin" in the trunk hides the condition of the rear shock towers, and taking it off for inspection risks shattering it.
For these reasons, it's difficult to correctly assess the body condition of an E9 coupe, and buying one is thus risky unless there are photos documenting a restoration. Pretty shiny cars with no apparent rust in driver condition routinely top $50K, and concours-quality examples have been trading on Bring a Trailer for well over $100K. CSLs are probably three times that.
When I bought my E9 in 1986 when I was 28, it was a wrecked but driving Polaris (silver) 3.0CSi with a blue velour interior. The cars weren't worth then what they are now, and when I had the outer body restoration done, I color-changed it from Polaris to Signal Red. Because it's an un-federalized Italian-issue car, it never received the U.S.-spec side marker lights, giving it a clean Euro look.
During a 30-year-long rejuvenation of the car, I swapped the interior with a beige leather one out of another car, retrofitted A/C, and installed a motor and five-speed transmission from a 1979 BMW 528i, updating the injection to a more modern maintainable L-Jetronic system that uses a traditional air flow meter instead of D-Jetronic's quirky pressure sensor. It starts instantly and idles well in any weather, but it lacks a bit of the snap and growl of the carburetors. Many owners instead opt to swap in a 208-hp Motronic-controlled engine and transmission from a later BMW such as an early '90s E34 535i. These swaps, if well-executed, appear to be well-embraced by the market, and the values of the cars don't appear to be knocked by the fact that the numbers no longer match (although it's always good insurance to store the original engine away).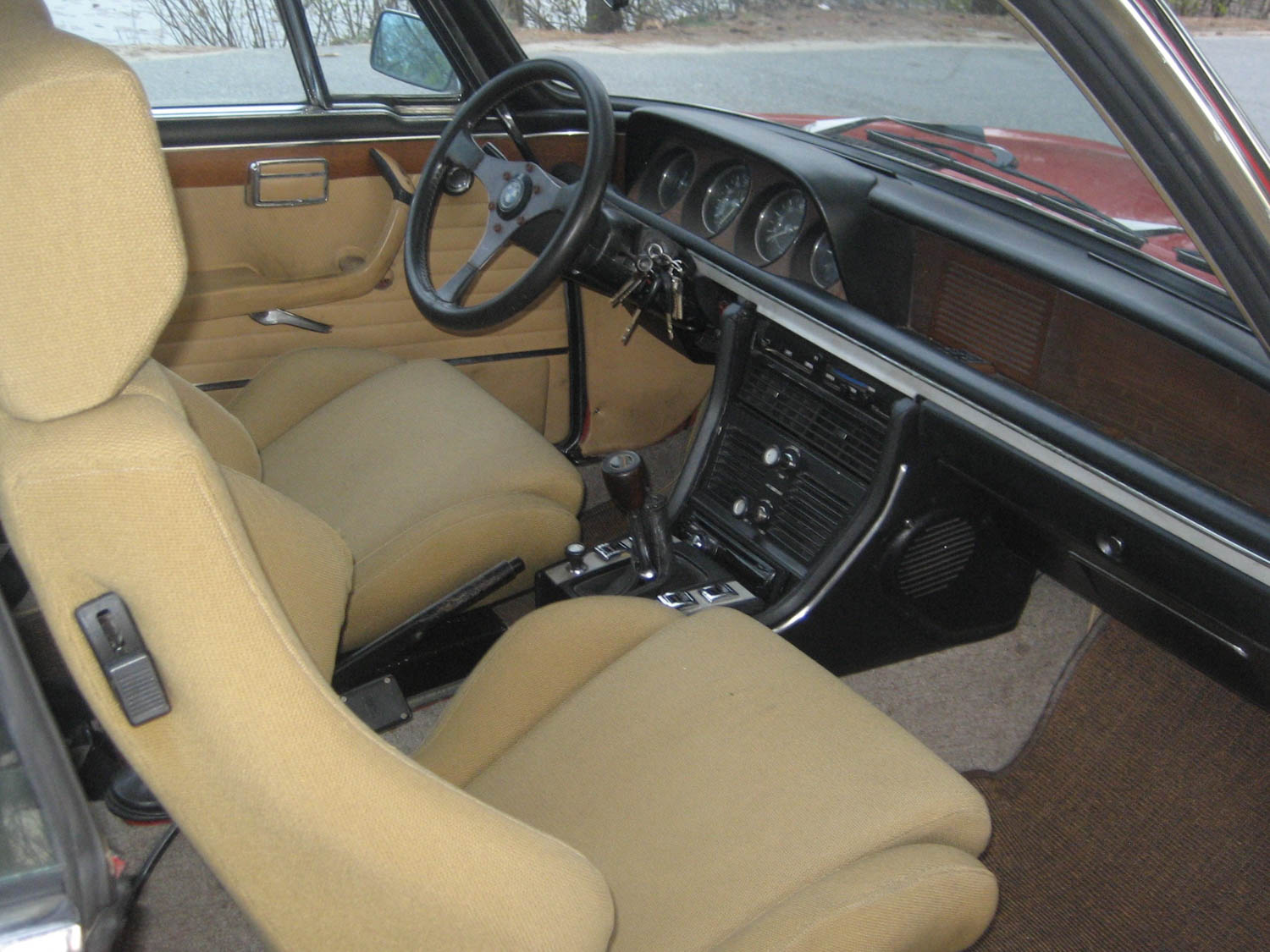 In the early 1970s, the 2002 was BMW's small two-door sedan, and the 3.0CS was the big two-door coupe. But there was a third car in BMW's lineup—the big four-door "E3" sedan that was the predecessor of the 7 Series. The car went by several names. It began as the 2500, then 2800 as the engine displacement increased. Most of them were sticks, so they were viewed as a driver's alternative to a Mercedes, but due to the high price and lack of a niche following, they didn't sell well. BMW importer Max Hoffman then bundled a number of options such as A/C and vinyl interior together and labeled the car the "Bavaria," which is the name by which most people know it (and, curiously, the only non-numeric name BMW has ever used).
There were both 2.8-liter and 3.0-liter Bavarias. BMW then returned to the numeric badging and a la carte optioning, and produced the 3.0S and 3.0Si (injected) sedans.
A friend of mine says the Bavaria was the perfect car if you were a college professor with a family in the 1970s, and you need to own a tweed blazer with leather elbow patches to drive it. There's actually a lot of truth to that.
Mechanically, the Bavaria is nearly identical to the 3.0CS coupe. It has the same torquey M30 engine. Front suspension and steering are identical, rear suspension is a similar semi-trailing-arm design. Interestingly, though, the dashboard feels one generation newer. While the E9 still has the individual pod-style gauges with the little silver centers, the Bavaria has a Plexiglas-covered display that could be at home in any BMW from 1968 through the mid-1990s. Also, although the Bavaria lacks the E9's wood dash, it has a wood accent strip. Your eye almost doesn't perceive it as wood, but it's remarkably effective as an accent piece, breaking up what would otherwise be a monolithic black dash.
For many years, Bavarias were worth almost nothing, as the big four-door wasn't perceived as being sporty or tossable enough for many 2002 people and lacked the lines of the lithe and gorgeous E9 coupe. Now, they're starting to get their due, as folks are finding that they can get a similar vintage BMW experience as an E9 for less than one quarter the cost. They rust similarly to 2002s but not quite as badly as E9s, but because they were ignored for decades, it's difficult to find a rust-free one. Nice-looking examples have sold for about $8K on Bring a Trailer the past year.
Mine was brought back from California in the early 1990s by an enthusiast in New Hampshire. He took the car to regional shows, then he passed away and the car went into storage. It was bought by an enthusiast about five years ago as part of the settlement of the estate. He began sorting out the car and sold it to me mid-project. When I examined it and found that it was indeed rust-free except for some minor surface oxidation on the floor pans (e.g., no holes), and when it was offered to me for four grand, I bought it on the spot.
Most of my other vintage BMWs have some interior modifications—Recaro seats, smaller steering wheels, air/fuel gauges, etc. In contrast, my Bavaria's interior is absolutely bone-stock, complete with the big "bus wheel" and the horsehair-stuffed pleated front seats. It's a time capsule that is perfect just the way it is.
Driving Experience
2002: Having owned many 2002s, there's a comfort and familiarity about driving the '72 2002tii. The updated 320i Recaro seats are perfect for both support in the twisties and long trips. The Bilstein HD shocks, big sway bars, slightly shorter springs, and 14-inch wheels firm up the ride while not making it in the least jarring.
Plus, part of the fun of driving a 2002, particularly a pre-1974 one, with those perky round tail lights, is that BMW sold enough of them that the car is instantly recognizable to many people. A 65-year-old woman will come up to me in a parking lot and say, "Oh, my boyfriend had one of these in graduate school! I loved that car!" The main downside is that, on long trips, the car is noisy. While the updated five-speed gearbox is great for knocking down the engine speed on long highway trips, the wind noise seeping through the windows is a bit fatiguing after 500 miles.
3.0CSi: The red 3.0CSi's shape is less recognizable than that of the 2002—people simply see it as a cool old BMW without knowing what model it is—but because it is both red and gorgeous, it is almost literally traffic-stopping wherever I go. Driving-wise, it's a powerful elegant touring coupe, very comfortable four pounding out mileage. This one, like the 2002, is set up with Bilstein HD shocks, big sway bars, and springs that have been cut one coil to settle the car down on its Alpina 16-inch open-lug wheels. So if you want to tear into corners with it, you certainly can, but it doesn't beckon you to do so like the 2002 does.
After a 33-year de-rattling effort, it's pretty quiet, but there's no confusing it with a newer car; it has its share of creaks and groans. And, because the car is a pillarless coupe, wind noise is even worse than the 2002. It's nearly impossible to get the front window to seal against the rear quarter window. Plus—and I'm ashamed to admit this—the value of the car is now high enough that I'm a little nervous driving it in traffic. I'm afraid of getting hit. I'm afraid of stone chips. I'm afraid of rain. (This is all justified, by the way, as five years ago the front grille caught a clevis pin that flew off the back of a truck in rainy traffic.)
Bavaria: Of these three cars—and I'm guessing you're stunned—the big Bav is actually the most fun to drive. Like both of the others, I have Bilstein HDs and big sway bars in it, but I left the springs, wheels, and tires stock. This gives it a very staid and comfortable ride but also makes it so it doesn't lean ridiculously around corners. I don't live to toss it into entrance ramps, but it's a hoot when you try. The combination of the M30 engine and the dual Weber 32/36s takes a little while to warm up (one of the chokes is still sticking), but once it's there, the combination of the mechanical sound of the engine and the feel of the grunt is ridiculously intoxicating.
Both the passenger and trunk space are cavernous. And because it has framed windows (unlike the other two cars), it's much quieter at highway speeds than the other two cars. And, adding to my sense of enjoyment, this Bavaria is so thunk, clunk, and rattle-free that it's almost unnatural. It still has the stock four-speed, but it's plenty tall enough, turning perhaps a little under 4000 rpm at 80 mph. And, because the car's value is less than $10K, I'm not afraid of driving it.
The only downside is that, because of the bone-stock interior, the original German horsehair-padded seats don't have enough back support for long trips, but a Tempur-Pedic back pillow solves that problem.
Of course, the beauty is that I already own all three, so I don't have to pick only one. And, to be clear, the "most fun to drive" doesn't mean the one I love the most or have kept the longest. I've owned the 3.0CSi 33 years. It's the queen of the roost in my house. It's the car that'll be here after the creditors have knocked the doors down.
But if you're considering adopting one of the Nixon-era triplets, and if both 2002s and E9s have gotten too rich for your blood, you might look at a Bavaria. Finding a rust-free one is the tough part.
Then go to a good thrift store and pick yourself out a tweed sport coat. It may be just as tough to find one without worn-out elbow patches.
***
Rob Siegel has been writing the column The Hack Mechanic™ for BMW CCA Roundel magazine for 30 years. His most recent book, Just Needs a Recharge: The Hack Mechanic™ Guide to Vintage Air Conditioning, is available on Amazon (as are his previous books). You can also order personally inscribed copies here.