McLaren not likely to make a new Ultimate Series car until 2025
When McLaren revealed its hybrid P1 hypercar at the 2013 Geneva Motor Show, the crowd certainly took notice. While it wasn't the central-seat F1 successor Gordon Murray is now about to produce, its wild performance and even bolder design made it the perfect halo car for a world that was just about to get familiar with high-performance electrification.
After 21 prototypes, 375 production cars, and 63 GTR and LM variants, McLaren was finished with the P1 program and got busy developing the Senna. The combustion-only, heavily-turbocharged track special was launched in late 2017, followed rather quickly by 2018's Speedtail announcement.
Following the P1 and the Senna, the third Ultimate Series McLaren is a central-seater GT optimized for top speed. However, the Speedtail won't be the fastest production car on the block or a three-seater in North America, due to legal reasons. That's because there's only so much Woking can do using its single platform.
With the hardcore track-special and the hyper GT done, McLaren looked at Ferrari's SP2 speedster and decided to dust down the Elva badge as an answer, playing an homage to the Can Am era of the 1960s. At $1.85 million, McLaren's speedster is quite a steeply priced proposition for a car you wouldn't dare to track as hard as a Senna, but at least with 804 hp on tap, it's punchier than its two windscreen-lacking competitors.
Recently, McLaren Special Operations (MSO) has also demonstrated how the Elva can turn into a retro rocket:
The special livery above plays tribute to the McLaren-Elva M1A previously raced by Bruce McLaren. At the 1964 Canadian Sports Car Grand Prix, that big-block monster broke the lap record a whopping seven times.
However, if exposed black carbon-fiber is not your cup of tea, there's also the traditional orange option, inspired by Bruce McLaren's even more bonkers 1967 M6A Can-Am car.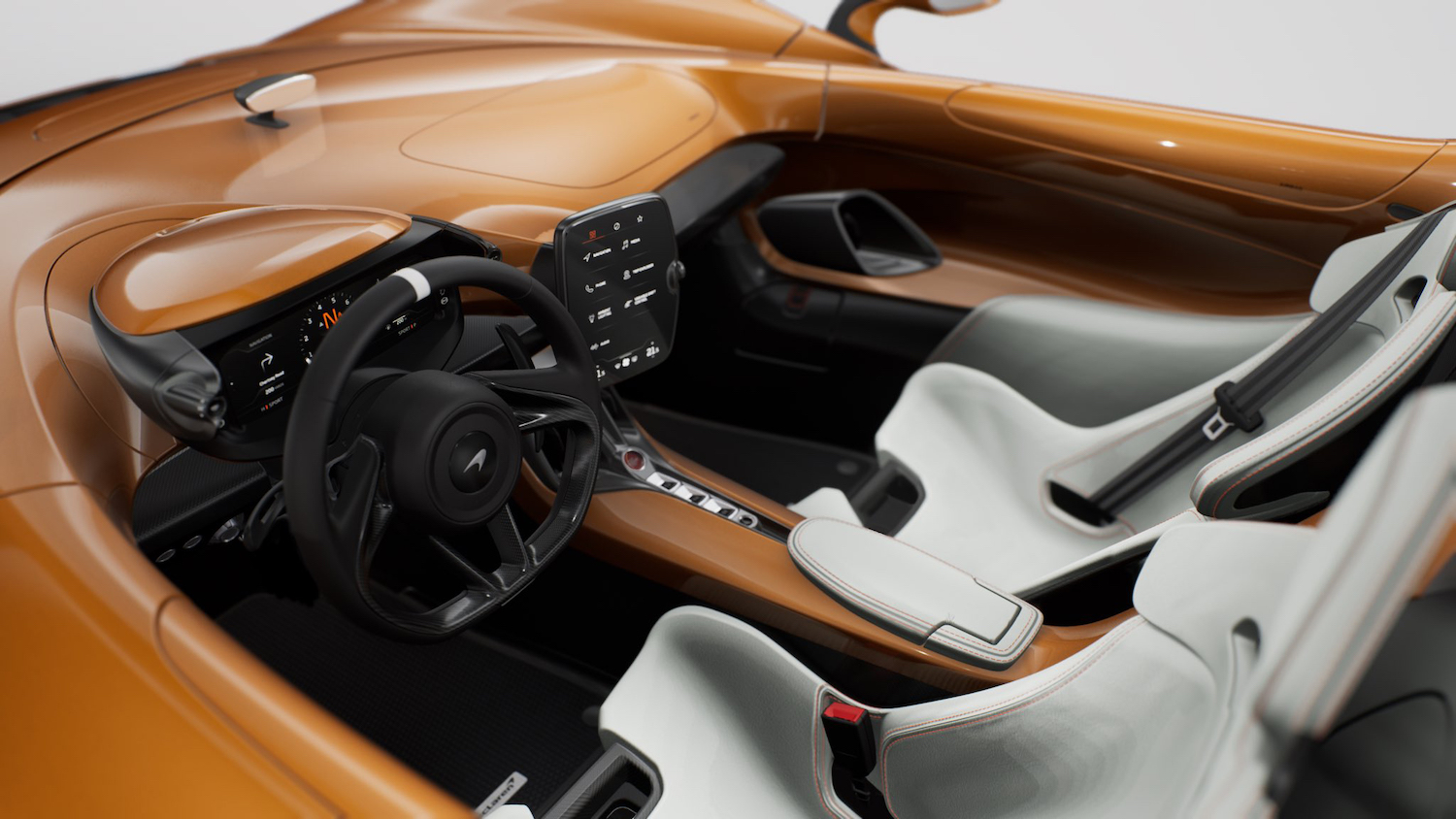 MSO very well may be working on a trio of Senna-based black book cars called the BC-03s, but as the main factory gets ready to produce 399 Elvas, McLaren is facing a tight schedule. Announced in 2018, its Track25 plan involves 18 new models and derivatives by 2025.
With the option of some MSO specials still on the table, we shouldn't expect a new Ultimate Series production model until late 2024 at the earliest. Right now, McLaren is deep into the development of its future-proof hybrid powertrain, and is expected to follow Aston Martin in combining a V-6 with electric motors to replace the current 3.8- and 4.0-liter V-8s made by Ricardo.
Still, to make sure we have something to talk about while we're waiting, here's McLaren's Dan Perry-Williams demonstrating how the Elva's air-channeling "virtual canopy" system should provide a comfortable ride up to around 75 mph. Outside of North America, that is, since this speedster is also available as a homologated roadster in places where the rules don't bend.