This 512S Modulo concept renders Jim Glickenhaus king of the streets
Concept cars and design exercises aren't meant to be driven, but no one told Jim Glickenhaus. The Ferrari 512S Modulo concept car was unveiled at the Geneva Motor Show in 1970, highlighting a radically low and wedge-like shape. The car appeared complete, but it was in truth lacking internals like an engine and gearbox. (These are essential components, we are told.)
In other words, the show car was exactly that—a show car.
In a recent post on Twitter, however, Glickenhaus showed the 512S Modulo cruising down the road like it was no big deal. What? Getting it there wasn't a simple process.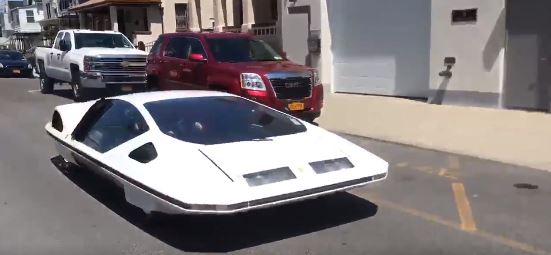 Glickenhaus, a noted Ferrari enthusiast, convinced Andrea Pininfarina to sell the rolling showpiece three years ago after working together on the P4/5 Competizione project. Once the car was purchased, the real work began. The chassis had a history of its own prior to becoming the showpiece: 512S chassis number 27 (likely a spare or backup car) lived a second life after the engine was modified and the car became a 612 Can-Am car and was used for testing. Only then was the rolling chassis gutted and sent to Pininfarina to be used in the styling exercise.
While the car appeared complete, the powertrain consisted of only the exterior-most items. The gearbox and engine contained none of the internal parts, thus those needed to be sourced or produced. Getting items like the instrumentation and radiators functional was a headache, as the car was never designed to, you know, drive.
One common misunderstanding about the concept car was that it lacked steering or brakes. Glickenhaus refutes that and notes that with the race car chassis underneath it was complete as a roller.
When asked what is next for the Modulo, Glickenhaus says, "It's headed to Monterey, California, for Pebble Beach Concours d'Elegance, where it will be shown in the Ferrari class. Then we will bring it home and do some little finish items and drive it." And that, friends, is awesome.