Holy 'chute! The 2018 Ford Mustang Cobra Jet can break 150 mph
Bubbly retro letters and a menacing fangs-out hooded snake logo make clear what the Ford Mustang Cobra Jet is. But a little black square hanging off the tail of the rear bumper tells the story of what this car is all about.
Inside the box is a parachute, a feature required on drag racers if they are capable of speeds of 150 mph or higher. This is the first time Ford has ever put one on the Mustang race car, and with an attached red tag that reads, "Remove Before Flight," it stands as a physical indication this is the quickest, most powerful Cobra Jet ever.
The 2018 Mustang Cobra Jet is special for Ford, as it marks 50 years since the company first debuted the original car back in 1968. The O.G. featured a 428-cubic-inch FE V-8 that made a claimed 335 horsepower, a powerful statement by the standards of the day. Ford built only 50 examples of that car, with six of them sent to Holman Moody and Bill Stroppe for NHRA competition, where the Cobra Jet eventually made its name through impressive showings on the strip.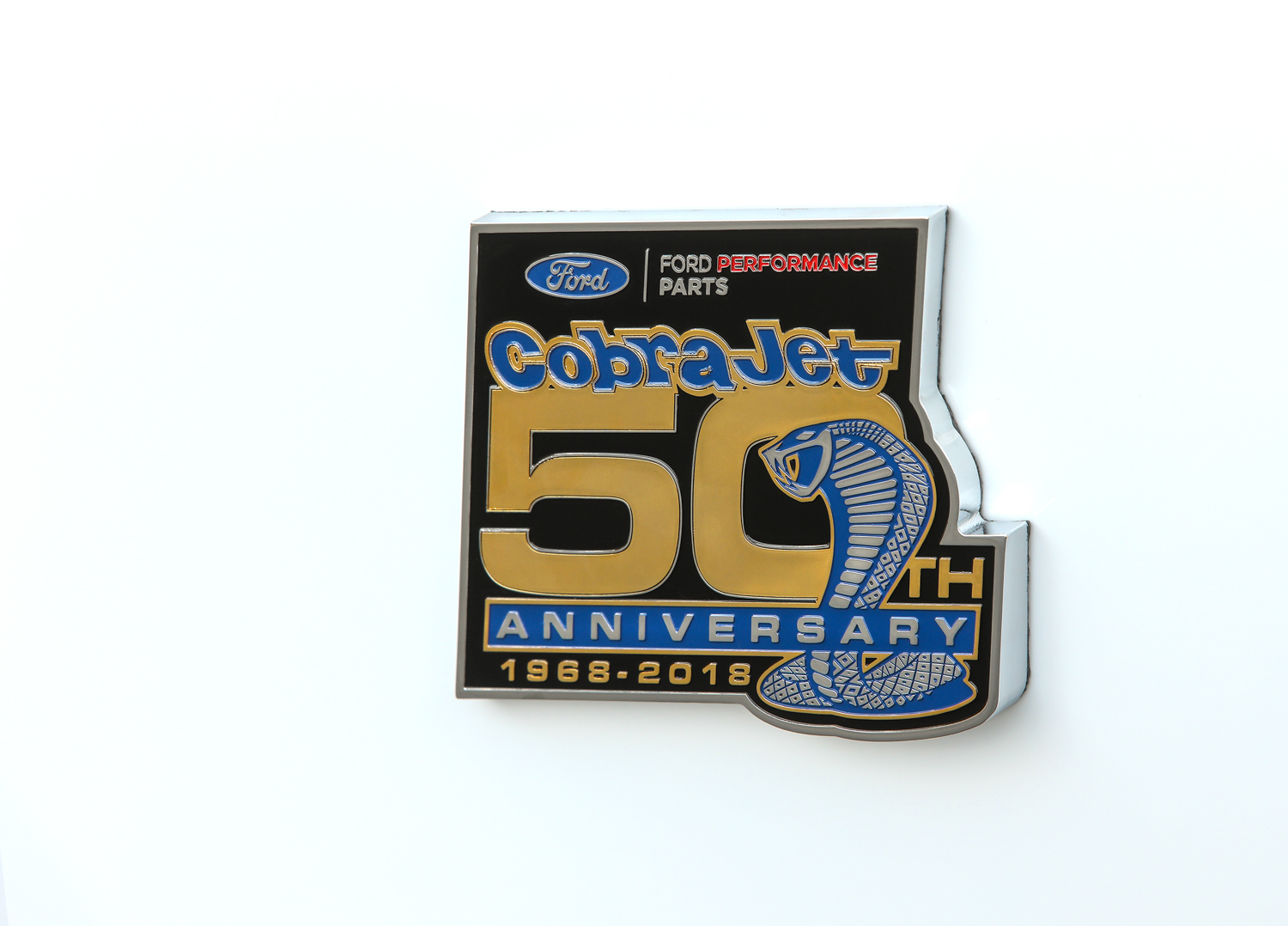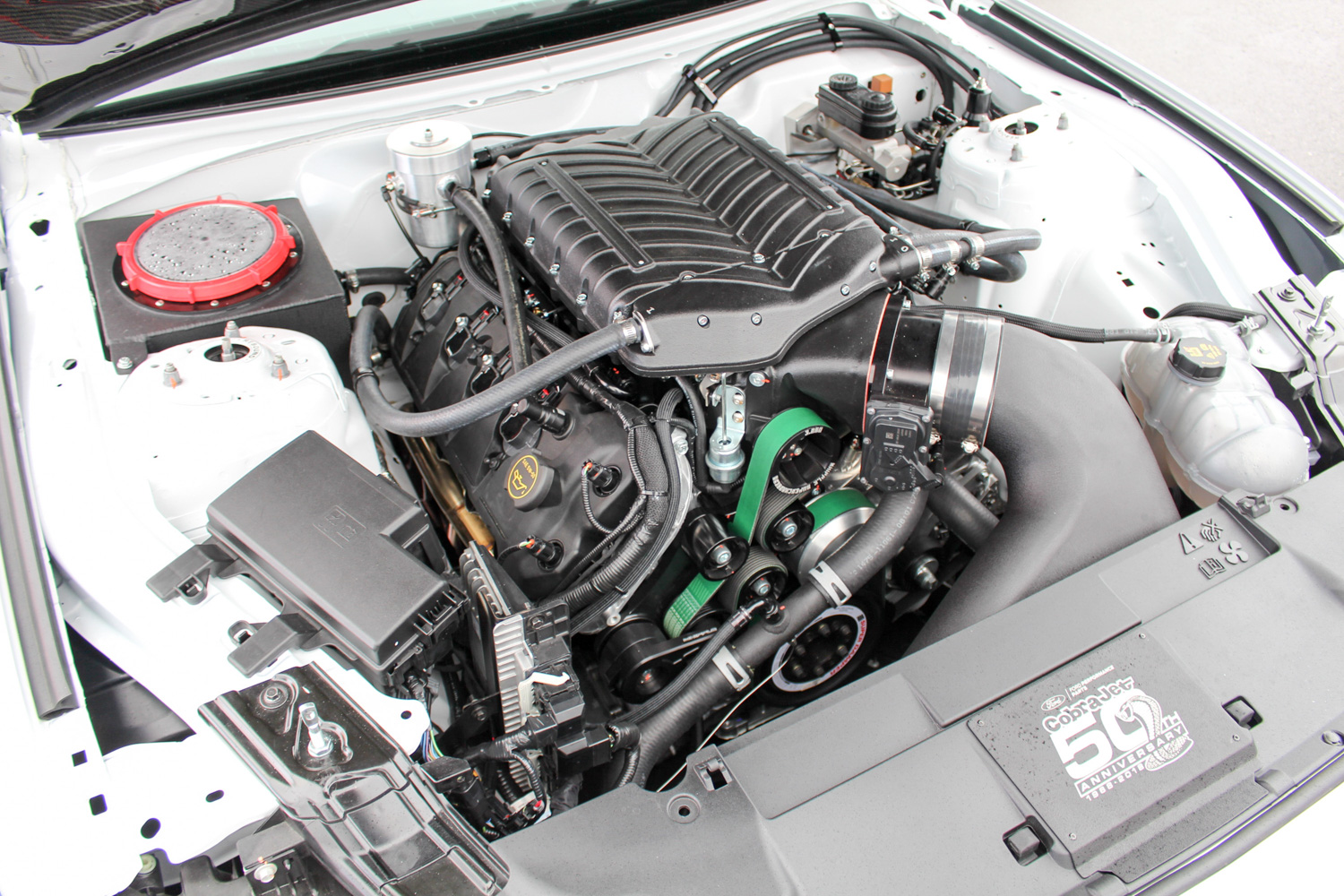 For the anniversary, Ford is breaking tradition by honoring tradition. Typically, these no-VIN track-only specimens are built in batches of 50, but as a nod to the 1968 model, Ford will build 68 examples of the 2018 car.
The Cobra Jet's fierce attitude comes courtesy of a specialized 5.2-liter variant of Ford's 5.0-liter V-8. It features a gen-five 3.0-liter Whipple supercharger for extra oomph, improved from the 2.9-liter version on the previous car. It also has a custom exhaust that stops at the headers and will smack eardrums harder than a Nick Cannon snare solo. Ford is not releasing official numbers for the car, but it claims it can top 150 mph and will do quarter-mile runs in the mid-8-second range.
"We had 2015 Mustang cylinder heads on the last car, and these [on the 2018 Cobra Jet] are the GT350 cylinder heads, which are extremely high-flowing heads, " says engineering manager for Ford Performance parts Dave Born. "This engine will make a great deal more power than the previous car, so we're very excited about that."
To handle the sheer force of drag racing and keep the Cobra Jet under control, the independent rear suspension new to the S550 chassis is gone, replaced by a four-link rear suspension with a Ford nine-inch solid axle and adjustable two-way coilover shocks. Additional drag-racing-only parts include a low-friction braking system from Strange Engineering and Weld Racing wheels.
Inside the cabin, a custom switch panel has replaced the infotainment and climate controls, and FIA-certified Racetech thrones replace production seats. Born is also proud of the NHRA-certified roll cage, which incorporates the funny car-style hoop around the driver and is rated for elapsed times as low as 7.50, as opposed to the outgoing car's 8.50 rating.
The turnkey race car, which is priced at $130,000 and only comes in Race Red or Oxford White with available anniversary graphics, is rated for the National Hot Rod Association, multiple National Mustang Racers Association classes, as well as National Muscle Car Association classes. It will officially go on sale later this summer.