ICON adds Old School looks and diesel power to its Toyota FJ repertoire
Jonathan Ward has made a name for himself and his brand, ICON, with his meticulous and high-quality restorations of off-road classics. And while ICON's portfolio includes everything from Broncos to Power Wagons, the Toyota FJ has always held a special place in Ward's heart.
The ICON FJ is his flagship resto-mod, a wicked blend of upgraded performance and comfort with modern styling flair. But Ward is always doing something new, and the latest evolution of the ICON FJ is a new Old School model, which debuted at SEMA last week with a Cummins diesel engine.
With the Old School FJ, Ward's approach was to build something every bit as functional and refined as usual, but with a more factory-fresh, stock look.
"When I first launched the brand 10 years ago, I did an Old School-style build and nobody cared," Ward says. "We discontinued it after selling a handful. I just got the sense that, culturally, people are finally ready for it."
From afar, the Old School FJ looks like a faithful factory restoration, which is a big part of the appeal. But more discerning eyes will notice tasteful, subtle upgrades. The body is made of powder-coated aluminum instead of steel. The aluminum wheels and hubcaps are color-matched to look stock. Lighting is all in the original location, but uses LEDs. And because Ward is a freak for details, ICON produced—in-house—its own stainless steel badges to evoke those seen on '60s FJs.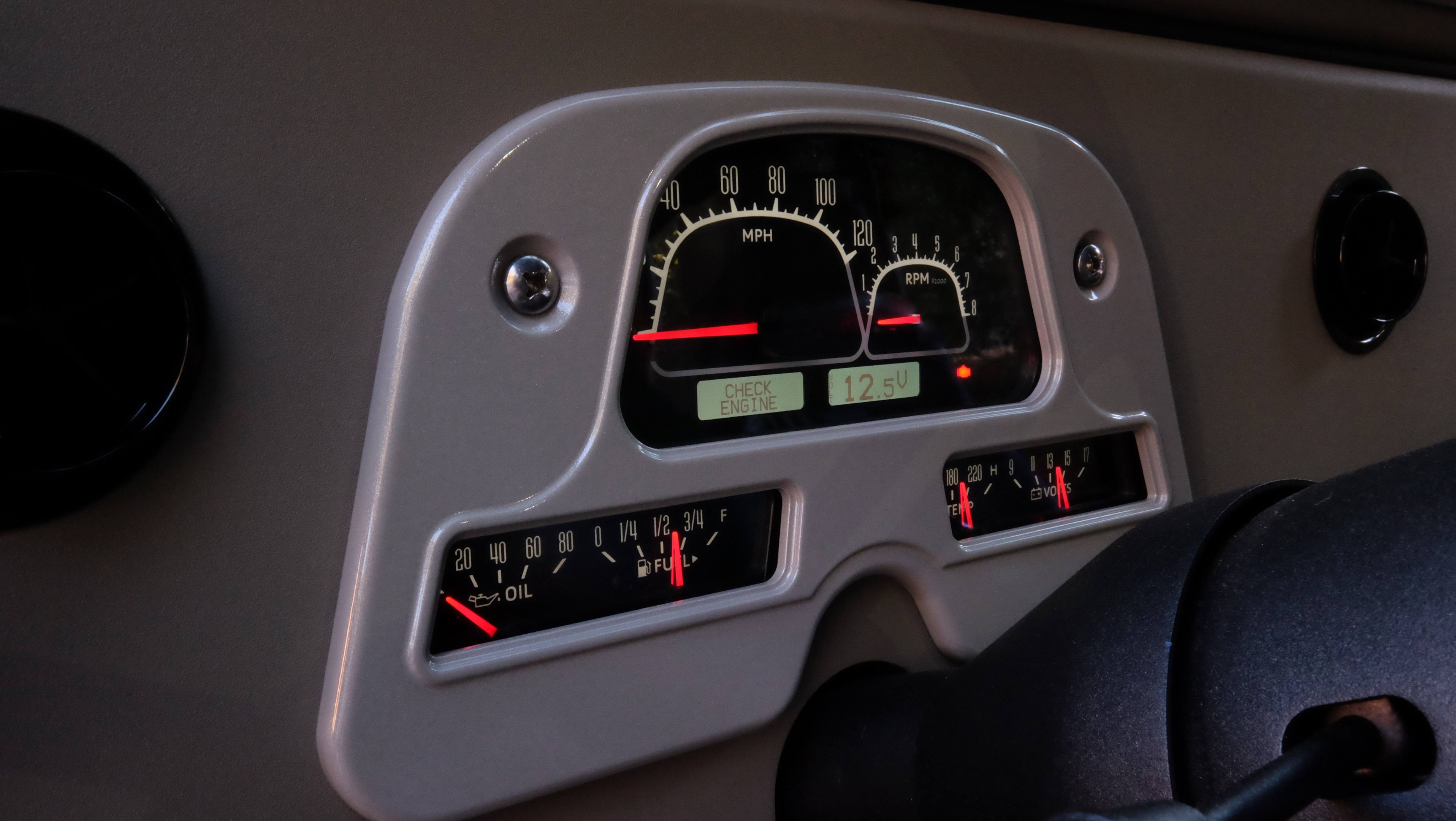 The story's the same on the inside, where if you didn't know better, you might not notice the elephant-skin pattern Italian leather seats, powder-coated billet aluminum buttons, and electric gauges. "One of the things I geeked out most about was the dashboard and gauges. We changed the faces to better reference the original design," Ward explains. "I even played with the bezels for the buttons." When you're upgrading things nobody will ever see, just because it's better quality, it says a lot about the attention and care that goes into these ICONs.
Otherwise it's the usual ICON formula, complete with its Brembo brakes and Fox Racing coilover suspension. That formula also comes at a price well into six figures, although there is no standard dollar amount. Each ICON project is made to order, so the final tally can vary significantly. The only theme is that the end product is something greater than a perfect restoration, and thus far more expensive.
Cummins supplied this Old School FJ's powertrain in the form of its latest crate engine, and Ward says it will also be available to "New School" FJ customers who want the oil-burner. The 2.8-liter turbocharged four-cylinder diesel makes 161 horsepower and a healthy 267 lb-ft of torque, with much of that grunt coming at the low end, which ICON says is ideal for getting the FJ's beefy rubber on the move.
Ward has been hunting for a suitable diesel for the ICON FJ, but until now nothing fit the bill. "Globally, Toyota and Land Cruisers have a history with diesel motors and the BJ model, but I needed something that would be modern and refined," he points out. "The old cars were heavy, stinky, and slow, but they had a cult following, so I knew there was an opportunity out there."
Ward says that as far as he knows, ICON will have the first application of this engine in the U.S. At the SEMA show, Cummins even delivered a new calibration that provides a smoother, less sluggish take-off. "Clients will appreciate the greater overall range, and it'll be especially good for people who live in countries where diesel is the norm," he says.
With the addition of the Old School FJ to the ICON lineup, Ward is looking forward to expanding his customer base. "A growing contingent of people out there are interested in reliving some of their memories of these old SUVs, whether it was off-roading, mud-diving, or whatever they did when they first experienced one as a kid. Sometimes they'll find an original FJ and the reality of it doesn't match up with what they saw in their mind's eye—that's where we come in."
The car you see here is already sold. And within days of SEMA, Ward already took several Old School orders, some of which were switched over from New School orders when customers saw the 1970 Toyota FJ show car. Clearly ICON is striking the right chords, and we can't wait to see what the mad genius in charge turns out next.