"Believe me, my young friend, there is nothing—absolutely nothing—half so much worth doing as simply messing about in boats."
– Kenneth Grahame, The Wind in the Willows
The same year World War I ended, and a full nine years before Charles Lindbergh flew the Atlantic, the Matthews brothers built a motor launch named Rainbow. Custom-built for the Taggart family in Port Clinton, Ohio, nearly a century ago, the boat has enjoyed almost continuous seasonal use at the family's Higgins Lake, Michigan, cottage since then, only missing an estimated four summers in its 99 years.
In some cases, time really does stand still.
Rainbow has resided with just one family, beginning with Taggart's grandfather Alexander Taggart. Along the way, she has survived The Great Depression, WWII, the Korean and Vietnam wars, the Civil Rights Movement, the Hippie Generation, Nixon and Watergate, two oil embargoes, America's entire space program, and plenty more. And once again this summer, there was Rainbow, motoring serenely through her accustomed Michigan waters and carrying a fifth generation of Taggarts on afternoon rides.
Mike Taggart's great-grandfather, also Alexander, emigrated from the Isle of Man to the United States in the 1860s and settled in Indiana, where he ultimately cofounded the Nabisco company. Long story short, success let him buy a significant amount of property at Higgins Lake—just an hour from Hagerty's Traverse City, Michigan, headquarters—where neighbors included the Mallorys (of Mallory Ignition) and the Dows (of Dow Chemical Company).
An upside-down start
Matthews, a yacht builder known for quality work, created the 26-foot Rainbow primarily of white oak and northern white cedar, durable woods plentiful in the Midwest at the time.
The boat was built upside-down on a form, starting with the oak keel, stringers and engine bed, and then adding the oak ribs, which were steamed and bent into shape. Bronze screws and bolts were used to assemble the framing. Rainbow is carvel-planked with copper-riveted cedar planking, fitted tight above the waterline with caulking bevels below. The caulking utilized cotton fiber soaked in red lead, and interestingly, quite a bit of the almost century-old original caulking is still good. Imported Honduran mahogany makes up the engine hatches, spray shield, covering boards, dashboard, seating, and transom. And finally, the fore and aft decks are covered in duck canvas to reduce the number of wood joints exposed to water.
Upon completion, Rainbow was loaded onto a cradle and then a railcar, and traveled north through Toledo and Saginaw. Switching to the Michigan Central line, she finally arrived in little Pere Cheney (which no longer exists), not far from Higgins Lake. Ceremoniously unloaded from the train here, she was then pulled by horses on a trailer (which was built by the Taggart Baking Company and still exists today) several miles to the water. Mike Taggart still recalls the sound of the steel trailer wheels' distinctive crunching on the gravel backroad as the boat moved slowly along, and the sight of the horses skittishly backing her down a ravine to the lakeshore, attracting a huge crowd.
Unique hull, multiple engines
Rainbow's hull was specially built for the shallow waters of Higgins Lake. A tapering tunnel section over five feet long was designed into the rear of the hull, which allowed tucking the propeller and rudder up closer to waterline. The boat thus draws just 13 inches of water.
Four engines have served her over the decades, including the original two-cylinder Gray Marine "stewpot," which was followed by a bigger Kermath, a repower strategy meant to push Rainbow along faster. But the displacement hull wasn't meant to plane, and so with more weight and power the launch tended to bury her prow. After the Kermath experiment failed, in the early 1920s a four-cylinder Gray Marine engine was installed; it lasted until the 1990s, when the current Yanmar three-cylinder diesel was added. The diesel produces just the right amount of power (about 27 horsepower) for Rainbow to cruise nicely at 8–10 knots.
Adventure and misadventure
While the family had many boats over the years, Taggart is especially fond of Rainbow. But that wasn't always the case. "All through the 1950s and '60s, my friends had Chris-Crafts, which were great for waterskiing and picking up girls—none of whom ever wanted to go out with me in Rainbow," he says, laughing. "So, while she was a handicap to me at the time, now I like her fine."
Taggart also recounts one particular adventure he's never told to anyone: "When I was 15, I was in the boat towing a canoe by myself," he begins. "I wanted to see what it was like in the canoe—the kind of thing a 15 year old does without thinking. Well, the rope snapped and Rainbow went on her way across the lake toward the far shore. But instead of going straight, the torque steer made her turn, so instead of hitting the shore she disappeared behind an island instead. I figured the boat had crashed somewhere, but about 40 minutes later she reappeared, coming right back at me. I said, 'My god, I have to get in the boat,' because I figured she would surely run into something eventually. But I missed, and Rainbow did the whole thing again. Fortunately, the next time I calculated right and got in. She made two trips of six or seven miles each and didn't hit a thing.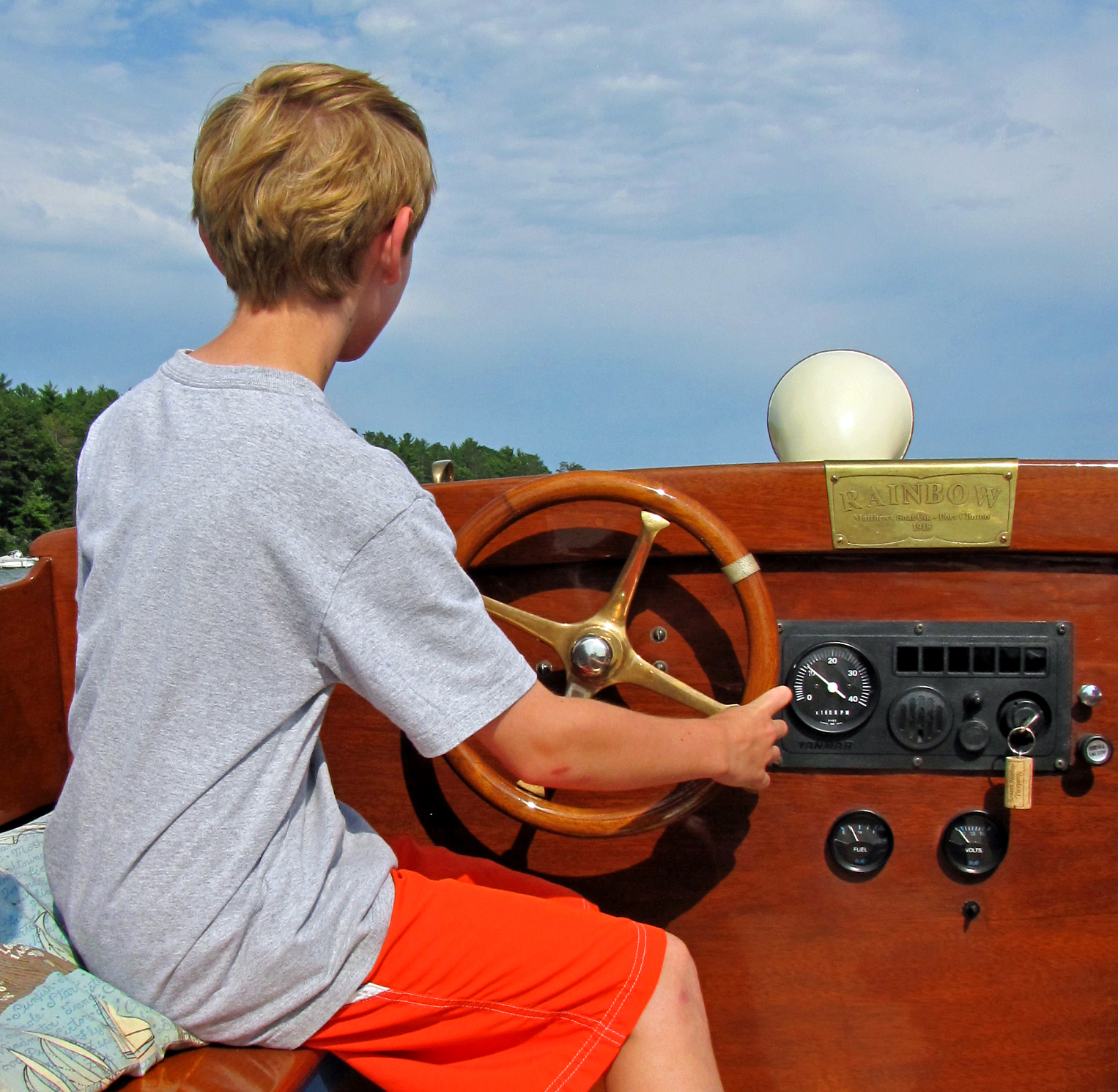 "My most prevalent memory, though, is of my grandparents and three ancient spinster aunts, who were sitting aboard Rainbow very properly in their Victorian dresses and floppy hats, on our way to a family picnic."
Sinking and resurrection
Despite decades of use, Rainbow suffered only one serious bit of damage, when a storm in the mid-1990s broke the anchor rope and blew her along the lakeshore, where she hit some rocks and a dock, putting five holes in the hull and cracking 26 frames before sinking. After nearly 80 years, it might have been fitting to give Rainbow a Viking funeral—lit aflame on the beach and set out into the water—but Taggart was too attached to her. Good help would soon be available, when boatwright Eb Wickes entered the picture.
After a local marina made a temporary repair, Wickes conducted a comprehensive restoration of the entire boat. "We did it right," Wickes says. "We sistered in new frames beside the breaks and re-riveted them using close to 1,000 rivets. Generally, though, the boat was in pretty good shape, and only about one-fifth of the original planking was replaced. Overall her long life is a testament to the quality of materials and workmanship of the Matthews brothers."
Today Rainbow appears much as she did in the summer of 1918 after arriving at Higgins Lake. Boats weren't built to last a century back then, just a few seasons or more, making her longevity all the more astounding. And so, Rainbow's survival involves foresight, commitment, and resources, and certainly a good bit of luck, too. Fortunately, with her miraculous centennial coming up in summer 2018, there's plenty of time to plan something special.
And you can bet that means a day out on the water.