Glickenhaus' Boot beats Ford's Bronco R by 220 miles at the Baja 1000
At the 2019 Baja 1000 the GM-powered Glickenhaus Boot competed against a single other entry in its class. That single entry happened to be Ford with its new Bronco R prototype, and, unlike in 1973 against the original Baja Boot, the bluest of the Big Three got beaten by the small privateer… by 220 miles.
It's not easy to compete against the big guns. In fact, it's nearly impossible today, due to homologation rules. I once wrote a story about how a car designed by a French man and run by his private team won the 24 Hours of Le Mans in 1980. That car was the Rondeau M379B, of which five were built in total. Back then, that was enough to compete against Porsche. Too far back, you say? Then how about those 2006 Maserati MC12 GT1s? Maserati built 50 road-going MC12 Stradales so that its 12 Corsas could race in the FIA's GT1 class and only managed to keep costs down because all MC12s were based on the Ferrari Enzo. No small team could afford a Le Mans campaign without generous OEM backing.
As a small American manufacturer who just received New York State's first manufacturer plates, SCG certainly wants to play in the big leagues. Yet before its GT3, GT4, and Le Mans cars can hit the circuits, Glickenhaus is forced to compete at the Nürburgring, in a class that leaves no other option but to aim for the overall win. Yet against a whole fleet of Audis, Porsches, BMWs, and AMGs, what are your chances with a single car or even with a pair? Limited, to say the least.
In 2019 on its final outing, the SCG 003C came eighth overall at the Nürburgring 24 Hours, winning the SP-X class as the sole entry and setting a lap record. Next year SCG will be back in GT3 with the fresh 004C, but before that, it had a Baja 1000 to complete. Enter the new Glickenhaus Boot, debuted at the Quail parked next to Steve McQueen's original, which is also owned by Glickenhaus. Luckily for Glickenhaus, Ford joined the party with its Bronco R race rig. That challenge was big news—it allowed SCG to replay 1973's Baja 500. Bronco v. Baja Boot again, on full attack through the dark desert.
The Baja Boot is a road-legal SUV powered by a 650-horsepower LT4 V-8, while its racing iteration packs a 460-horsepower LT1 V-8, to supplement the frequent use of 4WD for safety. The sanctioning body of the Baja 1000, SCORE International, doesn't have a stock SUV class, so the Boot was entered into Class 2 along with Ford's Bronco R.
Wearing #2022 as an homage to McQueen's #22, the Glickenhaus Boot beat Ford's Bronco R by 220 miles. In fact, the Ford was out before crossing the 600-mile mark, while the Boot crossed the line at P123, in front of a forced-induction ATV, 114 non-finishers, and the 12 disqualified entries.
Not bad for its inaugural year, especially considering that driver Darren Skilton also had to wait in the dark with just 48.5 miles to go due to a broken spindle. Once that was fixed and the Glickenhaus Boot could cross the line, it was also driven back to Chatsworth, California, on public roads. Plated and grocery-run-ready is just how Glickenhaus likes them; that's why everything in his garage, from the world's oldest Ferrari to Pininifarina's Dino Competizione prototype, is registered and insured at all times.
The road version of the now-race-proven Glickenhaus Boot comes with the electronic overdrive variant of the Turbo 400 transmission, as well as 19 inches of wheel travel instead of the 22 inches deployed at the Baja 1000… which should still be enough for your adventures.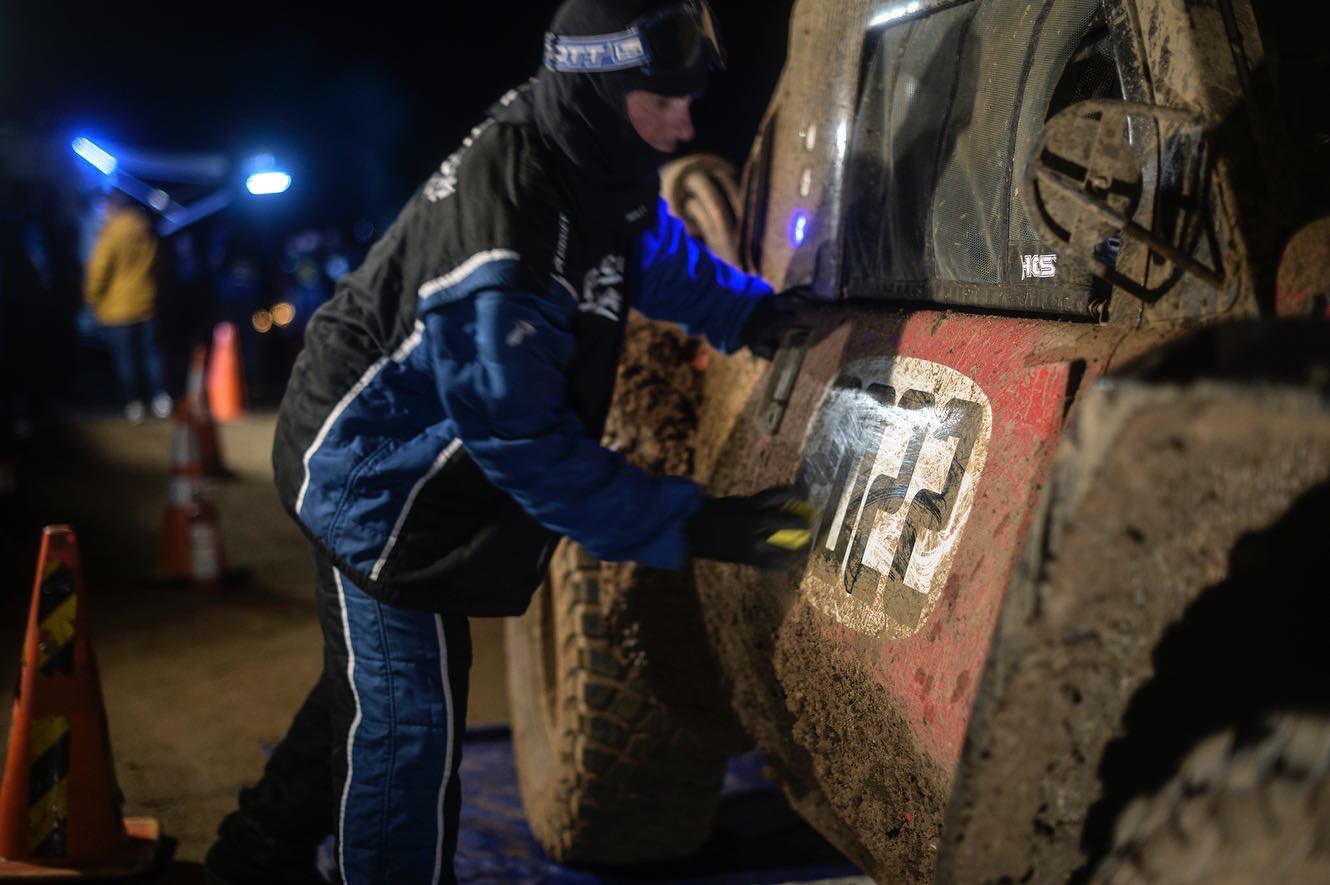 Following yesterday's celebrations, James Glickenhaus revealed more details of their race:
"Just to explain our strategy:
We started our with a very heavy fuel load as we didn't know what our full race MPG would be. It was much better than we expected. On one stint we thought we'd use 45 gallons we used only 35. Because of the extra weight we stopped at 33 miles for an hour to add rear height and more nitrogen to the shocks. At that point we knew we were much faster than the Ford entry, and we could pass them at will. Our only job was to finish. Our pace no longer mattered. The course has been the toughest in many years, especially because of the torrential rains earlier in the week. We knew that many, many cars wouldn't finish. Ours was the only vehicle in The Baja 1000 that was fully street legal with road legal bolt on race options. 17 digit VIN, real NY Plate. We pushed on, passed the Bronco and built a 100 mile lead. For safety, we stopped and inspected the Boot every 40 miles. All we wanted to do was to finish as if we did we'd beat the Bronco. We ran a reasonable pace less than 50% of our capable speed as the Bronco was having big problems and falling further behind. We chased with our road Boot and used it to bring spares and mechanics to our race Boot throughout the race. Our team and telemetry were amazing and we made repairs and finished within the time limit securing first in class against the works Ford Bronco R driven by last years overall winner Cameron Steele, and other famous drivers. Our drivers, team, race control were amazing. We finished 220 miles ahead of Ford and first in Class 2, exactly as we hoped. And then we drove our Boot back to the hotel for a celebration in the parking lot. I will never forget this race. We'll deliver 3 road legal Boots soon and 20 additional Boots 2DR/4DR in 2020. Our realistic goal for 2021 is 100. We're fully crash/EPA/CARB testing them. We MAY build a road legal Hyper Road Legal Boot for Baja 2020 with 900HP, full-time 4WD, 42 inch tires that we'll enter in the Top Class and try for 1st overall. Price TBD but if you order one today you can race alongside us next year and then drive her home as we did this year with our Boot. It may get a little muddy…"
Hagerty protects all kinds of collector cars, trucks, and modified vehicles. Let's talk about your special ride.
Get an insurance quote