Aston Martin set to unveil the first DB4 GT Zagato Continuation at Le Mans
Aston Martin will use the occasion of the 2019 24 Hours of Le Mans race on June 15 to reveal the first completed car of the 19 DB4 GT Zagato Continuation cars it will be making, to be sold as part of the $7.64 million DBZ Centenary Collection, which also includes a DBS GT Zagato.
The first example of the track-only DB4 GT Zagato Continuation is the result of about 4500 hours of labor by artisans and craftsmen at AM's Heritage Division, which Aston Martin says is the best equipped and most knowledgeable Aston Martin restoration facility in the world. It is the latest product of AM's Continuation program, along with the DB4 GT Continuation series from 2017, and the upcoming Goldfinger DB5 Continuation replica James Bond cars.
The first DB4 GT Zagato Continuation has been finished in Rosso Maja red paint that was color matched to paint chips from Max Meyer and ICI, which were the original suppliers back in the 1960s. The interior is trimmed in Obsidian Black leather, covering the door panels, headliner, rear passenger compartment, and pads on the carbon fiber racing seats. Instruments are racing spec, and there is a full FIA approved roll cage.
The inline six-cylinder engine from the DB4 GT Continuation has had displacement increased to 4.7 liters, putting out more than 390 horsepower. A four-speed manual transmission and limited-slip differential put that power to the Borrani wheels, which are painted silver with a polished lips.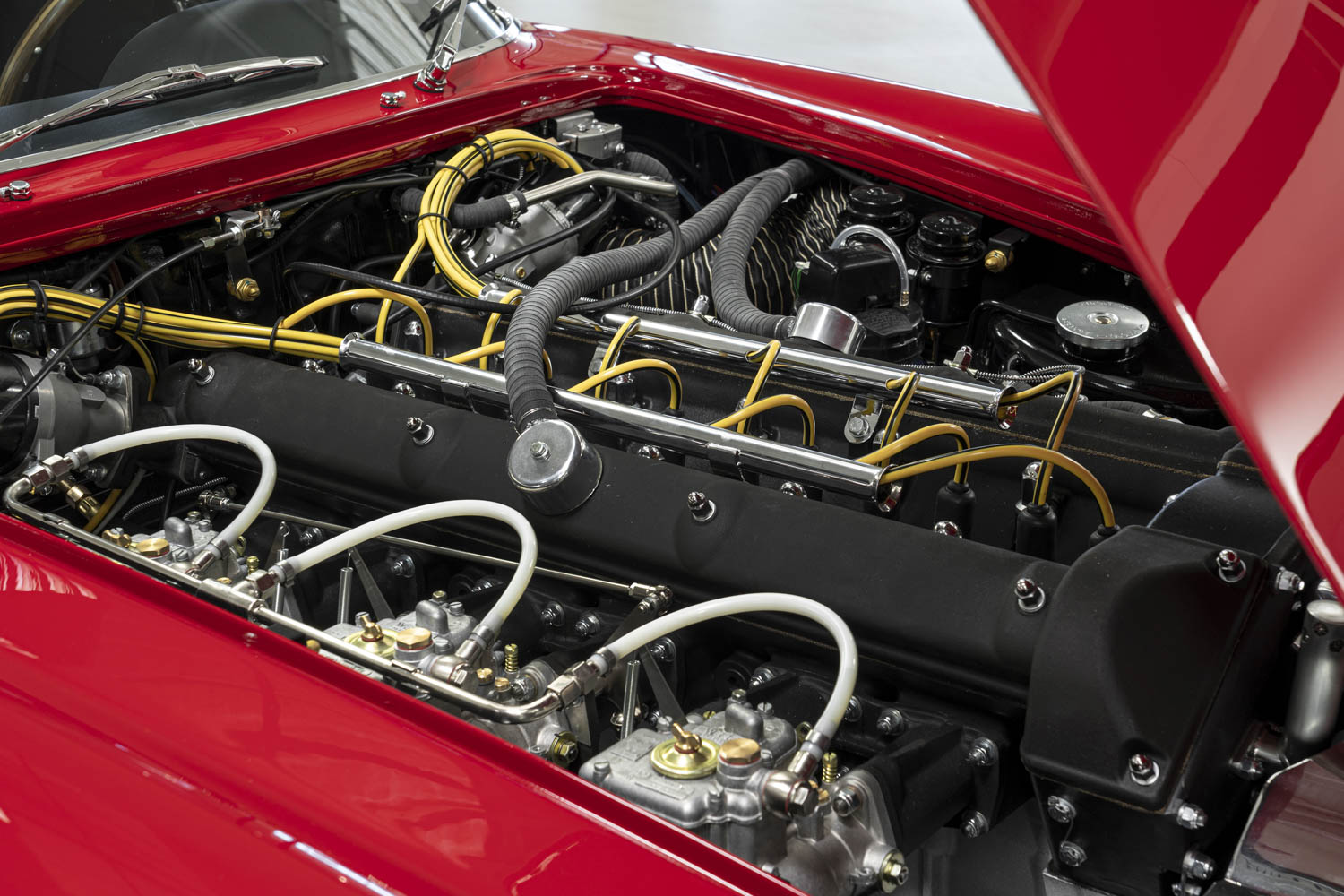 The original 19 DB4 GT Zagatos were built to race Ferrari at tracks like Le Mans. They had thin-gauge aluminum bodies and lightweight tube space frames. Likewise, the Continuation cars' bodies are hand-worked from 1.2-mm thick flat aluminum sheets using some of the same old-world techniques as were used when David Brown still owned Aston Martin back when the original DB4s were made. Those artisanal techniques, however, have been augmented with modern technology, like the precise digital body buck being used.
"Celebrating our brand's deep and enduring partnership with Zagato in this, their landmark year, by launching the DBZ Centenary Collection has been a mammoth undertaking," said Andy Palmer, Aston Martin Lagonda President & Group CEO. "I'm personally extremely proud of the results in the shape of this new DB4 GT Zagato."
Deliveries of the DBZ Centenary Collection will be split, with the DB4 GT Zagato Continuation coming first in the third quarter of this year, and the DBS GT Zagato to follow at the end of 2020.