992-gen Porsche 911 GTS spotted in the wild
Spy photographers have caught the new 992-generation 911 doing some winter testing without a shred of camouflage and we've got to say, it's looking great. This bright green tester wears a black roof, smoked taillights, and telltale center-locking wheels, a sure sign that you're looking at upcoming next-gen GTS. Though the base 911 Carrera doesn't feature them, you can spec center-lock wheels on the 991.2-gen GTS, GT3, and Turbo models.
Lest you imagine everything is cut-and-dry in Porsche land, the current 911 lineup contains representatives from both the 991.2 and 992 generations. Model by model, the 991.2-generation will give way to the 992, but for now, the current-gen GTS is sold right alongside its next-gen siblings in the Carerra and Carrera S lines. Historically, the GTS brings a horsepower bump over its Carrera S brethren. As of now, with the overlapping generations, the current 991.2 GTS slots between the 992 Carrera S and the 991 GT3 in the 911 lineup.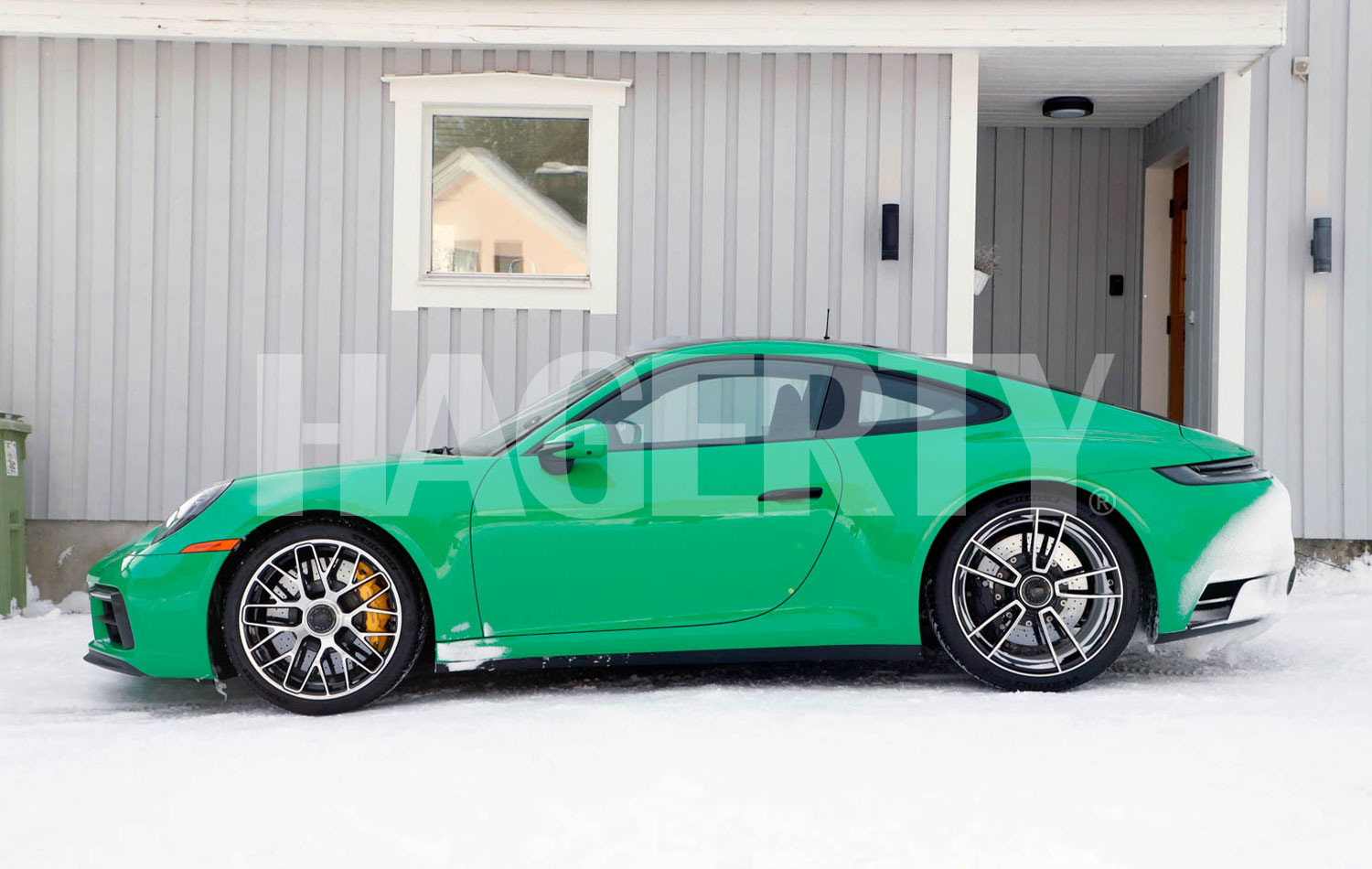 Expect a similar hierarchy with the 992 family, once all models and variations hit the stage. If the same power gains we saw in the last-generation 911 GTS are applied to this newcomer, the 3.0-liter turbocharged flat-six from the Carrera S should reach the 475-horsepower range and deliver even better performance than the 992 Carrera S, which was already quicker (by the 0–60 metric) than the 991-gen GTS.
Compared to the base 911, this recently-spied GTS wears a different lower fascia, with less black trim and more body color. It's a welcome change and fits the car's sportier position in the lineup. At first glance, the brake calipers appear to be the same as those used on the Carrera S, and we'd assume that, like the current 911 GTS, this new version will tout the Sport Chrono Package as standard equipment and ring in somewhere around $120K–$130K.
If you had any qualms about the looks of the 992 generation, this peek at the GTS has hopefully put them to rest. We're eager to see the unmasked GT3, but for now, this is the best-looking 992 yet.