The 1973 Chrysler New Yorker was the final fuselage
The full-size Chrysler 'Fuselage' cars, so dubbed due to a body with convex sides reminiscent of the then freshly introduced Boeing 747, came to the end of their line with the 1973 model year. At the same time, the "Brougham" aesthetic, begun in approximately 1964–65 with the 1964 Pontiac Bonneville Brougham, 1965 Ford LTD, and 1965 Chevrolet Caprice, was in full swing. Even compact and subcompact domestic cars were getting into the act, with "Luxury Décor Group" packages on the Ford Maverick and Pinto.
It seemed that each year more cars came with stand-up hood ornaments, ample chrome trim, toothier chrome grilles, velour or brocade upholstery choices, and opera lamps and windows. Over at Chrysler Corporation, the Fuselage full-sizers, despite their clean, smooth lines, were getting that level of bric-a-brac, and more. Case in point: The 1973 Chrysler New Yorker Brougham, top of the line.
All '73 Chryslers wore a new face, thanks to the new federal 5-mph bumper standards. Instead of the loop bumper surrounding the grille and headlights sported on the '72s, a large chromed unit now sat below a newly squared off fascia. It was reminiscent of the contemporary Lincoln Continental, but without the hidden headlights found on the Lincolns.
It goes almost without saying that these were very large and very comfortable cars. The New Yorker Brougham had a 124-inch wheelbase and overall length of 230.1 inches. All New Yorkers and New Yorker Broughams had the biggest passenger-car engine offered by Chrysler Corporation, the 440 cubic-inch V-8. Breathing through a four barrel carburetor and with a bore and stroke of 4.326 x 3.75. It produced 215 horsepower, 30 better than the 400 cu-in V-8 standard in the less-fancy Newport and Newport Custom.
As you'd expect, New Yorker Broughams came with quite a few standard features, befitting their $6004 base price. That was for the four-door hardtop; the pillared four-door sedan was $5876 and the two-door hardtop started at $5925.
Said standard equipment included power windows, steering and brakes; the aforementioned 440 V-8, TorqueFlite automatic transmission, 50/50 divided front seat with dual folding armrests, fender skirts, bright wheel opening moldings, electric clock and reclining front passenger seat.
But wait, there's even more! As it was the '70s and we're talking domestic rolling stock, there was a long, long list of options to make your New Yorker even more Broughamtastic!
How so? Well, here is just a small sampling of the extra comfort, convenience and appearance extras you could get: Power vent windows ($66.00), air conditioning ($420.85), automatic temperature control ($495.15), AM/FM with Stereo Tape cassette player ($402.80), AM/FM with Stereo 8-track player ($376.80), vinyl roof ($126.60), an alarm system ($101.20), and cornering lamps ($38.00).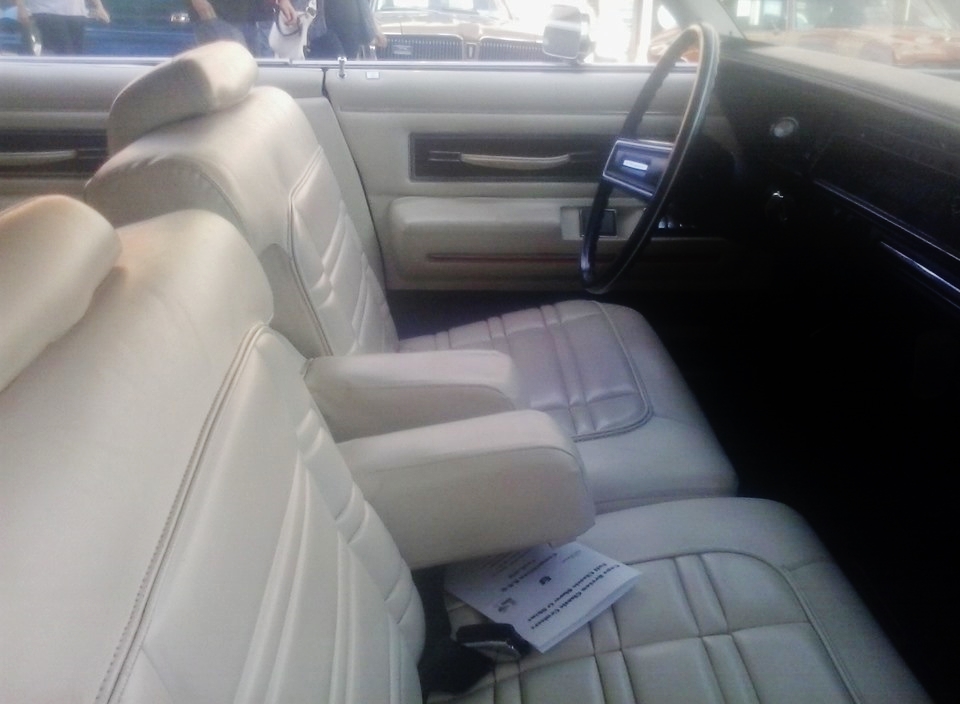 The New Yorker Brougham was the most popular New Yorker that year. Most people shopping luxury cars at the time went for the nicest model. Fittingly for this philosophy, the New Yorker Brougham four-door hardtop was best-selling variant with 26,635 built. Rounding out the NYB lineup was the pillared sedan (8,541) and two-door hardtop (9,190).
While everyone remembers late '73 as when the first gas crisis happened, it didn't affect Chrysler sales. In fact, 1973 production was 15-percent better than 1972. By October, when the prices started spiking, 1973 production had wrapped and 1974 Chryslers, with their all-new, more formal, more baroque lines, were in showrooms. Of course, '74 Chrysler sales went off a cliff, but that's a story for another time. The Fuselages went out on a high note.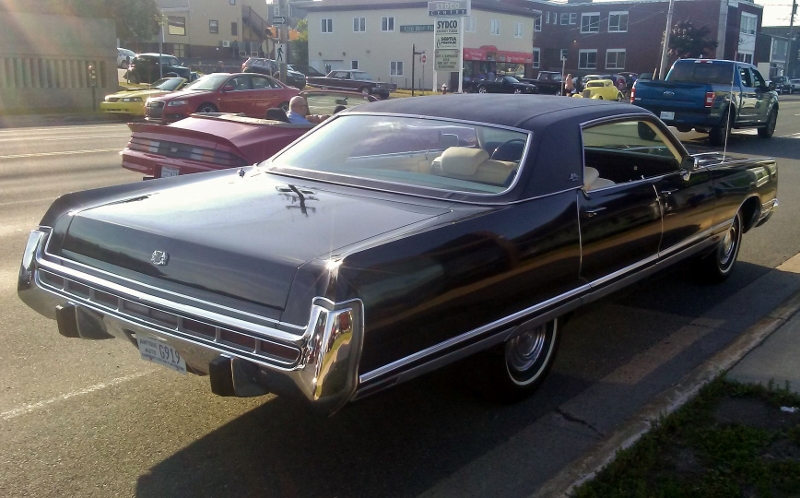 I've always loved the Fuselage cars; a friend has an immaculate 1969 Plymouth VIP four-door hardtop, and a light blue '71 Chrysler New Yorker two-door hardtop has been spotted locally by your author. But today's featured beauty, resplendent in Formal black with matching top and white interior, was photographed by a friend of mine in Nova Scotia, Kevin A. Campbell.
He goes to almost as many car shows as I do (which is to say, a lot) and this stately New Yorker Brougham is a regular at many car shows in the area. After telling him I wanted to write the car up, he said "No problem!" Then he went into his archives and found even more pictures of the car.
I've always loved black with a white interior, as my grandmother had a 1977 Thunderbird in that combination when I was a kid. You don't see that combo very often, but the contrast of the sleek black paint with bright white interior just does it for me!
Fuselage Mopars are rare sights on the road nowadays, so I'm always thrilled to spot one lovingly cared for by its owner. This New Yorker Brougham clearly is living the good life… and the owner has a heck of a land yacht to drive and enjoy. In the words of a competitor's advertisement: Suddenly, it's 1973!